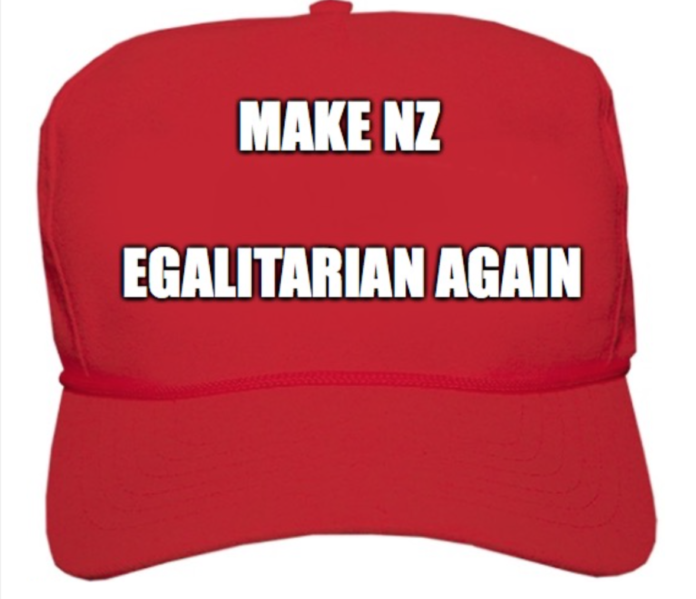 The 'Kiwi way of life' is a low imagination horizon anti intellectualism based on exploitation of confiscated indigenous resources where ignorance & malice is celebrated by the rural volk while middle class attention is engulfed between school rankings & property speculation.
A country with 295 000 kids in poverty, 40 000  homeless, 668 suicides per year making it one of the highest rates in the world and an appalling domestic violence rate; a country with generations locked out of home ownership and job security by deunionised wage levels that lock us into insecurity, desperation and subservience; a country undermined by exploited migrant labour and speculation where primary industries get to pollute and rape the environment without remorse or punishment ; a country that could only apologise for the atrocity at Parihaka 140 years after it happened; a country with social services who chase and hound beneficiaries to death and persecute them; a country whose bloated private prison complex locks up as many people as America and we release men back into the community more damaged than when they went in;  a country whose politics are owned by vested big business interests and petty corruptions; this is a country where The Project and Seven Sharp are considered current affairs with all the intellectual curiosity of the ZM and Edge Breakfast shows.
This is a nation who looked at John Key's dirty politics, his mass surveillance lies, his office colluding with the Secret Intelligence Service to falsely smear the Leader of the Opposition months before the 2011 election and said, 'yeah, I'll re-elect him'.
We are a juvenile country with all the cultural maturity of a can of day old coke.
Whatever noble lineage that existed within our egalitarian roots has long been killed off by the 30 year neoliberal experiment and you can see that by the passionate intensity those who have profited by exploiting capital gains scream their hatred at the mere mention they might have to pay tax on a gain they haven't even realised yet.
So how on earth do you go into the 2020 election with a progressive political spectrum that starts by disappointing everyone with a feeble definition of transformation and ends in alienating middle class identity politics?
Electorally, Labour, NZ First and the Greens couldn't get laid wearing banana costumes at a monkey brothel.
National's strategy is not to win over Labour or Greens voters, it is to throw raw meat policy via targeted social media adverts to ensure their angry and hateful voters turn up while relying on the deep disappointment in Jacinda to do anything meaningful to keep progressive voters from bothering to vote.
TDB Recommends NewzEngine.com
So. Labour, NZ First & the Greens desperately need to hold up a vision that they can actually implement which synchs in with the major issues progressives care about. Seeing as not one of these parties is actually going to directly do anything on climate change, inequality, poverty or the housing crisis because it spooks the angry vested interests, pick policy that directly responds to those issues without using the same language so those angry vested interests have to work to try and knock them down before the election.
Public Owned Forest: Synchs in with economic sovereignty, environmentalism & economic growth. We desperately need to move intensive dairy farming to forests but we also need the State to own and run the biggest forest. We can't keep selling our forests off to foreign interests that only want to plant Pine, we need a State Forest the way we did before the neoliberalism that sold it off and lowered work and safety standards to the worst in NZ. Planting a billion trees in foreign owned forests is insane, rebuild our own State Forest sector, lift work and safety standards, lift wages and stop sending unfinished product offshore. We can't leave something that is so crucial to climate change prevention to the whims of the market, it requires the muscle of the State.
Free public transport: Synchs in with environmentalism, reducing poverty & inequality. Demanding all cities have free public transport would help the poorest amongst us, demand more growth for public transport and take some of the stress out of our groaning roading system that can't cope as it is. Major way to directly combat climate change.
Worker's Levy: Synch in with empowering workers and lifting wages. The CTU are throwing  tantrum over the Government not adopting Fair Pay Agreements. The Government won't do it before the election because they are gutless and terrified of what the Employers Association will do, so reframe it as a 'Worker's Levy'. The vast majority of NZers would have no problem with mandatory Union enrolment, so every worker entering a new job should automatically be enrolled with the Union representing their sector. This open membership would cost a levy equivalent to two weeks union membership and workers could either chose to remain as members or if they don't want to be a member for whatever reason, they can contact the Union and remove their membership. The levy would be automatically deducted from the workers first pay. Enroll worker into Unions first so that you actually have an army to push back when the Employers Association goes feral.
Legalised cannabis market: Synch in with economic growth & environmentalism The taxation, the new industry, the job creation, the tourism boom – all of these things can occur when a regulated market is built. Be the Government that wants strong economic growth into industry that is truly sustainable.
State House rent to own: Synchs in with housing crisis and reducing poverty and inequality You can't use free market tools to fix a problem caused by the free market. People don't see houses as places to live in, they see them as investments. The arsehole landlords don't need to ever upgrade their product because demand is so high, and the profits from investment so large they can just keep ghost houses.  The State needs to embark upon a huge State House rent to buy program where they build the houses and only allow first time home buyer state tenants to get a rent to own mortgage through KiwiBank. By making the most vulnerable well housed and an a path to home ownership, bad bugger landlords who no longer have the market desperation that allows them to leave their rentals like slums, will be forced to upgrade the housing stock.
Solar panels on all roofs: Synchs in with climate change Being carbon neutral by 2050 and letting the farmers off the hook for another 6 years is a joke response to climate change. Allowing tax breaks for people to buy solar panels for their own homes with an aim to have a solar panel on every single roof by 2030 is a far more bold vision.
Tax-free first $20 000: Synchs in with inequality, poverty, helping beneficiaries and robs National of its main policy plank Labour can never, ever, ever, ever, ever, ever lift welfare rates because National get too much political power from bashing the dirty filthy bennie. So, rob one of National's main policy planks and give everyone a tax cut on their first $20 000. That would help the poorest and be a defacto lift in benefits.
Grant would have to open the purse and borrow for some of this investment, but give people a vision with policy ideas that demand attention and front foot that with the best orators and speakers each Party has, and this Government has a chance of winning the next election.
We can't allow Jacinda to be a one term Government, I acknowledge that she has done sweet bugger all in genuinely changing the lives of New Zealanders but she deserves a second term to do that in.
We must defend the Queen!