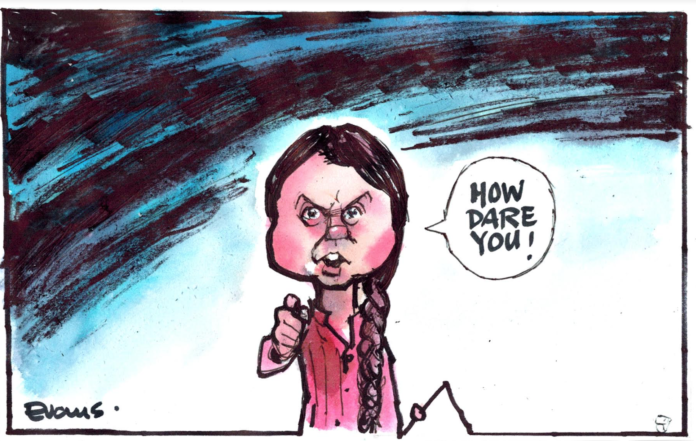 The day after the Minister for Climate Change James Shaw announced that he had appointed Rod Carr to be Chair of the non-existent* Climate Change Commission, my partner Martin received a begging letter from Shaw asking him to donate $80 today to Shaw's party to "show that the fight against climate change will be won through people power and not by corporate interests."
Martin laughed.
If someone who has been a director of multiple companies, held executive or management positions in others, been a deputy governor of the Reserve Bank, and chaired the Ministerial Inquiry which led to the corporatisation of New Zealand's public health system between 1993 and 1997 is not a supporter of corporate interests – who  is???
The chief executive of BusinessNZ (a bona fide supporter of corporate interests) called Carr a "strong" appointee and said his organisation looked forward to selection of "similarly high-quality candidates for the remaining commission positions." The National Party's climate change spokesperson Scott Simpson welcomed Carr's appointment, saying he would bring a practical, "level-headed" approach to the role. (Simpson may be hoping that Carr will agree with him that a 10% – not 47% – reduction in methane emissions from agriculture by 2050 is a suitable target.) When announcing Carr's appointment Shaw himself referenced Adair Turner (a former vice-chairman of finance corporation Merrill Lynch Europe who was the inaugural chair of the UK Independent Committee on Climate Change) thus implying that a corporate management skill set is appropriate for a publicly-funded advisory commission on the most important environmental issue in human history. 
In fact, everyone at the climate change and business conference where Carr's appointment was announced seemed to agree with ASB chairman Gavin Walker who said that " Rod is a highly respected executive with broad management, academic and governance skills in the private and public sectors … skills and experience that will be of immense benefit…" Whoops! Sorry – that bit is from a 2018 announcement by ASB on Carr joining the bank's board of directors. 
TDB Recommends NewzEngine.com
Carr's role in the disastrous 'reform' of New Zealand's public health system 1993-1997 is recorded in the history of health system reforms in New Zealand on Parliament's website. The Parliamentary history does not record what these 'reforms' felt like to the unsuspecting public on whom they were unleashed, but those who went to public hospitals expecting the usual care during those years were shocked and dismayed when they were asked to pay for it – immediately after the treatment. Just like in America, which has the most expensive and most inequitable health care system in the rich world. Of course most people couldn't and didn't pay, and many, many more dollars were wasted on debt collectors, bureaucracy, and causing more misery to already sick people before 2001, when the next Labour-led government created the system we have now. It has its faults, but it is way better than what Carr and Simon Upton (the then Minister of Health and now Parliamentary Commissioner for the Environment) cooked up in the 1990s.
Given what a hash Carr and Upton made of health back then, why would anyone even consider letting them anywhere near the environment today? (Especially when Carr has never had any professional interest in the subject, and therefore knows as little about climate change now as he did about public health back then.) There are various theories on this. One is that Shaw's career before entering Parliament consisted of greenwashing for global finance corporations (specifically the accounting firm Price Waterhouse Coopers and the HSBC bank). He is therefore keen (or only able) to continue doing in the public sphere what he did in the private sector, and naturally gravitates towards the same representatives of corporate interests to do it with. Another theory is that the current Labour caucus contains so few people (three out of forty-six) with both prior ministerial experience and experience of parliament in the 1990s that there is no 'institutional memory' of the damage inflicted by Carr (and Upton) back then, and not much ministerial nous either. A third theory is that the current Labour government is as wedded to neo-liberal economics and its economic-growth-at-all-costs ideology as the previous two, and hence regards appointing known neoliberals to high positions as a good thing. These theories are of course not contradictory, and could all be true. 
I suspect that they all are. So where does that put the estimated 170,000 New Zealanders who turned out for the School Strike for the Climate on September 27 (c. 10,000 more than those who voted for Shaw's party in 2017, and including a great many who will be casting their first vote in 2020) and all their friends and relations who also think that climate change is the most important political as well as environmental issue of the 21st century? Demanding change at the top, I hope.
* The Commission at this point exists only in draft form as the major part of the Climate Change Response (Zero Carbon) Amendment Bill. This Bill received just over 15,000 submissions and has been with the Environment Select Committee for the past three months. It is not due to be reported back to Parliament until October 21. The next step after that is for the original Bill to be amended according to any recommendations made by the Select Committee, and then to receive its second reading, where it is debated in the House. Further amendments may be moved by any MP at this stage, and if supported by a majority they become part of the Bill. There are 21 sitting days scheduled for Parliament after October 21st, between October 22 and December 19. Without knowing what other legislation is up for debate and what priority the government accords it, or what will be in the amended bill and how much debate it will provoke, it is hard to know how likely it is that the Bill will pass this year. But since we were told in 2017 that it would be law by October 2018, what's another year here or there? It's not like there is a climate crisis or anything.  Or that it is something really important, like stopping an MP from leaving their party, which Shaw's party helped the government rush through over the summer holiday of 2018.
In any case, unless the amended Bill gives the Commission powers equal to those of the Reserve Bank – to keep emissions under a legal threshold level as the Reserve Bank is required to do with inflation (which were the powers requested by many submissions on the Bill) – then the longer it is before the public have to start funding a toothless Commission and keeping Carr in the corporate lifestyle to which he has become richly accustomed, the better. Will Shaw's party move such an amendment to the Bill, and will a majority in the House vote for it? Don't hold your breath…
Christine Dann is a political activist and blogger with an MA Hons in Political Science and a Ph.D. in Environmental Policy.