How lucky is Judith Collins that the NZ media are too busy chasing Labour Sex Assault Allegations to focus on this…
Fuel firms told to invest at Auckland airport by June or Government should step in
Fuel supplies to Auckland Airport are not sufficiently secure and investment in extra infrastructure is needed "without delay", a Government inquiry into the 2017 Auckland fuel crisis has concluded.
The fuel crisis began when the 170 kilometre pipeline linking Refining NZ's Marsden Point oil refinery to customers in Auckland suddenly ruptured, sparking a two-week crisis that saw more than 100 flights cancelled at Auckland airport.
The inquiry report published on Tuesday said a digger operated by a "contractor" suspected of damaging the fuel pipeline in 2014, setting in motion its later failure, was owned by Auckland company Oravida Kauri, which was renamed Kauri Ruakaka the following year.
TDB Recommends NewzEngine.com
David Wong-Tung, the husband of then energy minister Judith Collins, was a director of Kauri Ruakaka until 2017, but is no longer on its board.
Former Engineering NZ president Elena Trout who headed the inquiry, said it understood the contractor sold swamp kauri to Oravida when he found them and was not charged by Oravida for the digger.
…Oravida, how extraordinary. Let's remind ourselves about Oravida again…
2011 – Oravida donates $56,600 to National Party.
October 2013 – Judith Collins opens Oravida's new Auckland headquarters.
October 20, 2013 – Collins has dinner with Oravida bosses Stone Shi and Julia Xu, along with a senior Chinese border official in Beijing, China, while on a tax-funded trip. She claims it was a "personal dinner" and that no business was discussed.
October 23, 2014 – Collins visits Oravida's Shanghai offices "on the way to the airport".
December 23, 2013 – Oravida makes a $30,000 donation to the National Party.
March 4, 2014 – Collins denies dinner was a conflict of interest.
March 12, 2014 – Collins admits she had dinner with Oravida bosses, but calls suggestions she should resign "ridiculous". She is put on her last warning by Prime Minister John Key.
March 18, 2014 – Despite Collins' claims she visited the Oravida offices in Shanghai "for a cup of tea on the way to the airport", it is revealed the company's offices are 30km in the opposite direction.
April 15, 2014 – 3 News reveals Oravida  requested help from the Government on Chinese border control issues just weeks before Collins' dinner.
April 17, 2014 – Winston Peters alleges the Chinese official present at the Beijing dinner represented the agency that decides whether imported food products are safe.
May 2, 2014 – There are calls for Collins to resign, following the resignation of MP Maurice Williamson for interfering in a police case involving wealthy Chinese businessman Dongua Liu.
May 4, 2014 – Accusing the media of forcing MP Maurice Williamson to resign his ministerial portfolios, Collins takes a swing at TVNZ journalist Katie Bradford, saying the media should be open to the same scrutiny as politicians.
May 5, 2014 – Collins apologises for attack on Bradford, denies her comment that she could have "recall on all sorts of things" about journalists is a threat.
August 24-28, 2014 – Oravida Kauri Contractor damages fuel line while digging for Kauri to export using loopholes.
So by exploiting a loophole, Oravida Kauri wasn't just digging up treasured Kauri logs for export, their contractor also had a hand in almost running Auckland dry of petrol?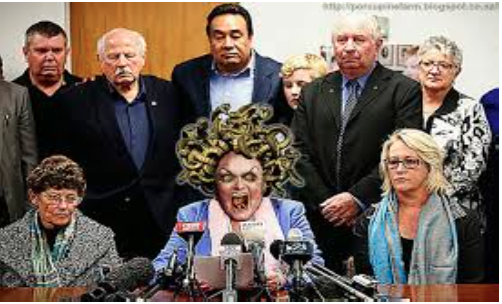 How is it that Judith Collins can have this level of exposure to a company that seems to blur the lines time and time again (not to mention all the Dirty Politics issues) and yet be poised to strike as the new National Party Leader?