Climate change is here and it is worse and happening far faster than the very conservative estimates of the scientists had predicted…
Ross Ice Shelf: part melting ten times faster than the rest

A part of the world's largest ice shelf is melting ten times faster than the rest of it, and water heated by the sun is responsible, a study shows.
Climate change, which has different effects on the economies of cold and warm countries, has already made poor warm countries substantially more poor, a new study says.
Without climate change, the per capita GDP of India would be 40 percent higher today.
Poor countries' problems also affect rich countries, since climate change drives migration.
…and it is causing extinction event die offs in the natural world…
A landmark UN report has laid bare humanity's devastating impact on the natural world, detailing unprecedented rates of decline in biodiversity and nature on land, in the seas and in the sky.

Published on Monday by the UN's Intergovernmental Science-Policy Platform on Biodiversity and Ecosystem Services (IPBES), the sweeping 1,800-page study drew on the work of 145 scientists and 15,000 source materials.

But at its core, IPBES chair Robert Watson said, the report contained one simple message: "The health of ecosystems on which we and all other species depend is deteriorating more rapidly than ever."
…we know it's happening now, yet we delude ourselves that recycling and riding a bike will make some meaningful impact and pray technology can save us.
The Right wing defend the farmers, big polluters and big oil while the Left wing descends into identity politics factions screaming at each other that all men are rapists and free speech is cis white male privilege. And Trans Rights uber allas. Don't forget about Trans Rights above all else.
As the planet melts rapidly, we are avoiding three glaring facts.
1: Neoliberal capitalism is exacerbating and amplifying global warming.

2: Climate change is an existential threat to our species.

3: The current political spectrum simply can not rise to the challenge.
We can't change how we have bungled our way into this, we can only radically adapt towards a self sustaining economy with a strong State to protect what we have left.
It is not enough to jam the jails as Extinction Rebellion are espousing to force change, we must challenge the ever growing growth model of neoliberal capitalism. We can't continue growing because we have passed that point and the very biosphere is now collapsing.
We need to take this ethical reality into our economics.
BeyondMeat launched on Wall St this week & blew past its opening by 160%!!! Memo to Dairy NZ – the game is over – NZ should no longer support an industry that pollutes, steals water, tortures animals and creates climate change gases!
Synthetic meat and milk is the end of an industry we've lazily relied on since the formation of this country.
China is a major contributor to green house gasses – we should stop selling milk powder to them.
The Saudi's crucified innocent people after beheading them – we should stop trade with them now.
It is not difficult to start listing nations we don't want to trade with to slow our growth model.
As vast parts of the planet become uninhabitable, we need to start thinking about Fortress Aotearoa.
We must look to increase our military spending to 10% GDP to protect what we have.
Look at this…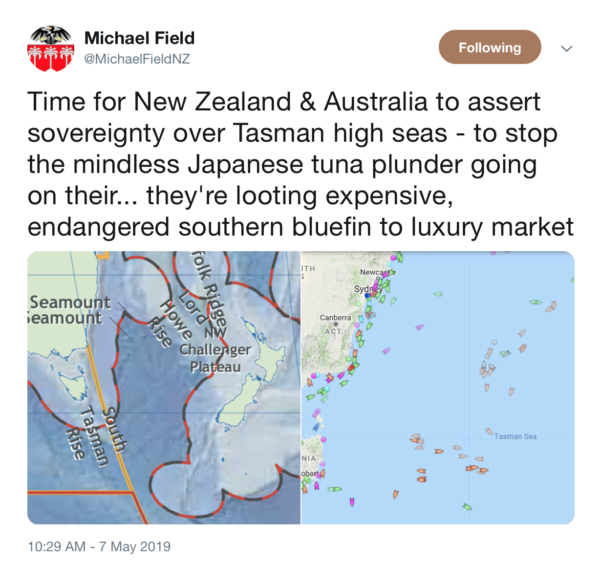 …you think as fishing stocks collapse this is going to get better?
To survive climate change we must embark upon Fortress Aotearoa…
Move away from intensive farming and look to become domestically self sustainable in terms of food.
Immediately ban all water exports
5 year Parliamentary term.
Upper and Lower House (Upper House 50-50 split between Māori & Pakeha that can hold up legislation if unhappy about Treaty issues)
Massive investment into R&D from Government with the understanding research is to benefit NZ first before sold offshore.
Large scale increase in Navy, Army & Airforce.
Mass limiting of tourism numbers with increased tourist taxes.
Only citizens can vote.
Sustainable immigration and an end to exploitative international student workers.
Resettlement Programms for all pacific island neighbours.
Increase refugee in take to 5000 per year
Fully funded public services.
Mass Green housing rebuild.
100% renewable energy for entire country.
Massive tree planting across previous farming land.
Wholesale re-write of state services act to end commercial values.
Investment into basic pharmaceutical production.
Financial transaction tax
Wealth tax
Multinational tax
Inheritance tax
A climate changing world will descend into chaos, NZ will be one of the few lifeboats available, we need to rapidly adapt with foresight before we are forced to blindly adapt because of necessity.
For those on the Right, your days of denial and worship of capitalism are over.
For those on the Left, if your politics are not focused on climate  change adaptation first and foremost, then you are part of the problem.