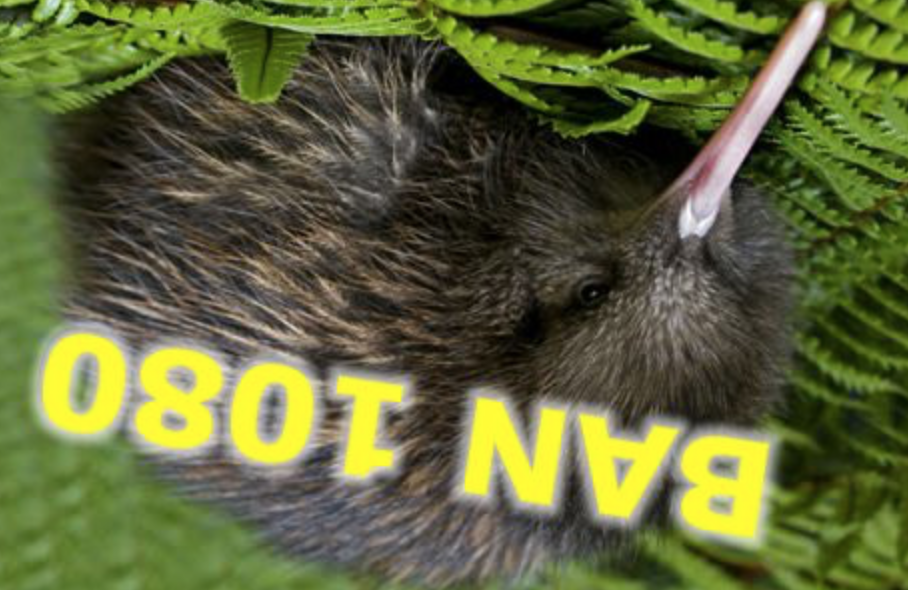 Taking a view on 1080 is almost guaranteed to cause disagreement with at least half your friends. Indeed, it seems nothing causes strange cleavages across the political spectrum, like talking about 1080. But the subject is like a spectre – and if we don't talk about it fundamental disagreements will never get reconciled; and we let untruths continue, misunderstandings prevail, malintentions inform.
We let good people get abused; good science get undermined; and the defence of species and ecosystems go unheard. It's worth talking about because native animals' lives and ecology is at stake, and we should be up for the discussion about the use of toxins in our environment, animal welfare, alternatives, the future of New Zealand forests.
But it sure is a volatile topic, and often in even trying to talk about it, we're talking past each other.
Engaging in the subject, you're as likely to be called stupid, blind, or worse. Some people opposed to 1080 because of its impacts on animals are issuing death threats against people applying the stuff. People who shoot deer and pigs for sport are opposed to the use of aerial 1080 for pest control. And no matter what the science says, sometimes you're just told 'fuck 1080'. Opposition is a fundamental position that refutes science and objectivity. It's hard to reconcile the views, they're philosophical, political and guttural.
If you're like me, your Facebook news feed is full of 1080-related posts, mostly heated. The 'Operation Ban 1080' Facebook page has had more than 350 posts so far today alone and has almost 60,000 members. The 'Hikoi of a Poisoned Nation' went from Cape Reinga to Bluff and its arrival at Parliament this weekend was celebrated with rallies in many towns and cities. Watch any political live stream and they're spammed by a consistent and simple message 'Ban 1080'. The issue is so polarised, so fraught, that it carries potential unforeseen political risks. This is evident with Auckland Council being prevented from proceeding with its planned 1080 drop in the Hunuas in the next week or so, by a High Court injunction, while still going ahead with the pre-bait cereal drop this week. But there are central government risks as well. Even though the use of 1080 is standard governmental practice, and environmental advocates like Forest and Bird, and the Green Party are in favour of its use in the absence of viable alternatives, there's always the wild card NZ First who has policies opposing 1080 that might yet be randomly pulled from the pack to undermine the government, the way NZ First is want to do.
There are lots of reasons being expressed against 1080. It's a poison. Developed by Hitler. A form of toxic control as part of an Agenda 21 conspiracy. DoC are inept and dangerous. 1080 kills everything it comes into contact with; plants, animals, native birds, reptiles. See the photos of dead kiwi by the score, dead deer, convulsing dogs. Read about the butter blockaded from export because of 1080 contamination. See its effects in kauri dieback disease. It accumulates in water, in beehives, crayfish collect and eat it. It's being used everywhere. It's being applied indiscriminately. No-one else in the world uses 1080. Trapping could do the work of 1080 anyway. Humans (DoC) are arrogant for deeming rats, cats, possums and mustelids as pests. They're not really pests. They all deserve to live.
I've also seen 'fuck the birds' and 'it's survival of the fittest'.
TDB Recommends NewzEngine.com
But there's plenty of science-based evidence the other way. 1080 is definitely a toxin, a poison, that's why it's so effective in predator control. But it was developed before Hitler – first synthesised in Europe in 1896 and developed for rodent control in the US in the 1940s. DoC aren't perfect, but they're not evil conspirators wanting to take over the world, they're doing conservation and environmental preservation work mandated by Government. 1080 doesn't kill everything it comes into contact with – mammals are susceptible, but it doesn't kill 'flora' as the SPCA's Bill Kerridge claimed this week, and he should know better, and be more careful or destroy his credibility and do genuine animal welfare concerns an injustice. Whether you prefer the term pest, or predator, or not, there's a hierarchy in our forest, and our birds found nowhere else in the world, being killed by rats, cats, possums and mustelids, are at the bottom of that order, and becoming extinct without effective and systematic control.
They need all the help they can get.
While many opposed to 1080 distrust evidence presented otherwise, they should be sceptical of the propaganda of self-interested hunters who show photos of deer and kiwi dead in reality from dog attacks and road kill. Referring to ancient 'news' about blocked exports and contamination, inflame the cause but are not accurate or helpful for today's issues.
In many of the forests where kauri dieback disease is rampant, such as the Waitakere Ranges, 1080 has never been used.
It doesn't accumulate in water; it's only being applied to 5-10% of New Zealand, with improving precision. Incidents of bykill are tragic, though DoC are trying to minimise this (for example removing most of the Great Barrier Island weka), and the benefits to populations afterwards provide some compensation.
There is no risk to people in Bethells Beach or Wellsford from 1080 use in the Hunuas. The desire to avoid poisons in the environment is a valid wish. But if you've ever been tramping, or trapping in the Hunuas, or the Waitakeres, or anywhere in the South Island, you'll know that traps and conventional methods for pest control cannot do the landscape-scale job required to protect endangered species and their habitats.
Concerns about animal welfare and humane treatment are valid. In animal rights ethics, sentience, and the will to live and the right to life are fundamental for any animal whether they're the family cat, a farmed pig, a deer, a possum or an endangered bird. In an animal rights framework, to justify the death of an animal because it's termed a pest is discriminatory and speciesist. Consistency would require us all to be vegetarian, so no animals die an unnecessary death.
Maybe it is arrogant for us to determine which animals live or die, deemed as pets, or food or pests. But whether you like it or not, we've been deeming other lives as pests since we started killing fleas and ticks off each other's backs when we lived in caves.
Humans have the capacity for reason and morality and when introduced animals can wipe out individuals and collectives of species, cutting across their rights to life forever, morality requires the balancing of individual animal rights with species level values too. Animal sentience means we need to be as humane as possible in responding to environmental level problems, using the best tools at hand.
We need to exercise great care and responsibility dealing with other animals, and species, and mustn't lose our humanity in discussing the issue with others who hold a different view about how this is to be achieved.