Hey Girlfriend, how you doin?
Dear NZ media
How are you all?
Terribly busy chasing clickbait news I'm sure.
Look, far be it for me, the only broadcaster in New Zealand to be banned for life from Radio NZ and who has been blacklisted from every political panel show in the country to lecture you all on your craft, but honestly, your coverage of Obama is possibly the most pathetic sycophancy I've ever had the displeasure of viewing.
This isn't news…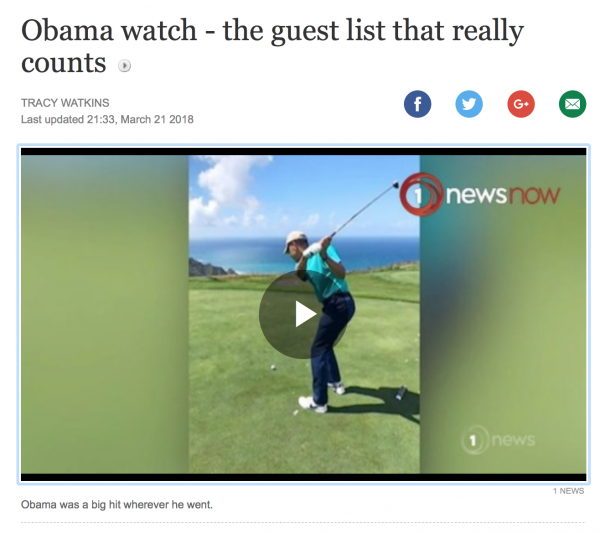 TDB Recommends NewzEngine.com
…this isn't news…
…this isn't news…
…this isn't news…
…what IS news is that John Key lied about mass surveillance while setting Kim Dotcom up and attempting to extradite him to America on the behalf of Barack Obama.
Kim has launched new legal action calling on  the NZ Government to seize Obama and demand answers to how this case was allowed to continue…
There is evidence that President Obama (as he then was) knew the real purpose behind the United States prosecution. That, and further evidence of political motivation in the United States and New Zealand, is set out in the affidavit I have filed in the High Court at Auckland in support of an application for orders that Mr Obama give evidence in my damages claim while he is here in New Zealand. You can read my affidavit here.
…how is it that Obama's golf and dinner are bigger stories than a mass surveillance drenched spy scandal that wrongly arrested and stripped a NZ resident of their rights and who if wins will have the country on the hook for billions in damages?
Your sycophancy towards Obama and refusal to focus on the Dotcom fiasco while Obama is in the country is as disgraceful as your lack of focus on the latest NZDF war crime admissions.