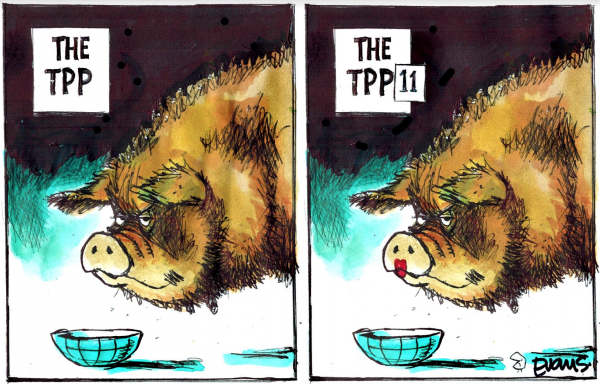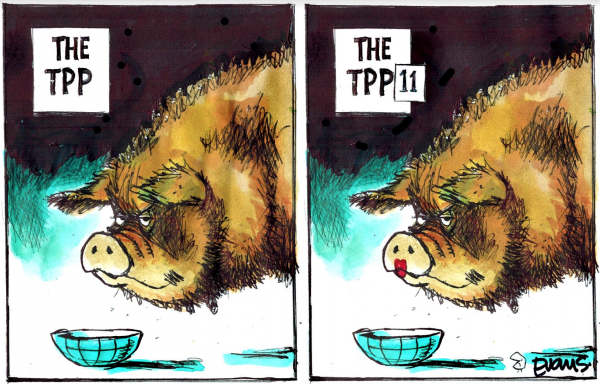 According to the government's National Interest Analysis released yesterday, there would be a very small economic benefit from TPP-11. The costs and risks are far higher, including the real constraints on democratic decision-making and regulation of our economy to meet the challenges ahead. The TPP-11 is not in the interests of the New Zealand people. It should not be signed.
Little economic benefit
The National Interest Analysis (NIA) reveals that the economic benefits of TPP-11 will be small, even if some of the exaggerated assumptions are included. The NIA estimates overall benefits will be only 0.3 – 1.0% growth in GDP by the time the TPP is fully implemented, in 20 years' time.
This compares with a GDP growth of 61% in 20 years' time without TPP-11 (using Treasury long term forecasts).
The headline from the media that there would be up to $4bn benefit from the TPP-11 uses exaggerated assumptions and ignores the timeframe. In reality, an additional 0.3 – 1.0% by 2038 from TPP-11 is a very small benefit.
This is shown in the data:
Tariff reductions of $222m per year are 0.4% of overall exports and 1.1% agricultural exports

They are mainly concentrated in commodities, rather than in value-added processed goods or complex manufacturers that are important to our economic future

Tariff reductions for dairy and beef fall short of the 'gold standard' treaty originally promised

Tariff reductions for dairy are 0.7% of overall dairy exports
The argument in the NIA that exports to China grew after we signed an FTA ignores the context. There was huge growth in commodity exports from Australia, Brazil and other exporters to China, whether or not they had signed an FTA. It is disingenuous to claim this as a likely scenario for exports under TPP-11.
TDB Recommends NewzEngine.com
Risks and Costs
The National Interest Analysis (NIA) of the Trans-Pacific Partnership amongst 11 nations (TPP-11) does not adequately address the costs and risks of TPP-11.
Investor-State Dispute Settlement: Governments around the world are reviewing their approach to ISDS provisions, and exiting ISDS or negotiating alternatives. There is little evidence that foreign multinationals are treated worse than domestic companies – in fact, the opposite is generally the case. If there were risks, private insurance is available, a point made recently by the US Trade Representative.
Concerns over ISDS have not been addressed by the suspension of clauses in TPP-11. Some aspects of government contracts have been suspended, but most of the risks remain. Criticism by opposition parties to ISDS has not been adequately addressed. ISDS is still a 'dog'.
As documented in research paper 'The Economics of the TPPA', the potential for cases under TPP-11's Investor State Dispute Settlement (ISDS) provisions is likely to create a chilling effect on New Zealand's governments' law and policies.
Threats under ISDS create 'regulatory chill' that could inhibit sound regulation in sectors such as banking, energy, climate change, transport, environmental protection and mining. Potential compensation payments or settlements could far outweigh the limited economic benefits from TPP-11. Even if cases are successfully defended, the legal costs are likely to be onerous.
Restrictions on the Right to Regulate: The Trade Minister has hyped up the government's law change to allow restrictions on residential home ownership, but this addresses only one example of the regulations that will be needed in future. It is impossible to anticipate the laws and policies that will be needed to address the known challenges posed by inequality, climate change and the digital economy, let alone future challenges of disruptive technologies, market innovations and changes in social expectations.  
The main thrust of the TPP-11 is deregulatory. Standstill and ratchet mechanisms mean that the government can deregulate, but not introduce new regulation. Most of the treaty restricts the powers of government to regulate the economy, even in ways that do not discriminate against foreign investors. This extension of light-handed regulation, or a reliance solely on voluntary regulation, ignores the costs of past regulatory failures, including bankrupt finance companies, the Pike River disaster, collapsed buildings in Christchurch and leaky homes.
Restricting this future flexibility should not be undertaken lightly. As one small example, our government cannot levy a charge on exports of bottled water. TPP-11 increases the threshold for the government to be able to control foreign investment from $100 million to $200 million. We need more regulation on foreign investment, not less.
Assessment: A far more thorough and objective assessment of the costs and benefits of TPP-11 is required. It should include an assessment of the health implications (as repeatedly called for by medical experts), and potential social and environmental impacts. Given the number of international cases under ISDS provisions (more than 817 cases), an objective assessment of risks of legal action under the Investor State Dispute Settlement provisions is also needed, rather than unsubstantiated assurances that New Zealand will not be sued.
At least, this assessment needs to take place prior to signing. The planned date of 8 March for signing should be postponed to provide sufficient time for New Zealand, and other TPP-11 nations, to undertake proper assessment, public consultation and Parliamentary scrutiny.
Not fit for purpose:
TPP-11 is not an agreement for the 21st Century. It is inconsistent with government policy and restricts progressive policy. It restricts the flexibilities that governments will need to address challenges of the future. The small gains from TPP-11 are not worth the costs and risks for the future. It should not be signed.
Barry Coates is a researcher and campaigner. He was previously a Green Party list MP and Greens spokesperson on Trade and Investment.