There were many things that happened in 2017, but the most dangerous amongst them was the culture of festering resentment that eclipsed the better angels of our nature.
Globally, the working classes of America conspired in 2016 to send a wrecking ball into a political system they no longer believed in to go up against neoliberal economics that had failed them through globalisation.
And what a wrecking ball Trump has become.
Aside from the rampant racism, transphobia, sexism, anti-intellectualism and hatred for anyone poor, liberal media despise Trump because deep down in places they never like to admit at their plush dinner parties, Trump truly represents what America is.
TDB Recommends NewzEngine.com
A shallow narcissist culture looking for its next selfish ego stroke paranoidly armed to the teeth with enough corporate weapons to destroy the planet many times over
That's fine when you are the host of a reality TV show, it's terrifying when that person leads a nuclear armed country.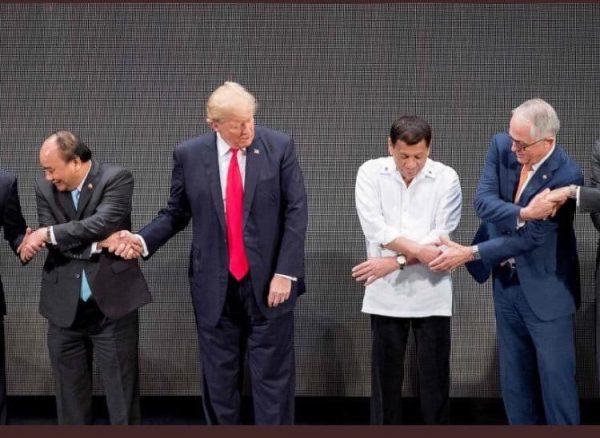 Trump is the ultimate resentment politician. He understands how it feels to be looked down upon by his peers who have laughed at his achievements. His overcompensation resonates with every white working poor American who have perceived their culture and their values belittled for cosmopolitan pretensions while economically robbing them of any resilience.
Trump's revenge fantasies against every imagined slight ignites those voters own resentments while also becoming a flare to attract white supremacists and Nazi sympathisers.
How can this still attract 30% support? Because resentment has a long memory and it can't be forgotten by those on the economic edge.
So where will the Trump resentment end?
We keep wanting to believe Trump will be impeached, but for his followers, any attempt at that will be the final proof they need that the system is rigged against them and their choice for President. The Republicans themselves are held hostage to his popular support amongst their voter base and Democrats have allowed the so called Russian hacking of their democracy to let them off the hook for appointing a candidate as flawed as Clinton via a system that was rigged against Bernie Sanders.
If Russia could really hack the American election with less than $250 000 through Facebook adverts, I'd suggest their democracy has far bigger problems than Putin.
The reality is Trump will probably launch some military conflict somewhere and wait for Republican voters to rally around the flag making criticism seem unpatriotic at a time of war. Believing he won't win a second term is just hope, it's not based in reality.
America's mutilated public education system ensures the resentful will hold power, not the enlightened.
It wasn't just politically that resentment kulture ruled, it was socially.
Resentment fuelled the millions of women who for centuries had no recourse to the sexual harassment they contend with daily to suddenly be free of gatekeeper media and name any harasser they wished.
Men responded by being targeted without due process with an even larger ocean of resentment.  Some men claimed this was a 'witch hunt' when of course what was happening was far more dangerous to men than that. What happened was a witch trial, just like Salem, where the evidential threshold minus due process was whittled down to simply making the accusation on social media. Under current feminist dogma, anyone making an accusation must be believed and any attempt to challenge an accusation is akin to being an abuser yourself.
Where will this resentment end? Some abusers will be punished, many survivors of abuse will feel heard but once men appreciate that their entire lives can be destroyed by nothing more than a social media post, the resentment backlash will see a cultural polarisation of men and women far more extreme than now.
White CIS people felt resentful about privilege they had never perceived before, men felt resentful about a toxic masculinity that damages them as much as it damages everyone else and PoC and gender binary activist vegans everywhere felt resentment that no one was educating themselves about why they were resentful all the time.
Social media was the vehicle of choice for this resentment and the cacophony of hurt feel olympics muted empathy or sympathy for one another. We stopped becoming human beings to one another and started becoming the targets for social media pile ons.
In NZ, the Party of the Famers, Bankers and Property speculators – the National Party – lost the election and promptly sunk into a pit of spite and resentment towards a political system of MMP that was purposely created to stop them having all the power.
Identity politic activists started 2017 screaming at the appointment of Greg O'Connor and Willie Jackson to Labour and threatened signed letters and boycotts. O'Connor ended up killing off a National Party ally and Willie Jackson's masterminding of Labour's Maori Strategy over the election killed off National's other ally. That both men and NZ First proved to be crucial in defeating National was quietly ignored by the resentful activists until Ben Mack gave voice to this Twitter Woke by hilariously making the accusation in the Washington Post that NZ had become a xenophobic fascist state.
Women's refuge frontline staff who resentfully asked for less middle class food and more direct aid were resentfully attacked by resentful people resentful at being made to feel resentful and at a festival where there was less rhythm and too much vine, a young woman was sexually assaulted by having her glitter boob groped while she in turn assaulted the abuser in a manner which self defence can't legally defend. This sparked off a debate where the latter was focused on far more than the fact the male had no right whatsoever to touch the woman in the first place.
The mainstream media of NZ decided that a solo mother stealing for her child 25 years ago was a bigger story than a Chinese Spy inside the National Party and Bill English and Steven Joyce were allowed to lie directly to the country about a hole in Labour's budget that never existed.
Don Brash was resentful that he had to wake up and listen to Te Reo on Radio NZ each morning, while the rest of us felt resentful having to wake up to Guyon Espiner each morning, who has such a smug level of undeserved self importance that he probably cries out his own name during orgasm.
While this all transpired, the catastrophic reality of climate change suddenly went from theoretical to real. As extreme weather event after extreme weather event after extreme weather event emerged, the climate changing truth of what we confront started dawning right when we are most divided and riven with resentment towards one another.
War spread, inequality widened, pollution climbed and poverty was supposedly conquered with jobs that require suicide nets to catch falling bodies and clothes pegs to keep open eyes.
The rich paid less tax via tax havens, trans national corporations paid no tax and the 1% ended 2017 by owning more than 50% of the entire planets wealth.
2017's political and cultural resentment became the cement that locked us into the individualised bubbles that tyranny requires to keep us isolated, angry at each other and impotent.