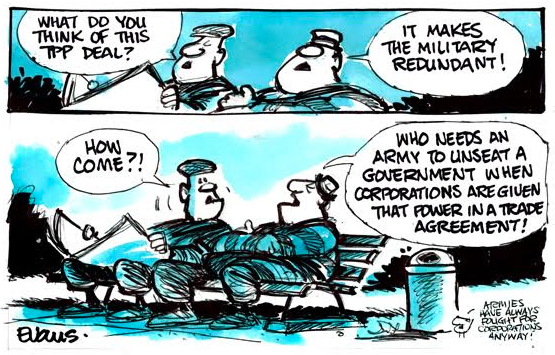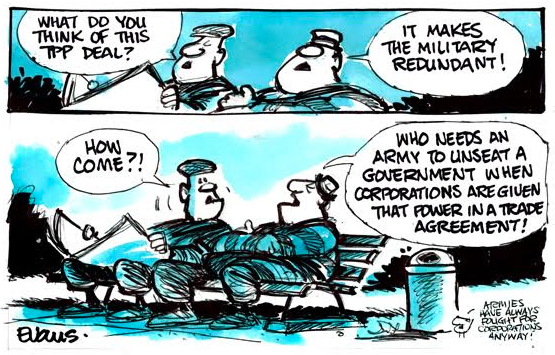 Lot's of anger and fear and dismay from the Left that Jacinda is taking NZ into the TPPA as much as there is from the Right that her demands to ban foreign buyers of NZ land will somehow trip the entire trade deal on its arse.
Action Station have set up a petition that you should sign to add public pressure against the madness that is the TPPA, you should sign it.
Here's what I think Labour are really doing and what I would advise.
The new Government are fully aware that the reactionary rich elite of NZ who are eyeing up any reason to start destabilising the economy would immediately latch onto any definitive anti-TPPA position by Labour as their excuse to start a run on the stock market the way they did to Helen Clark when she tried to implement 'closing the gaps'.
TDB Recommends NewzEngine.com
Does the new Government want to start a war with those rich elites immediately?
I don't think they do.
So what would be a smarter move on the TPPA than open revolt?
Allow the fucking horror story to whither on the vine and die out all on its own.
As Gordon Campbell points out in devastating detail, the entire purpose of the TPPA to economically and culturally isolate  China has stalled because Trump pulled out leaving those still in floundering to justify joining and those pressures are more likely to destroy the TPPA…
Next week in Chiba, many, many elements of the original text are up for grabs. Since Donald Trump took the US out of the TPP, Vietnam has been trying to change the original TPP provisions on labour rights and intellectual property – which it had traded off in order to gain access to North American markets that it wilol no longer achieve. Vietnam will be seeking to backtrack in Chiba. Malaysia has similar concerns, now that the TPP 11 (minus the US) offers it little in return for its prior concessions. Here's how the Japanese press is foreshadowing the Chiba meeting:

"We basically want to reach a broad agreement at the leaders' summit in November…we hope (next week's meeting) will develop the discussion toward that point," economic revitalization minister Toshimitsu Motegi, who is in charge of the TPP trade negotiations for Japan, said at a press conference…. The negotiators will be tasked with narrowing down about 50 requests for freezes to parts of the original agreement, centering on clauses introduced at the request of the United States.

Given there are these 50 changes – either freezes or amendments – that are under re-negotiation, the Ardern government's request will be just another card on an already crowded table. Especially since Australia already has that same housing/land limitation in place, in its version of the text – which should mean that this agreed concession could readily be extended to New Zealand.

Ultimately, Japan will decide the outcome. From its inception as a major pact under Barack Obama, the TPP has been a diplomatic/security pact devised in order to isolate China, rather than a trade pact per se. During 2017, Japan has championed the TPP 11 in order to assert its diplomatic clout in the region. Now that Japanese PM Shinzo Abe has just won an election where his foreign policy (with respect to China and North Korea) was far more popular than his domestic policy, it will be interesting to see just how much domestic political capital Abe is willing to spend in opening up Japanese farm markets any further to foreign competition. So… if the TPP 11 fizzles out in the coming months, it won't be because New Zealand has pulled the plug.
…I think that keeping their heads down and allowing the TPPA to implode all on its own to escape an open confrontation with the elite rich of NZ is a smarter move for a new Government than declaring war on the neoliberal establishment on day one.