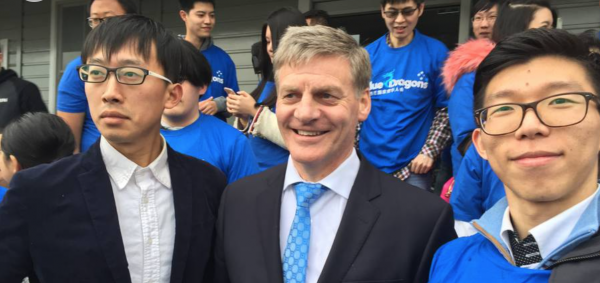 The speed with which the University of Canterbury report into the connections between the National Party and China has been utterly ignored by the mainstream media of NZ  gives a real hint as to the power these Chinese Business interests now have over the rest of the country.
A comprehensive Academic report that links senior National Party MPs and leaders directly with Chinese Business interests and policy that seems to enable and help those Chinese Business interests should lead every news bulletin for a week.
News that China have purchased farms in NZ to test high altitude balloons which help the Chinese military target  their missiles is an explosive revelation yet it has been totally smothered in the NZ media.
Hell, even the New York Times has run a lead story on the Chinese spy inside the National Party…
TDB Recommends NewzEngine.com
A New Zealand Lawmaker's Spy-Linked Past Raises Alarms on China's Reach

WELLINGTON, New Zealand — Revelations that a New Zealand lawmaker had been a member of the Communist Party in China and taught English to spies there have raised alarms about Beijing's influence in New Zealand — and how well the political parties there vet their candidates.

Jian Yang, a lawmaker with the center-right National Party, did not declare his past Communist Party affiliation or his work teaching spies in China on his New Zealand citizenship application. He was returned to Parliament for a third term in the country's Sept. 23 elections.

Days before the election, as some New Zealanders were casting advance ballots, Mr. Yang's background was exposed in a joint investigation by The Financial Times and the New Zealand online media outlet Newsroom.

While New Zealand is a small country, it is a member of the "Five Eyes" intelligence sharing partnership along with the United States, Britain, Canada and Australia. And so vulnerabilities in New Zealand's government could have wider import.

Mr. Yang admitted that in the 1980s and early '90s, before emigrating to Australia and then moving to New Zealand to teach at a university, he studied and taught at two Chinese educational institutions run by the People's Liberation Army, China's armed forces. 
He said he had not named the Chinese military institutions on his application for New Zealand citizenship, and had instead listed "partner institutions" as his employers, because that was what the Chinese "system" had told him to do.

Mr. Yang conceded that he had taught English to spies, but said he had never been a spy himself, was no longer a member of the Communist Party, and had been contracted and paid only as a so-called civilian officer.

Mr. Yang has not been officially investigated in New Zealand or charged with espionage.

But Nicholas Eftimiades, a former officer with the Central Intelligence Agency with extensive experience on China matters, said the title of civilian officer was a fluid one in China.

Mr. Eftimiades, now a lecturer at Penn State Harrisburg in Pennsylvania, said officers moved seamlessly between military and civilian assignments to include Chinese army units and work in the defense industry, think tanks and universities.
…yet in NZ, a report detailing that the National Party are little more than a front for Chinese Business interests and that China are actively seeking to influence our democracy is completely ignored by the rest of the NZ mainstream media.
Why?
It's not like the allegations are false, they are well researched and legitimate. Whose interests are the media serving by ignoring such naked political manipulations?
There has been more media coverage of Duncan Garner leaving bloody Twitter than the power Chinese Business interests now hold over the National Party.
The US who have given NZ power and access with the 5 Eyes technology will become increasingly alarmed at the influence China has over the country and the ramifications of this relationship between National and China will be born out if Labour and NZ First form a Government and clamp down on foreign land ownership.