The negotiating teams of each of the Political Parties vying to form the next Government say much about the relationship each of the Leaders are needing and how they expect a possible coalition alliance to play out.
GREENS: The team is led by leader James Shaw, MP Eugenie Sage, acting chief of staff Tory Whanau, party co-convenor Debs Martin and party campaign committee member and former communications director Andrew Campbell.
James has been solid as leader with the curve ball he was thrown, but does he have the skill to negotiate a new Government? Eugine knows the pulse of the activist base and will have a very good feel on what will and won't be accepted by the grassroots. Tory was thrown in after staff fell on their swords post Metiria, Debs will also have a feel for the membership, but it's Andrew Campbell's inclusion that gives hope that someone will be able to gain the most for Green voters. Campbell is one of the Greens best assets and his strategic mind has been sadly lacking within current Green tactics.
Surprised they left Deborah Morris-Travers out of the Green negotiating team, as a former NZ First MP who worked with Winston in negotiating the 1996 coalition agreement, it's their closest connection to NZ First.
What Greens need: At 6% the Greens have to get some immediate retail policy wins in any negotiation or risk being seen as politically meaningless. The Green Card free youth public transport policy fits that description perfectly, as would the increase in benefits and removal of puritanical welfare punishment regime. The third thing they should push for is the carbon neutral by 2050 plan they want to adopt so they have a fixed environmental goal they can work and point to.
The Greens can gain more social policy wins than they can environmental reforms right now and they need to take those wins and build their support back up off the back of those retail politics wins.
What Greens should do: The Greens have relied upon the Wellington clique for their tactics and strategy teams for far too fucking long and look at what it got them? 8 weeks ago they were 15%, now they barely crawl over the threshold, there needs to be a serious purge within the Green tactics team. This is the time they need to bring in outside perspectives to truly sharpen their strategic goals because what got them here won't be good enough to survive 3 years in coalition Government. They also need to keep their middle class identity politics pure temple activists who see Winston as an anathema to their cosmopolitan cultural elitism on a bloody leash.
Everyone desperately needs a holiday from Twitter.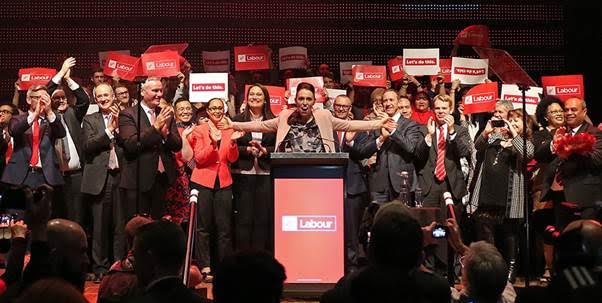 LABOUR: Jacinda & Kelvin with referral team
Wanting to keep it clean and direct, Jacinda & Kelvin will be able to bring in specialist team members who all have close relationships with Winston – David Parker, Willie Jackson, Stuart Nash and Peeni Henare all have close relationships with Winston, it is these relationships Labour needs to make a 3 year Government work. If Jacinda can keep this about the friendships and relationships she has within her Caucus, she will succeed but you just can't rule out the ability of Labour Party Wellington dickheads to screw this up.
Labour Party Wellington dickheads will try and force themselves into the negotiations and start making the sort of bureaucratic demands that Winston loathes. Jacinda has to keep the Labour Party Wellington dickheads, (the very same who had seen the Party plummet to 23%) asfar away from the negotiations as possible. Seeing as it was Jacinda that managed to claw back a tiny amount of respect in the final result, she should make the calls and not the Labour Party Wellington dickhead brigade.
What Labour need: Labour is a working class party with middle class pretensions. It can't tell if it's Arthur or Martha and if they did ever decide, they'd need a 6 month hui to work out pronouns. Labour didn't plunge to 23% by mistake, their piss weak policy combined with shitty salesmanship wasn't an overnight blunder, it was market reaction to the meaningless and overtly cautious Labour policy that manages to be spineless and gutless at the same time so Labour desperately need big ideas and huge vision.
Labour need the Greens social welfare policy to fit alongside their house building policy and their $19b boost to social infrastructure.  Labour also need NZ First's macro economic reforms for the big vision stuff.
What Labour should do: Hilariously, Labour are far more neoliberal than NZ First, this is an opportunity for Jacinda to out manoeuvre history and put Labour on the right side of the people by giving Winston big ideas. It will not be enough to sit down with Winston and say, 'this policy is ok by us and this policy isn't', they need far more imagination than that. They need to sit down with Winston and say 'your policy mixed with our values could create this'. The 'this' could be allowing the SuperFund to invest in regional and urban infrastructure or public transport that carries a toll/fare cost that is paid back to the fund over 30 years. They need to present Winston with a vision rather than policy check list and it could be best presented by Michael Cullen who has already been contacted to help out with the negotiations.
Jacinda should see this as an opportunity to go beyond the mediocrity of Labour's policies and present the real change that inspired so many NZers to rally and take Labour from 23% to 37% (after specials get counted).
NATIONAL: English, Gerry Brownlee and Todd McClay
McClay is on the team because Winston is a close personal friend and Gerry Brownlee's involvement suggests National will do what National always do, bribe. This team will turn up with the baubles of office for Winston and they will offer him the choicest cuts. Winston will be offered the US Ambassadorship, Deputy PM and an electorate deal in Northland. National will simply pull out the cheque book and ask, 'how much Winston'. The problem for National is that their entire economic model is built upon exploitation of water for corporate farming, mass immigration and a speculative housing bubble – all things Winston loathes so the bribe option is the best National have.
What National need: National right now must be doing everything to delegitimise any possible Labour led Government. By attacking MMP and generating noise about cutting  deal with the Greens, National need to sow the seed that the lefties have somehow cheated the system and stolen the result. Luckily for National the majority of NZers are fucking thick as shit when it comes to understanding MMP and the right wing corporate media are easily brought on board to convince the sleepy hobbits of muddle Nu Zilind that the feminists and Maaaori's have tricked us and stolen the precious.
You will know how frightened the right wing have become based on how shrill Matthew Hooton and Ben Thomas become.
What National should do: National desperately need to keep this personal. What they need to do is go onto twitter and copy and paste some of the Wellington Twitteratti's more aggressive identity politics comments made about Winston Peter's and show him these. They need to convince Winston that the viciousness of Green supporters and the types within Labour who tried to have Willie Jackson expelled when he was first announced as candidate won't be able to help themselves but destroy any arrangement with Winston.
NZ First: Winston
It will be Winston and a small group of trusted advisors around him who will make the decision, not the Party. He knows his party shrank in the last election, that the 15% he was going to romp home with this year never eventuated in part because of Jacinda, in part because of the real weakness of NZ First's base and in part because Winston conducted one of the worst campaigns of his life.
He wants legacy and needs it now. Labour can offer him the kind of changes in immigration, macro economic innovations and regional rebuild that he needs to make that legacy meaningful. National can offer him bribes.
The fact Winston has backed down on a referendum for the Maori seats shows more a realisation by Winston that redneck dog whistling for provincial votes gained him nothing and that his real base is an older NZ who have seen their quality of life eroded by the 30 year neoliberal experiment. It is the economic realities of 1980s neoliberalism that binds his electorate, not the culture wars of the 1970s.
Winston won't want his policies spoken back to him at the negotiating table, he will want to see what they could bloom into when mixed with the values and resources of another political party.
Winston is also convinced that the second wave of the GFC will smash NZ when the global economy gets hit next and will want to see a strong State that can withstand that shockwave.
In the end it will be the Party that can promise to keep whatever he builds with them the longest who will become Government.