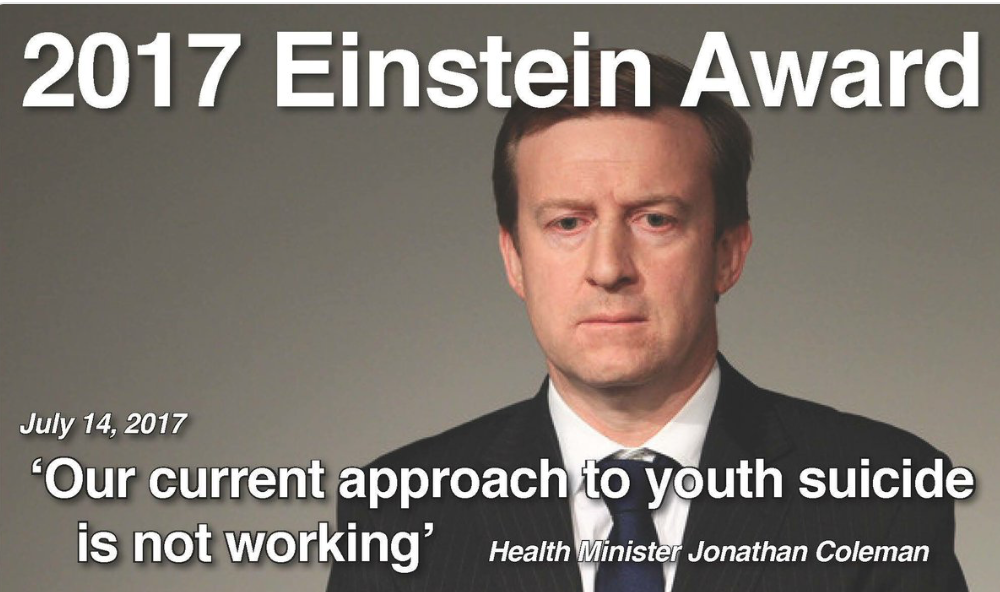 A few days ago, the Prime Minister's 'Chief Science Adviser' Peter Gluckman released a 'discussion report' on youth suicide.
Apart from being something that was massively overdue – this country has 'led' OECD nations for nearly 2 decades with the worst youth suicide statistics – Gluckman was clearly trying to help his employer get on the front foot over an issue that Governments have been appallingly ineffective on for all of that time.
From a 6-year Health Minister who only acknowledged the problem this month, to a Prime Minister who opposes the call for a full-scale review of the mental health system, the Government has been floundering on this life and death issue. Gluckman has been rolled out in an attempt to show – seven weeks out from the election – that some high-powered thinking is going into the issue.
In his normal arrogant manner, Gluckman dismissed "people who think they may know the answer"; i.e. those like campaigner Mike King, and the several families of victims who have been vocal on youth suicide, suggesting the issue is "more complex", with an implication that 'experts' like himself should be left to sort it out.
TDB Recommends NewzEngine.com
He is right that youth suicide is a complex issue, with no one cause or solution, but wrong to diss the families, campaigners, parents, teachers, youth workers, concerned media and coal-face mental health workers who wrestle with the issue on a daily basis. Their combined experience, and especially the bright light that they have shed on the issue over the last few years, will be a major part of what is needed to break the back of this awful societal disease.
Over the last few weeks, the NZ Herald has been running an extensive series of investigations and articles on youth suicide. In their own words "They uncovered an unprecedented and unreported youth suicide cluster in 2012; how NZ schools have been gagged from discussing suicide in classrooms; the rising number of suicidal children being turned down from our mental health services; and how almost half of our teenagers are self-harming before they leave school."
Other mainstream and social media have also been extensively covering the same issue, despite antiquated reporting regulations, and – most importantly – the great unwashed are talking about it on the streets, in the pubs, in the offices, in the homes, and in the schools, despite idiotic attempts to stop that happening by some, such as the South Canterbury DHB 'Suicide Prevention Co-ordinator', who caused an invite to Mike King to address students in three Timaru-area schools to be cancelled.
In his report Gluckman focuses on building personal "resilience" and awareness among youth, combatting bullying, the isolating effects of the digital age, and the physical effects of alcohol.
In itself these are OK ideas, but not ones that address wider community factors like poverty and other socio-economic conditions. It is no secret that young Maori and Pacific Island males, and young people from 'lower decile' areas suffer much higher suicide rates than the norm, but tackling things like poverty, unemployment and homelessness is most definitely not on the Government's agenda.
Reducing family poverty, giving realistic hope of employment and a better quality of life to look forward to will do wonders for a young person's 'resilience'. Focussing on the individual will no doubt help some individuals, but is unlikely to provide the sea change in this problem area that we all claim to be looking for.
So Mr Gluckman, and Messrs English and Coleman, leave it to the real experts to work through solutions in this area; listen to them, and support them with resources and facilities to make a different sort of difference. Commit to tackling poverty, youth unemployment and homelessness, and we'll start making progress.
Dave Macpherson is TDB's mental health blogger. He became a Waikato DHB member after his son died from mental health incompetence.