In 2010 Murphy's Road near Halswell was a country road with exceptionally low traffic volumes.
Like many roads in Christchurch it was badly damaged in the 4th September, 2010 earthquake with liquefaction and broken seal such that it was undriveable.
A local resident familiar with the area was astonished to find in November/December 2010 that the road had been completely repaired and resealed.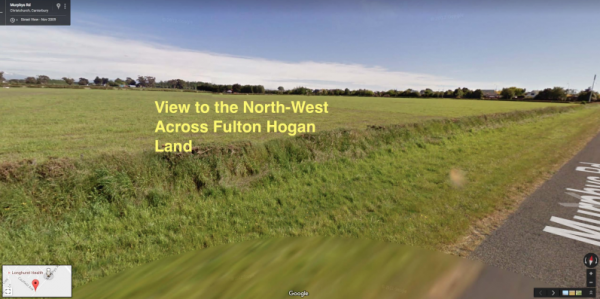 TDB Recommends NewzEngine.com
How could a country road with such low traffic volume be a priority for repair when busy arterial roads close by which were needed for much higher traffic volumes were left in such a sorry state?
Later in 2013/2014 this local resident became aware that Fulton-Hogan were subdividing a large block of land bordering Murphy's Road and Halswell Junction Road.

He submitted an Official Information Act request to Christchurch City Council to find out who had repaired Murphy's Road in 2010, who had authorised the repairs and why this particular road had been prioritised.
The OIA response from the council is included with this blogpost but in summary it says Fulton-Hogan did the repairs and, astonishingly, it was Fulton-Hogan which decided the priorities for the repair of city roads at that time.
To quote directly from the council's OIA response:
"This repair was identified for inspection and repair by our contractor at the time Fulton-Hogan. Repairs were undertaken during the emergency works period, to make the road accessible. The Christchurch City Council Pavement Maintenance Team Leader authorised the repair and invoice"
In other words the council contractor Fulton-Hogan was allowed to set the road repair priorities after the earthquake and prioritised a low-volume country road for repair "to make the road accessible" which just happened to serve a large area of land shortly to be subdivided and developed by none other than Fulton-Hogan themselves.
I leave Christchurch residents to decide if they think this is corporate fraud, sloppy council oversight, greed, sharp business practice, conflict of interest, immoral, unethical, outrageous or a mixture of these.
Contrast this with the experiences of Christchurch East residents I was speaking to on Wednesday this week as part of my bid for the Christchurch mayoralty. The mainly elderly audience complained that six years after the earthquakes their footpaths were still such a mess that many older people – particularly those relying on walkers or mobility scooters – were virtually trapped in their homes.
They are right to complain. They have been betrayed by a council which has swapped its public service ethos for a private-sector "contracting model" which is open to large-scale fraud and abuse as was revealed in Auckland here and is being exposed here and here.
I suspect Murphy's Road is the tip of a large, ugly iceberg.
Christchurch City Council needs to conduct an investigation into Murphy's Road and investigate other such conflicts of interest. It also must conduct a cost-benefit analysis of its contracting out of services. Tasman District found a few years back that it was cheaper to employ people directly to run council services than it was to have contractors do the work. I think it likely the same would apply to Christchurch City Council.
Most importantly the council needs to rediscover a public-service ethos where residents come first and the big business drive for profit is sidelined.
Christchurch residents need a people-centred city rather than a corporate focused city.