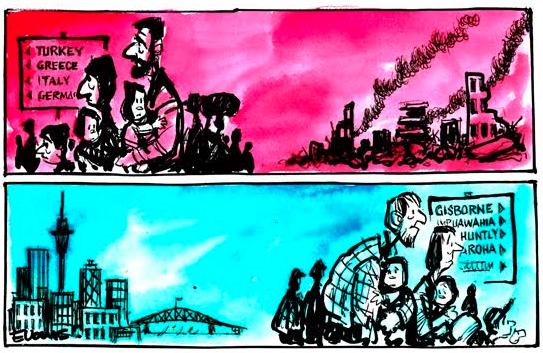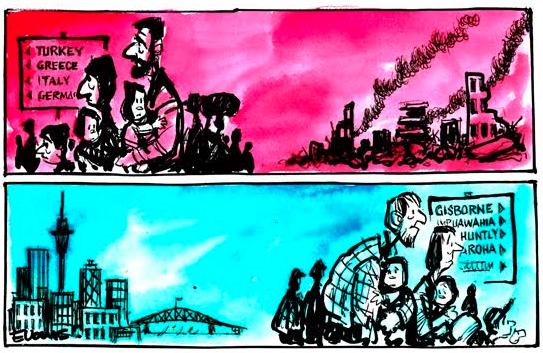 Traditionally it's been the expectation of most New Zealanders to own a home – an investment in the future and a tangible piece of the country to call your own. And this 'Kiwi dream' was once affordable. Today it's crippling. Even those who can afford their mortgage payments and convince the bank to give them a loan are paying a huge proportion of their income. And those are the lucky ones. Renters struggle just as much. Others are families crammed into garages and single rooms, or sleeping in cars. This didn't use to be the case. Families in Auckland could live on a single income and comfortably pay off a house.
Why is it necessary to own property in order to have security and a stake in society? Housing should not be a source of stress and insecurity. We have better things to worry about. It's crippling our economy and it's crippling our health. People should have a sense that the work that they do is rewarded and valued, be it raising and educating the next generation, building the infrastructure that will be around for generations to come, providing public services, developing technology.
The price of houses is a problem, but tinkering with capital gains taxes and first-home-buyer incentives is clearly not the answer. Doing this implies we have no control, that we have no sovereignty over the quality of our lives. I'm not saying the problem is families wanting to own a home – that's not what's causing this crisis. If private home ownership is so sacred to people, that should be their choice. But it shouldn't be the focus of government policy and it shouldn't be actively encouraged.
The solution we should be looking at is state housing en masse and rent control. The government could buy houses and land, build inexpensive quality housing (providing a lot of jobs in the process), and do it consistently and ongoingly. This on its own would cause the bottom to fall out of the speculation market.
Even in large, expensive cities like New York there is rent control. In the US it's common to have long-term leases of up to 20 years, which means you can redecorate, etc, knowing you'll be allowed to stay and enjoy the fruit of your labour. Berlin has rent control – landlords cannot raise the rent on a dwelling while you are living there, and tenants cannot be evicted without a reason – so you have long-term renting at (comparatively) affordable rates. And it's not like these countries are a housing paradise. In New Zealand landlords don't have to give a reason, just twelve weeks' notice, and can raise the rent whenever they like. Renters don't bother getting too comfortable, because they know that at any moment they may have to pack up and move on.
TDB Recommends NewzEngine.com
In New Zealand we have a broken attitude to renting and an unhealthy obsession with property ownership. According to IMF statistics, NZ has the fastest increasing house-price-to-income ratio in the world.
A glaring contradiction in the status quo is the idea that we need big investors to keep the economy going. If we scare them off by demanding high wages, resource consent, high taxes and, in the case of property speculators, rent control, then the economy will grind to a halt. At the same time people know that most of these investors do not have our interests at heart. What they have at heart are 'the interests of the shareholders'. Are you are shareholder? I'm not.
We have to recognise that you can't have it both ways, and that capital flight is a bloody good thing. We are then free to create our own capital – the result of our hard work, our collective skills and knowledge and ingenuity, and the abundant natural resources we are currently frittering away to multi-nationals who pay peanuts. If we gave them the finger, we could still mine and drill if we wanted to, but we'd have a choice, we'd pay people properly to do the work, we'd collect the profits ourselves, we could do it sustainably, and leave something in the ground for future generations.
And fossil fuels and mineral ore aren't our only natural resource. If we act soon, it won't be too late to rescue our 'clean green' claim of days gone by from the jaws of extinction.
But I'm getting off track. With an escalating housing crisis, people are too preoccupied about the possibility of getting turfed out on the street to concern themselves with creative solutions towards a sustainably flourishing economy. They have us over a barrel. It's hard to get inspired when you can't afford to get off the treadmill for a moment, for fear of losing everything. And it's especially hard to get inspired when you have nowhere to live and the society you're supposed to have a stake in doesn't acknowledge your existence.