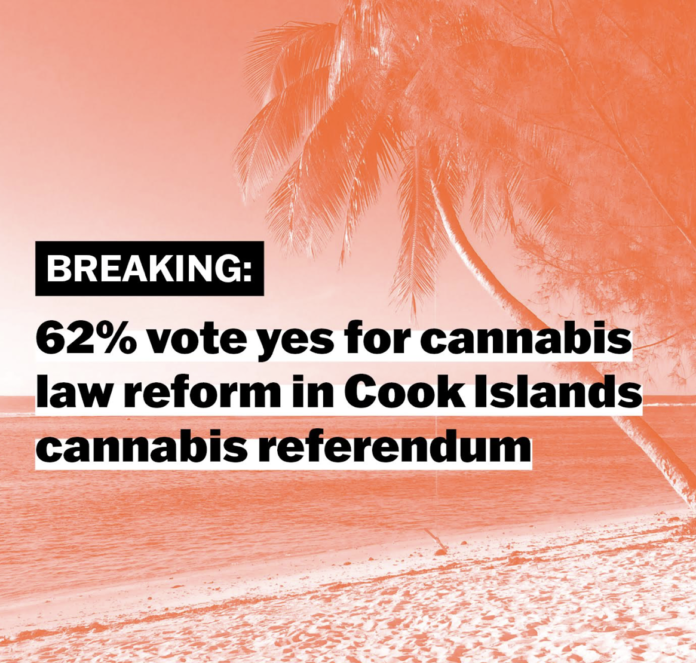 Kia ora! Cannabis in the Cook Islands, Price Harry's troubles stirred up by beer-funded lobbyists, and J Day is coming – all this and more, on this week's Marijuana Media show on 95bFM, with your hosts Jonny from bFM Drive and Chris Fowlie from The Hempstore.
[Stream the pot-cast of this show on 95bFM] [download mp3]
Cook Islands makes progress on legal medicinal cannabis
Radio New Zealand's Pacific News revealed this week the Cook Islands' Cannabis Referendum Committee has met with their Cabinet on making progress on medicinal cannabis. The self-governing country, which is in free association with New Zealand, voted in favour of legalising cannabis for medicinal use in a referendum during the 2022 general election.
A government spokesperson told RNZ the Committee proposed to progress firstly with the prescription and importation of medicinal cannabis and then with the cultivation and distribution of local product. They also discussed the protection of youth, public health and criminal justice matters. In February, a report on RNZ suggested allowing medical prescriptions and local manufacturing will, in turn, spur a review of wider cannabis laws.
"If we're going to go down the road of manufacturing our own medicinal cannabis, then we might have to look at the issue of possession, because you don't want to catch everybody who are legally entitled to possess because of being involved in the manufacturing of cannabis medicine in the Cook Islands."
TDB Recommends NewzEngine.com
Cook Islands Prime Minister Mark Brown had told Cook Islands News the country's current laws around possession were "quite dated" and they would look to bring them in line with Australia and New Zealand. "We're looking at the legislation, and how it impacts on the recreational use of cannabis, which is severely restricted and harshly punished."
Current regulations in NZ prevent exporting cannabis seeds, for example to the Cook Islands, by licensed suppliers of genetics such as Zeacann. Fortunately, this is one of the changes proposed by the Medicinal Cannabis Agency, so we might one day see Kiwi cannabis grown in the Cooks.
New Caledonia parties push for cannabidiol
In New Caledonia, another close neighbour of Aotearoa, political parties are pushing for the legalisation of the non-psychoactive cannabis-derivative cannabidiol (or CBD). CBD is the second most prevalent active ingredient in cannabis but does not cause a 'high' by itself.
The Future in Confidence party and the Caledonian Union say they have lodged three amendments to the New Caledonian Congress. These include taking cannabidiol out of the list of criminalised drugs, and authorising the importing of CBD products.
As previously reported on Marijuana Media las November, French Polynesia's parliament passed a law allowing medicinal use of cannabis, hemp farming, and making CBD products from locally grown hemp. Maururu!
Prince Harry's visa threatened over drugs admission by booze-funded lobbyists

Prince Harry's drug use revelations in Spare may put his US visa at risk – thanks to intensive lobbying from the beer-funded Heritage Foundation, a conservative lobby group founded by Coors brewers in the Reagan era and now known as a pro-Trump "pipeline of hate".
In the book Prince Harry admitted to using cannabis, magic mushrooms and cocaine. While the prince said he used cocaine more as a "social thing", he said "Marijuana is different, that actually really did help" him deal with his "trauma". The prince also divulged his "positive" experience using ayahuasca, revealing that the psychedelic drug "brought me a sense of relaxation, release, comfort, a lightness that I managed to hold on to for a period of time".
In a heated battle with officials, who say visa applications are confidential, the Heritage Foundation now says the Duke's visa application should be made public so that Americans can know whether he was honest about using drugs when entering the country. The Herald reported this week US immigration law has severe repercussions for withholding the truth from officials, and such offences can lead to deportation and could prevent the prince from applying for citizenship.
News wrap up and roll up:
National's Shane Reti bizarrely blamed longer hospital waiting lists on Labour's "100 days" focus on medicinal cannabis. But the scheme is self-funded, with companies paying huge licensing fees, and patients not receiving any financial support for medicinal cannabis, effectively saving the Health budget by coming off state-funded medications.
Victoria Uni's Salient magazine on having a productive conversation about how to support people taking drugs. It comes as the NZ Drug Foundation is consulting those with lived experience on new drug treatment guidelines to be issued by Te Whatu Ora (together with Te Aka Whai Ora).
This is the first significant upgrade of the guidelines since the previous Labour government led by Helen Clark. Back in those days NORML did pill testing at The Gathering, and helped advise on the ground-breaking Sorted guide produced by Auckland CADS with MOH support. After a decade of going backwards under National, it's great to see progress being made on reducing harm and keeping people safe.
J Day is coming up! Show your support on Saturday 6th May in Albert Park. This will be the 31st annual cannabis law reform rally and festival, organised by NORML with support from The Hemp Store.
For more info about J Day see norml.org.nz, eventfinder, or stuff events.
Marijuana Media airs every Thursday at 4:20pm on 95bFM, with your hosts bFM Drive's Jonny and Chris Fowlie from The Hempstore. Stream or download the pot-cast for this show here or hundreds of previous Marijuana Media shows at 95bFM.com (or via iTunes / RSS feed).