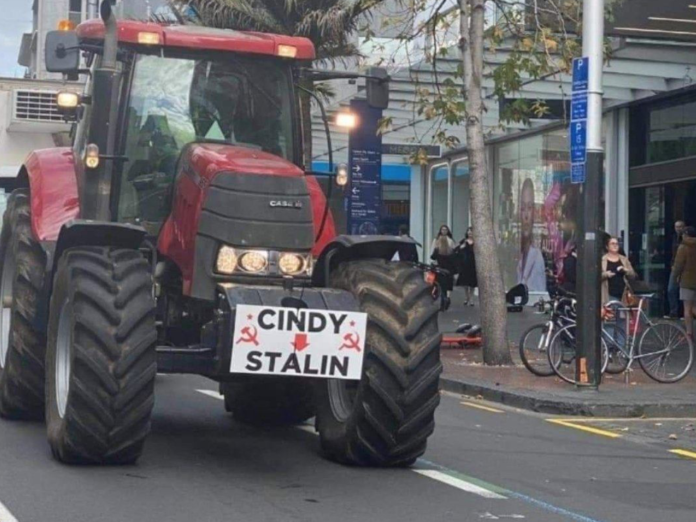 I'm happy to see farmers taking protest action as part of having their say in a democracy.
But the saddest thing about Friday's farmer protest is that while farmer complaints are unjustified, the government will bend over backwards yet again, will water down planned environmental protections further and extend the timelines for compliance. We've seen this too many times before. Gutless governments refusing the challenge farmer ignorance and arrogance head on.
When interviewed on TV after the protests Agriculture Minister Damien O'Connor, who has always been a foot-dragger on environmental protection policies, has said his door is open to discuss farmer concerns. He says they want to work with farmers. Translation = we will backdown.
Listening to the "Groundswell" organisers of the protests its clear they are driven by a heady Trumpian mix of climate denial, visceral resentment of "their rights" to do whatever they want with "their land" being challenged and wilful ignorance for any concept of the common good.
They are living in a Maggie Thatcher world where there is no such thing as society – just individual rights and interests.
Far too many of them live in a self-delusional world where they believe they are "the backbone of the economy", they are "carrying the rest of us" and we should be grovelingly grateful.
Meanwhile the rest of the country are paying for the environmental destruction caused by unsustainable farming practices which most farmers seem deeply reluctant to change. We are paying more than a billion dollars each year to subsidise their greenhouse gas emissions and hundreds of millions more to clean up our rivers, streams and lakes – most of which are not swimmable and some not even wadeable. And further down the track we will face horrendous costs to get nitrates out of our drinking water.
Farmers have known about these things for decades but most simply refuse to adapt and change. I think most of the rest of us are over it.
TDB Recommends NewzEngine.com
Whenever there are droughts or floods, increasingly driven by climate change, we pour taxpayer money in to support them; whenever there's a crisis like mycoplasma bovis hundreds of millions is expended to keep farmers afloat. Similarly with funding for the likes of agricultural research etc.
And meanwhile New Zealand farmers pay tax rates typical of most businesses and much lower than the rates paid by the migrant workers on low wages they employ. (That's not the fault of farmers but the fault of governments who run the economy for the rich at the expense of the rest of us).
New Zealand farming practices have been unsustainable and environmentally destructive for many decades; it has now passed crisis point for all of us.
I feel sorry for young farmers who are in effect working for the big Australian banks to pay back huge mortgages. But that is the last reason anyone should give for the destruction and despoiling of our environment and stubborn ignorance of climate change.
However I suspect we won't make much progress till farmers fear community condemnation for unethical farming practices more than they fear their bank managers.