News that despite pumping $1.9billion into mental health, all we have gained is 5 extra acute mental health beds is a shocking indictment on Labour's ability to deliver…
Mental Health: Minister 'extraordinarily frustrated' as just five new acute beds added after $1.9b investment
Health Minister Andrew Little says he is "extraordinarily frustrated" that the Government's $1.9 billion mental health package isn't flowing through to actual services – and has hinted at an independent review of the process.
It comes after Newshub reported just five extra acute mental health beds had been added from $235 million invested in mental health facilities in Budget 2019, and Stuff revealed a huge underspend in the flagship new service for those with more moderate mental health needs.
…this is ultimately a political failure by Labour – they didn't expect to win in 2017 & didn't expect to win a majority in 2020, so they had no reform agenda for the neoliberal bureaucracy.
TDB Recommends NewzEngine.com
There's no point shoveling billions into policy when the bureaucracy fiefdoms rule!
You can see why Mike King handed back his medal in shame and why we are now seeing stories of patients being forced to sleep on a mattress on the floor because there were no mental health beds left…
Newshub has spoken to one patient forced to sleep on a mattress on the floor of a communal lounge because there were no mental health beds left.
Kiana has a history with post-traumatic stress disorder (PTSD) and bulimia nervosa. She's been dealing with our broken mental health system for six years.
…do you want to know the real difference between Labour and National?
I'm warning you, you won't like it, but it's true.
The real difference difference between Labour and National is this.
National are ruthless pricks. Nasty, bullying ruthless pricks and you need nasty bullying ruthless  pricks to beat the bejesus out of the Wellington bureaucracy to actually get shit done.
Labour on the other hand wants to give everyone a cuddle and an inclusive Hui with a vegan lunch menu in te Reo and a side dish of pronouns, where they all feel safe and as such, the Wellington bureaucracy isn't scared of Labour.
Jacinda pumped $1.9 billion into mental health and what has she got for it? 5 extra acute mental health beds! The Wellington bureaucracy are laughing at her and divvying up the latest splurge of cash on whatever they want.
New Zealanders don't understand that the representative democracy they interact with once every 3 years is merely a masquerade of democracy, a pretense to keep you voting and giving the process the flimsiest of legitimacies, the real powers are the Wellington bureaucracy and a Party's success is determined purely by how much they can force the Wellington bureaucracy to actually implement policy.
In the words of the great Unionist, Robert Reid…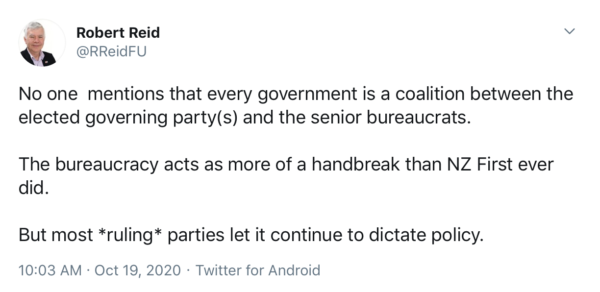 National got shit done because the Wellington bureaucracy was frightened of them, Labour can't achieve jack shit because they are too busy giving everyone a cuddle.
Kiwibuild, child poverty, inequality, that bloody bike bridge we all know they will never build – Labour can't bully or headkick the Wellington bureaucracy and that's why nothing ever gets done.
To spend $1.9B on mental health and only have 5 extra beds is a fucking shambles and embarrassment.
Increasingly having independent opinion in a mainstream media environment which mostly echo one another has become more important than ever, so if you value having an independent voice – please donate here.
If you can't contribute but want to help, please always feel free to share our blogs on social media