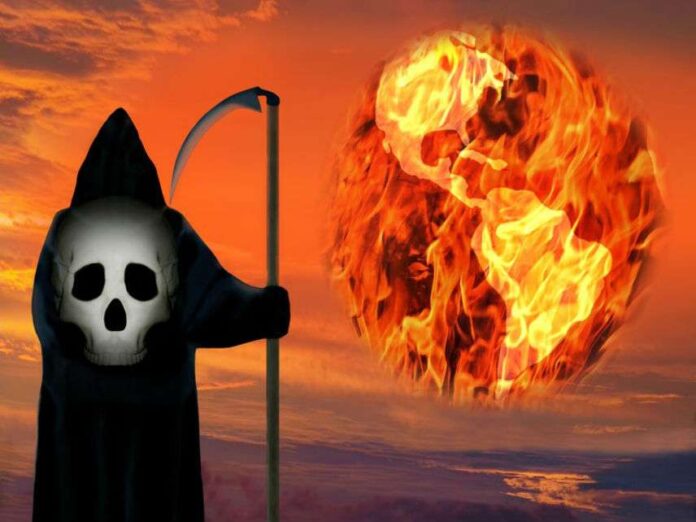 Climate scientist Michael Mann's recent book 'The new Climate Wars' argues that the battle to convince people that climate change is not caused by human's has now largely been lost by the fossil fuel sector, and that several new strategies are now being used to prevent action on climate change.
One of the new wars is the ideology of doomism, which is the doctrine that is based on the claim that "it is completely hopeless, and nothing can be done about climate change", and other similar claims and responses to the climate crisis. This doctrine is not solely pushed by the fossil business sector, it clearly benefits from it as it leads to the outcome of inaction, which is what they want. As pointed out in Mann's book, it has come often from very intelligent, decent people, and Mann himself says he has been suspectible to doomism. Anyone that's part of the environmentalist movement would have come across doomism a lot, and helplessness as an emotional response now ranks quite highly according to opinion polls such as this one as one of the main barriers to climate action, though it is still behind hopeful. There are also softer forms of doomism, like focusing on worse case scenarios and exxagerting the claims of methane bombs trapped under the arctic. This in large part is what Michael Mann focuses on in his book. Doomism is not to be confused with cynacism.
There are two questions that I will address; one is the question of whether there is any evidence to support doomism, and the answer is pretty clear that there isn't. And the other is what exactly is the cause of doomism, and this is much more interesting. I'd like to give my own partial and speculative answer, as Mann's focus in the book is quite narrow, in my view.
There are very clearly a lot of things that can be done about climate change, and those who claim that nothing can be done are completely untrue. To list some idea's, you can look at the website drawdown.org, which lists one hundred climate solutions, all argued to be very feasible. In Robert Pollin and Noam Chomsky's recent book, Pollin puts forth a Green New Deal plan that would meet IPCC recommendation targets, and cost a maximum of 2.5% of gdp from each government per year, until 2050. Paying for it according to Pollins plan really doesn't look like it require's changes that were as substational as the original New Deal policies that were adopted by countries in the 1930's, and it would bring a lot of economic benefits outside of climate change.
Secondly, there happens to be a very large historical record of acheiving political gains through struggle, and we can look back and see that for example it was possible for women to get the vote, or that slavery could be abolished. And part of that was overcoming the belief that those acheivements could not be done. We happen to live in a society with a very high degree of freedom, where it is actually much easier to struggle now than it was further back in history, or in more oppressive countries. If you look at say Nigeria, or Hondorus, environmentalists there have been murdered. And so the claim that nothing or very little can be done, may well have some weight in those countries, but not ours or any of the others in the west.
TDB Recommends NewzEngine.com
Now, why is there a semi popular beleif in doomism when there is very clear evidence that contradicts it? It is not just a result of the fossil fuel business's, and doomsayers. One reason Mann gives, is that climate scientists like himself have focused narrowly on their on expertise, and very little on solutions:
"It is important to communicate both the threat and the opportunity in the climate challenge. I learned this the hard way. For years my standard public lecture on climate change focused only on the science and the impacts, because I am a scientist. I would then pay lip service to "climate solutions," with the obligatory final slide depicting a montage of recycling efforts, wind turbines, solar panels, and the like. I was fortunate that my audiences were made up of thoughtful and sharing folks. And when they would linger afterward to talk with me, I heard the same thing over and over: "That was a great presentation. But it left me so depressed!"
We could also put a lot of blame on those who are in a position to provide solutions; but give very underwhelming ones. (Like the climate change commission). In my view the economics profession are to a large extent to blame for this as well. A lot of them have provided solutions like a carbon tax, or trading scheme. This is a fine idea, Australia reduced emissions by a pretty reasonable amount with even a small carbon pricing scheme for the time they had one. But to offer this as a solution to climate change, and stop there, is basically like saying lets ruin the eco-system. It is clear that whatever the solution is to decarbonize the economy in time, it's going to involve many policies, that actually have to go much, much further than a carbon tax, (as Robert Pollin does). So yes it's fine to say you support a carbon tax, but only if you say this is a necessary and insufficient policy for dealing with the climate crisis.
As for the media coverage; over the last decade or so it has covered climate change much more, but the coverage has focused far more on the science, with little coverage on either who is behind the crisis and what the solutions are, at least according to this study. With the New York Times offering opinion piecesthat Bernie Sanders Green New Deal is "technically impractical, politically unfeasible and possibly ineffective.", even though most American's actually support a Green New Deal. And this would be a real GND, not say the watered down one that Biden has. Notably, most people have not even heard of it.
These two examples represent the mainstream picture that is fed to society over the last decade by the media: Climate change is no longer something that is debatable, but we won't inform you about how to deal with it. That must be one of the causes of doomism and apathy, and in order to resist it people have to realize that this picture is not true and the doctrine of doomism doesn't have any evidence to back it up. There have always been feasible solutions provided to the environmental crisis, and to go further, there have always been people providing solutions to capitalism and it's evils, the consequences of inaction have never been more serious and it's never been easier to act.
Douglas Renwick is a political activist trying to analyze the major problems of 21st century capitalism