I'm sorry, but this inquiry is starting to reek like a massive white wash.
We are told now that evidence will be suppressed for 30 years…
Christchurch mosques terror attack evidence suppressed by Royal Commission for 30 years
Evidence given by ministers and public sector bosses to the Royal Commission of Inquiry into the Christchurch terrorist attack will be suppressed for 30 years.
And an interview with the Australian-born terrorist will never be released out of concern it could inspire and assist further attacks.
TDB Recommends NewzEngine.com
The inquiry's report was provided to Internal Affairs Minister Jan Tinetti yesterday and will be publicly released on December 8, after first being shared with victims' families and political party leaders.
It will detail any failings by police, spies, and other government agencies in the leadup and aftermath to the mosque shootings on March 15, 2019, in which 51 people were killed.
…30 years is the life time and post service reputation of a powerful Wellington bureaucrat.
Here is what I fear is happening.
This is the list of NZ security apparatus, many acronyms you've never heard of, who are supposed to keep us safe from this very type of terrorism…
The SIS (Secret Intelligence Services)
The GCSB (Government Communications Security Bureau)
The NSG (National Security Group)
The Police Intelligence Unit
The CNSN (Cabinet National Security Committee)
The ODESC (Officials' Committee for Domestic and External Security Coordination)
The SIB (Security and Intelligence Board)
The CTCC (Counter-Terrorism Coordinating Committee)
The NICC ( National Intelligence Coordination Committee)
The IAD (Intelligence and Assessments Directorate)
The NRU (National Risk Unit)
The NSPD (National Security Policy Directorate)
…collectively they cost us between tens of millions and $100million each year yet not one of them had this Australian white supremacist terrorist on their radar, DESPITE this Australian white supremacist terrorist criss crossing our border to take tiki tours of global atrocity sites multiple times and having at least 3 seperate warnings about his demeanour from his gun club by serious gun owners frightened that he was a full blown nut case who shouldn't have a gun!.
How the hell did they miss him?
Funny isn't it, when it's Greenpeace protesting deep sea oil, returning Muslim students at the airport, Māori Iwi campaigning against oil, the MANA Party doing anything or investigative Journalists and Bloggers who embarrass the National Party or an Internet entrepreneur  – OH SWEET JESUS, they are all on the fucking radar aren't they? They can all have their civil rights abused and degraded, but an Australian White Supremacist who plotted an atrocity on our soil for two years with numerous warnings, oh no, apparently our mass surveillance intelligence apparatus can't see that at all.
This is, and always has been, the crux if this issue.
The Woke be screaming that this was all white people's fault, that micro aggressions by white people leads immediately to macro violence and as such white people should be shamed into loving PoC more and that we must change our free speech laws to accomodate religion into hate speech.
That's just self interested narrative creation to put their wheelbarrow of micro aggressions into the centre point of debate. Remember all the woke at the beginning of this year screaming that anyone blaming China for the Covid virus were anti-Chinese and as such were xenophobic and that Covid was no worse than the flu?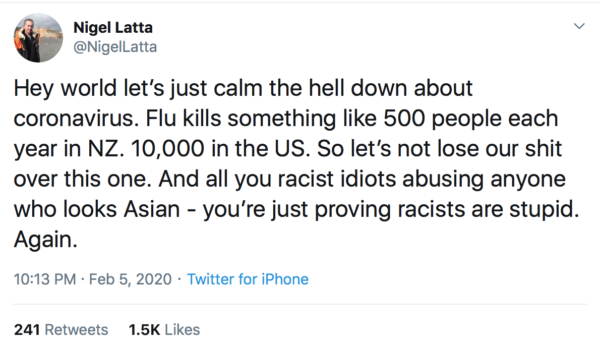 …yeah, woke identity politics isn't going to do anything more than create cultural knee jerks that don't focus on the actual problem but make the person ranting feel much more self-righteous.
The Christchurch  atrocity was always an obscene failure by our security services and when you look at who that vast spy network considers the enemy, such a glaring blindspot was an appalling way to ensure everyone was safe in our country.
Our intelligence system failed Muslims, the people of Christchurch and every single NZer and the manner in which they are going to suppress evidence alongside this 'espionage' charge against a NZDF service man smell like a vast distraction campaign to keep us from the failure of all those acronyms.
We are yet to see if this 'espionage' charge is actual espionage, or a trumped up definition to make the case look more impressive than it actually is. It has been timed to come out just before the report so that should be a concern.
I fear that our intelligence apparatus has failed us miserably and that those who were responsible for that failure are covering their arses by suppressing evidence and pushing a pumped up prosecution as the necessary scalp the confused public will demand once the scale of that intelligence failure is made apparent.
Those good, charitable, wonderful Muslims, the wider Christchurch Community, and indeed the whole country, deserved to be far better protected than they were that day.
What the hell happened?
Increasingly having independent opinion in a mainstream media environment which mostly echo one another has become more important than ever, so if you value having an independent voice – please donate here.
If you can't contribute but want to help, please always feel free to share our blogs on social media.