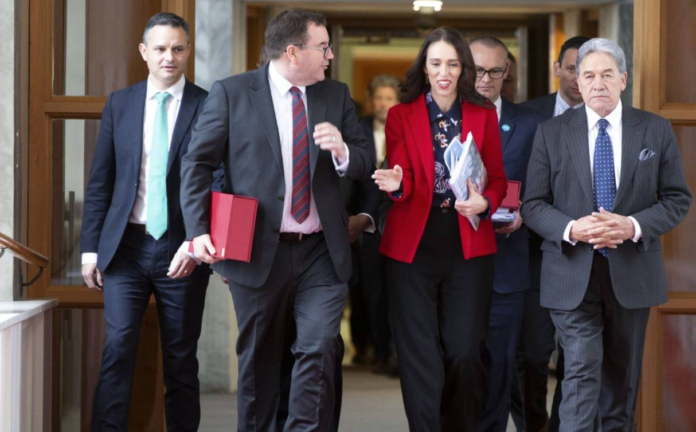 So we are 5 months away from the 2020 election and all of a sudden EVERY SINGLE previous prediction means nothing!
This pandemic is a once in a generation event, political values are being tested in ways that will either break them or strengthen them. Who we are and what we are as a national identity is being excised in real time and the consequences of where New Zealand goes next will re-orientate us as a country in a way that will be as monumental as Universal Suffrage, Nuclear Free, and the Neoliberal experiment of the 1980s all rolled into one.
This plague throws the playbook of politics out the window. Voters who have voted Blue their entire lives have been bewildered by Jacinda's competence and are considering voting Labour in gratitude, the NZ Right who have been a solidified voting block since Brash faces a hard right schism for the first time in decades and those already angry towards Jacinda have bordered on outright hate as the financial threat of lockdown bites.
Identity Politics has been diminished for the petty political narcism it is and abandoned in the race towards the election. No one gives two shits about militant vegan bike lane PoC free the nipple protests celebrating their trans allies and mommy blogger Action Station petitions, people give two shits about where their next meal is coming from, how they pay for the roof over their head and how they are going to hold their shit together.
Less woke micro aggression policing, more neoliberal hegemonic structural re-engineering. The problem for the left is that neither Labour nor the Greens have the imagination for that re-engineering as both had acquiesced to the free market gods a long time ago. Their intellectual Stockholm syndrome is what's holding the Progressive left from actually doing anything meaningful.
We have dodged the public health nightmare, now the second wave of this pandemic tsunami threatens to cause an economic apocalypse, so where the fuck are we at?
LABOUR: Predication – Majority Government
TDB Recommends NewzEngine.com
I didn't ever think it was possible in an MMP environment, but Jacinda's extraordinary leadership not only through this plague but through the White Supremacist Terror attack and the volcanic eruption (all the while being  new mother) have lifted her to legacy level.
We are seeing a political leader who has every chance of being Prime Minister for 4 terms.
People who only see the clips of her on the news watched breathlessly very day at 1pm as she led with fierce grace and compared her performance with Trump's daily insanity. Jacinda has won the vast majority of New Zealanders over. She asked for lockdown sacrifice and the nation obliged, there is a real sense of pride and gratitude in her leadership that builds an electoral loyalty.
I now believe Labour will win so many seats in the September Election that they will be able to govern alone.
Now at any other time, the idea of an all powerful Labour would be depressing news for progressives because it would mean the incremental and cowardly domestic agenda of Labour to date would advance at an even more glacial pace.
The truth is that beyond Jacinda's response to these crises, Labour have done sweet FA to be transformational; the poor still rot, the inequality still soars, the suicide rates are astronomical, homelessness continues, state housing is a joke, housing affordability is a joke, worker rights are a joke, the toxic culture of WINZ continues, meaningful climate crisis legislation is a joke, the tax working group was ignored, the Justice reforms were ignored and the welfare working groups  ignored, (NOTE: tribal Labour will scream the lack of progressive wins is all because of NZ First, but that's nonsense, Labour don't want to be radical and blaming Winston is convenient).
All that said however, these are NOT normal times and the pending economic meltdown will FORCE Labour to actually do something new. If Grant and Jacinda can't radically  rebuild a sustainable economy that can withstand external shocks in a world that will only continue to hit us with ever increasing climate crisis external shocks, the negative backlash will drown out any legacy the last 3 years have gifted them.
NATIONAL: Dead man walking – 30%
They have utterly failed to appreciate that the country are grateful to Jacinda and want their own personal lockdown self sacrifice acknowledged. The backlash Simon faced from his own supporters on Facebook is testament to this and from the beginning National have struggled to defend their free market values in the face of  pandemic exacerbated by that neoliberalism.
All our cows in one Beijing paddock was Key's economic model, and National's total acquiescence to China doesn't help make them look like they appreciate their own role in making us subservient to our Chinese Overlords.
In the week before lockdown, Bridges and Goldsmith were gloating about how much Government red tape they were gong to burn in their 'bonfire', to boast about how much you intend to reduce the very State that frightened people are now turning to in a crisis is the biggest misread of a room since Trump guest spoke at a conference on feminism and micro aggression policing.
Simon's Death Cult Capitalism Level 2 now demands that the slaves get back to work for their bosses has missed the mark as well. He just comes across like Mr Burns without the charm, luckily for Simon his caucus are too cowardly to take the leadership from him and he will lead National to a crushing defeat.
NZ FIRST: Back with avengeance
Winston's sudden reminder that he hates the free market and neoliberalism has given him a second wind and with National crashing I see NZ First picking up some of those soft Blue voters who want NZ First to be a handbrake on a runaway Labour.
If Winston can make the enormous  structural changes that he's always fantasised about he could finally build the legacy he has been so desperate to achieve.
The arguments against the free market that birthed NZ First are now apparent for everyone to see and Winston could end up being the most important visionary in the Government.
NZ First should pick up the need to invest in a domestic Pharmaceutical Industry and rebuilding our manufacturing sector.
GREENS: Drowning
Even the leaked UMR polls claim the Greens are only on 5%. This should be sending shock waves throughout the Green movement, at a time when the climate crisis is the only issue and the need to rebuild our economy to meet that challenge the main focus right now, the Greens are limping along at 5%.
Why?
I've argued their middle class woke identity politics are so alienating that the Green brand is broken and that social media Green Party activists are so toxic that even if you agreed with their policies, you despise them as people.
The Greens over poll each election and have gone backwards over the last 9 years so todays 5% can easily be 4% on election day. Jacinda's pandemic response has entranced lefty voters and they will flock to her, not dull James Shaw and invisible Marama Davidson.
Also the overseas vote that always benefits the Greens won't go to them with International media drenched in Jacinda appreciation.
So, that leaves the Greens with the real possibility they will slide under 5%, which makes the fight for Auckland Central essential. Chloe Swarbrick is a star and future leader of the party and if she can win Auckland Central it would keep the Greens in power.
Marama's strange decision to run a two tick campaign in Tamaki Makaurau could end up hurting Peeni and accidentally gifting the electorate to John Tamihere.
I think the Greens are in survival mode this election, unfortunately they don't seem to appreciate that and if they do fail to win representation in parliament, it won't be their Spinoff level misplaced smugness that will have alienated the voters, oh no, watch them blame the heteronormative white cismale patriarchy for failure at political relevance.
This could be the first election I don't vote Green since they became a Party.
ACT: Right wing schism
ACT have played the culture war card better than anyone else. While the woke left have screamed to kill off free speech they disagree with, ACT has championed it and with National in free fall, the hard right of the NZ Political spectrum have moved to ACT. David Seymour's defence of hard right values has given him an authenticity with the alt-Right that will pay dividends on election day. As hard right wing voters see National can't win, that will turn to ACT to articulate their fury at all the socialism. Luckily ACTs talent pool is even more shallow than Labour's so while David will get friends, they will be cheap Warehouse Bargain Basement mates who borrow your copy of Atlas Shrugged and never return it.
ADVANCE NEW ZEALAND: JLR with an anti-China electorate chance?
The interesting bit about JLRs last chance to hold onto his Botany electorate is the strident anti-Chinese Government stance he's taken. With rumours swirling that the Dark Master Simon Lusk is advising him, they will have concluded that the Botany Chinese Diaspora are anti the Chinese Government as well. It's a gamble.
MAORI PARTY: Election surprise?
Debbie Ngarewa-Packer will be standing in Te Tai Hauāuru. Labour's Adrian Rurawhe won the sea in 2017 by 1039 votes over the Māori Party candidate, Howie Tamati, but what makes the electorate so competitive in 2020 is that the former Green Party MP, Jack McDonald who won 2798 votes in 2017 came out in January this year endorsing Ngarewa-Packer for Te Tai Hauāuru. This will make retaining the seat a much more difficult challenge for Labour, especially with a candidate as invisible as Rurawhe, whose endorsement of Labour's decision to open up Taranaki to a huge onshore oil and gas block offer will galvanise Green voters against him.
Tamihere initially won Tamaki Makaurau back in 2002 and his bruising campaigning style against Phil Goff built a huge social media following that is mostly based in that electorate. Peeni has 7900 Facebook followers, whereas Tamihere has over 11 000 most of whom are in the seat, add to this the decision by Marama Davidson to actively campaign this time in Tāmaki Makaurau, and Labour face a real challenge in both electorates.
TOP: Universal Basic Income?
TOP have struggled for news oxygen but their UBI idea has finally found its moment and provided TOP with some political relevancy. Is it enough to get over 5%?
VISION: Blind
Thought they might have a shot to catch a populist wave with their call to only allow citizens to vote but they've created too many self inflicted mishaps to get anything above 1%.
NEW CONSERVATIVE PARTY: Joke looking for a punchline
Thought their Fox News Culture war hate campaign might have picked up the far right Incel vote, and to their credit they have. Sadly for them that's only 1% of the voting public.
I will post an update when we are 4 months out.
Increasingly having independent opinion in a mainstream media environment which mostly echo one another has become more important than ever, so if you value having an independent voice going into this pandemic and 2020 election – please donate here.
If you can't contribute but want to help, please always feel free to share our blogs on social media.