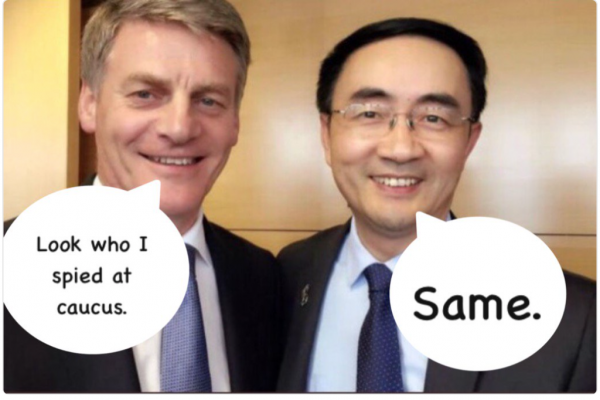 Ummmmmm…
Greens say $150,000 donation to National from Chinese owned, NZ-based, company is 'deeply alarming'
The Greens are renewing calls for an overhaul of New Zealand's electoral donation laws following the "deeply alarming" revelation of a $150,000 donation to National from a Chinese owned, New Zealand-based, company.
"This is another example of powerful vested interests tipping big money into the coffers of the National Party," Green Party Electoral spokesperson Golriz Ghahraman said this morning.
"This can be dangerous and we've seen this play out badly for democracy globally."
TDB Recommends NewzEngine.com
This morning, the Herald revealed that in 2016, National received a $150,000 donation through a NZ-registered, but Chinese owned, company Inner Mongolia Rider Horse Industry NZ (IMRHINZ).
That company is owned by billionaire racing mogul Lang Lin, who met with then Foreign-Affairs Minister Todd McClay who former National MP Jami-Lee Ross is accusing of facilitating the donation.
Ross said the donation was "the most obvious example from the last election, where a foreign individual was able to make a donation to a political party using a company. If we don't make the right decision now we're wasting our time".
…so the Trade Minister, Todd McClay takes a huge political donation from a foreign donor through a shell company while that Trade Minister was on official business in 2016 at the G20 trade ministers' meetings?
How come this story isn't leading every news bulletin?
Isn't this a dangerous escalation of influence by China over our largest Political Party and doesn't it beg the question, is the National Party just a front for Chinese interests?
Ex National MPs Jenny Shipley, Don Brash, Ruth Richardson and Chris Tremain are Director's of the China Construction Bank, Judith Collins had interaction with Chinese Officials to help her husbands Chinese Company, Oravida gain more Chinese money  and former MP Maurice Williamson's love affair with  Donghua Liu saw him become Liu's personal handyman when doing up Liu's batch and pressing the Police to drop domestic violence charges.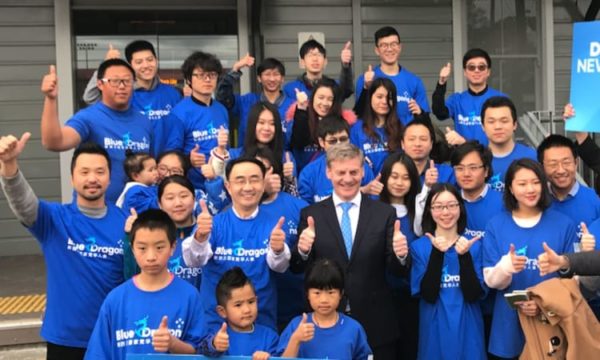 MP Jian Yang beside National leader Bill English and with 'Blue Dragons' supporters at a party policy launch. Photo: Tim Murphy
Let's not forget the allegations of a Chinese spy inside the National Party caucus, or that the the 'Blue Dragons' are one of the largest factions now inside the National Party or that a Chinese Businessman recently inquired about getting two Chinese candidates onto the National Party list after making a $100 000 donation.
National's 9 years in power were built upon selling as much cheap milk powder to China and foreign speculation in the domestic property market, so when National make policy, are they answering to Wellington or Beijing?
If only this story garnered as much attention as Celebrity fucking Island.