Simon Bridges is a dead man walking, not only have National plunged in the latest poll…
…he's been over taken by Judith Collins as preferred leader…
…it's over for Bridges. He managed to survive the Summer but with plummeting polls and Judith now more popular than him, he's blown his chance to lead into 2020.
TDB Recommends NewzEngine.com
Here's a man clutching at tweets…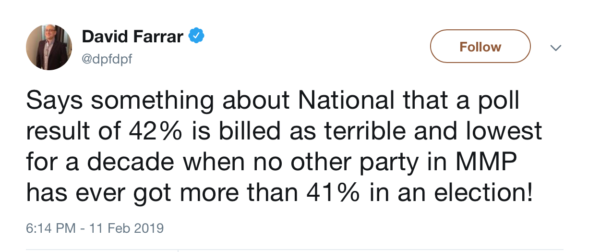 …s-u-r-e, Dvid, b-u-t it's the huge statistical jumps isn't it? Those numbers are huge and show either an enormous momentum change out there in voter land OR it's a rogue poll.
National's vote has collapsed because the JLR & Simon Bridges fight has shocked voters and turned them away and Labour's vote has jumped because people are genuinely proud now of Jacinda Ardern.
If this poll is real, and not a rogue poll, National are in terrible trouble and the need for a cauterisation, like a Leader replacement, is on the cards. The trouble here is Bridges, he can't be more than he is, is Judith the replacement? Of course not, the battle is won in the centre, but frightened MPs will look for strength and Collins eats strength and the hearts of small rodents for breakfast.
Bridges should NEVER have ordered that inquiry, everything that happened after that was his lack of vision and strategical thinking – Matthew Hooton was clearly out of the country for that call.
If National can support the New Conservatives to keep NZ First under 5% and push Blue Greens to pull the Greens under 5%, the rules of MMP mean National would just have to get to 47% and gain the wasted vote to win an outright majority. But that tactic only works when you can get to  47% and with Simon Bridges, they can't do that.
With the Greens just hanging on, you can see the logic in National promoting Blue Greens just to bring them under the 5% threshold, just like NZ First.
The importance of Shane Jones winning Northland is an existential issue for them now.
The drumbeat for Judith will begin and whatever damage JLR has left will probably be enough to sink Bridges.
In short, the latest poll is important because of the huge jump in the stats – the poll is either a rogue Poll (most likely) or shows an enormous momentum in the electorate towards Labour & against National – 4.9% up is HUGE as is a 3.5% drop – right wing pundits will pray this is rogue.