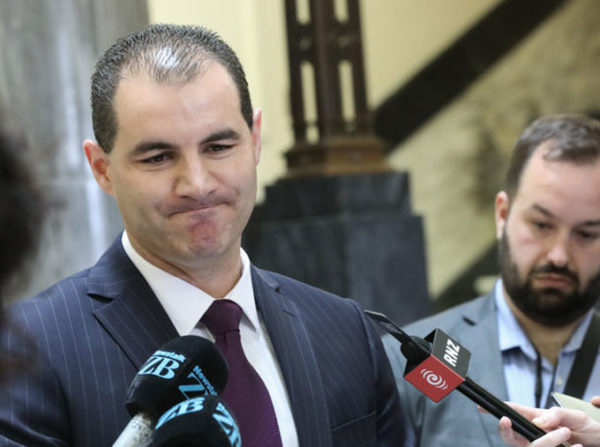 MP Jami-Lee Ross admitted to mental health care

MP Jami-Lee Ross has been taken into mental health care.

Newstalk ZB understands he was taken in by police.

He was taken to a facility in Auckland.

A National Party spokesman said: "Over the past several weeks the National Party has taken seriously the mental health concerns raised by Mr Ross and the medical professionals he has been involved with. That has included seeking advice from medical professionals and involving Police wherever necessary to ensure support is made available to Mr Ross. It would not be appropriate to comment further."

Ross took leave from Parliament at the beginning of the month. He told reporters this week that it was because he was "devastated" at being accused of harassment and denied natural justice.

When he talked to media on Tuesday and Wednesday, he said that his doctor had cleared him and he was feeling healthy. He rejected comments from National deputy leader Paula Bennett that he was suffering from mental health issues, saying that his doctor had called Bennett to tell her that he was healthy.

Those comments were made before six women spoke publicly about what they called bullying and intimidating behaviour from Ross. Ross disagreed with the way the women portrayed him in media reports, but admitted to extra-marital affairs and said he had apologised to his wife Lucy Schwaner.

Paula Bennett has repeatedly expressed concern for Ross' health.

It is unclear if Ross was admitted under the Mental Health (Compulsory Assessment and Treatment) Act, which means that someone can be admitted to a safe place and given treatment against their will if their safety is considered at risk.
Am I reading this correctly? Has JLR been forced into mental health care? Folks, we can all be disgusted by his behaviour – but we also can see involuntary imprisonment by the State into mental health custody as ummmm terrifying right?
Look, if he has suffered a mental health break down where he is unable to make rational decisions for himself and is a threat to himself, that is a terrible outcome and while his actions and behaviour have been offensive, on a purely human level, what a tragic outcome and a symptom of the clusterfuck toxic masculinity leaves in its wake.
Buuuuuuuuuuuuuuuuuuuuuuuuuuuuut IFFFFFFFFFFFFFFF this is something else, ummmmmmmmm, I mean, Jesus wept!
We are in incredibly dangerous waters now. I think it is of the highest importance that IF JLR has been forcibly taken into mental health custody that decision be reviewed immediately to ensure that a terrible wrong hasn't just occurred.
Because, Jesus folks, just – JESUS!
This is a shocking turn of events in a story that has managed to lower the bar with every single revelation.