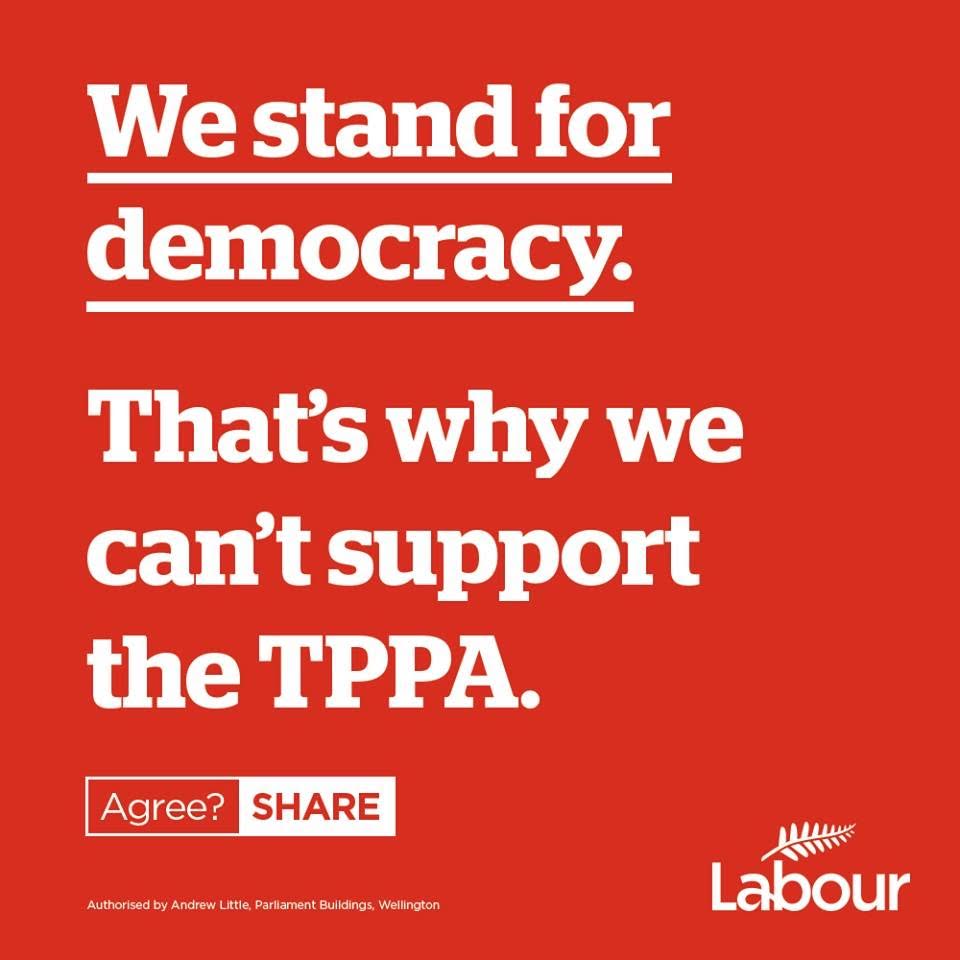 The concerned Kiwis who marched in the streets of Auckland against the last TPPA signing ceremony have been caught off guard by the Government's sudden U-turn. But this week, as Trade Minister David Parker heads to Chile to sign his name, we'll be handing over a parliamentary petition with thousands of signatures calling for a democratic overhaul of how we negotiate trade, investment and economic integration agreements.
Never again will we be kept in the dark while technocrats trade away control over our future. 
Please sign and share at https://dontdoit.nz/
One of my tasks as spokesperson for It's Our Future, New Zealand's network of opponents to the TPPA and other anti-democratic treaties, is to monitor the comments of our 22,000 Facebook members. It shouldn't surprise Labour and NZ First that fiery remarks are flowing in from their disgruntled former voters. Many of these people cannot believe they're actually thinking about supporting the Greens in 2020. The Coalition should be getting nervous.
National MP and former Trade Minister Todd McClay summed up the state of play in the House last Wednesday: 
"The reason that the Labour and NZ First Government feel anxious about this is that there are pictures of them up and down the country over a long period of time campaigning and protesting against an agreement of 6,000 pages, and they turn up in this House today saying that they've fixed it with about two pages' worth of changes, and the Minister knows that so very, very well."
Labour and NZ First voters "didn't see through the façade", McClay explained. "There are so many tens of thousands of New Zealanders that are losing faith with them because they believed them."
Indeed, despite the dazzling rebrand and sophisticated spin, people throughout Aotearoa are beginning to realise that the only substantive changes to the TPPA are contained in what ACT Party MP David Seymour called a "cover letter", which suspends only 22 out of the more than 1,000 provisions.
As any teacher knows, a suspension is not the same as an expulsion. These provisions are to be used as bargaining chips to entice the United States back into the trading bloc, so we're bound to see the nasty rules extending copyright and biological patents creep back in before too long.
Beyond that, nothing's really changed. Foreign investors can still sue us for billions if we significantly erode their profits by regulating in the interests of workers, public health and the environment, despite the Government's claims that such measures can't be challenged. Parker likes to point at the boilerplate safeguards that might appear to preserve our right to regulate for public welfare objectives, but these are notoriously fuzzy and full of investor-friendly ambiguities ripe for exploitation by clever lawyers in costly ISDS proceedings.
As the global economy's moving from Big Oil to Big Data, the TPPA threatens to place a frightening price tag on pursuing the policies we need to get out of last century's fossil-fuelled economy. At the same time, it prevents public oversight of this century's digital economy by empowering the multinational corporations who hoard data and intellectual property, control the global tech infrastructure and avoid paying their fair share of tax.
All at the expense of voters, workers, consumers, local businesses, taxpayers, patients and their environment 
And for only a trifling increase in GDP of 0.3 to 1.0% by the time it's fully implemented in 2038.
In short, the Labour Party is setting us up for exactly the same text it said it couldn't support because "we stand for democracy".
We concede that Labour has met one of it five bottom lines: protecting New Zealand's ability to restrict the foreign purchase of residential property. Ironically, they didn't change anything to do that. Parker has trumpeted the housing success, but that has been achieved only through urgent amendments to the Overseas Investment Act 2005 prior to signing. In the same way, they plan to redefine forestry cutting rights as "sensitive land" so they can restrict foreign buyers. However, the way they've managed to resolve this by rushing legislation through before TPPA comes into force, simply affirms that New Zealand is going to give up important aspects of its economic sovereignty.
Don't you miss the good old days when it was the multinational corporations who had to look for technicalities and legal loopholes, rather than democratically elected governments?
The Green Party shares our concerns. Golriz Ghahraman was the only voice in the parliamentary debate who challenged the Government's sudden shift in policy: "We need to make trade fair and fit to serve our needs in the 21st century, instead of ceding sovereignty to foreign investors."
We tautoko those words, which is why we're still collecting signatures to let the Government know that we do not consent to the TPPA and that Parliament must reform its Standing Orders to increase democratic oversight of future treaty negotiations.
Beyond the signing ceremony in Chile, it's far from over.
There remains a process prior to ratification whereby the Foreign Affairs, Defence and Trade select committee must examine the text alongside the National Interest Analysis prepared by the Ministry of Foreign Affairs and Trade and, most importantly, hear public submissions. The Government must also pass fresh implementation legislation, for which there will be parliamentary debates.
It is now incumbent on voices of opposition inside and outside Parliament to challenge this rotten deal. At the very least, we must put pressure on Labour and NZ First to follow through on their promise to undertake an independent cost-benefit analysis for different sectoral impacts, such as employment, climate change and public health, rather than racing through to ratification like the former National Government.
Last week a poll commissioned by ActionStation confirmed that 75% of New Zealanders still want that independent analysis before signing up.
There's still time for us to flex our collective muscle against the TPPA.
Moreover, there are plenty of power grabs in the pipeline: the Regional Comprehensive and Economic Partnership (RCEP), which includes India, China and the ASEAN countries; updates to the free trade agreements with China and Singapore; a trade and investment agreement with the European Union and the United Kingdom; and Winston Peters seeks to reopen trade talks with Russia, Kazakhstan and Belarus, which were suspended due to international sanctions and human rights concerns following Russia's 2014 invasion of the Crimea.
If you didn't know about these impending agreements, then that's exactly why we need to change the way we go about New Zealand's negotiation process.
Please sign and share the petition https://dontdoit.nz/ and come along to protests on Thursday 8 March in Christchurch at 1.00 pm and midday outside Parliament in Wellington.
Oliver Hailes is the itsourfuture spokesperson