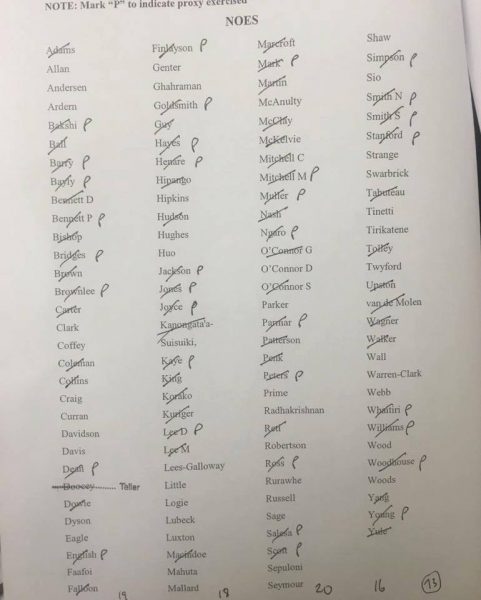 These are the petty cowards
Last night, these petty cowards in Parliament voted down medicinal cannabis reform.
These fucking base hypocrites!
So what Parliament is saying is that it's okay to kill yourself if you are in pain, but it's not ok to smoke a joint if you are in pain – what sort of a Circus Freak show of a Democracy is this? The double standards are sickening and outrageous!
TDB Recommends NewzEngine.com
Want to kill yourself because you are in pain? Oh we will rush that through to select committee immediately despite the enormous question marks over that. Want to smoke a joint because you are in pain? Oh no you don't, back to letting the cops bust you and arrest you thanks.
Those who voted against this are disgusting parasites without any spine, guts or stones. Meanwhile tens of thousands of New Zealanders suffer the fear of Police brutality and Criminal gangs to get a medicine that alleviates their pain while these gutless fucking swine sit on their fat comfy arses on the leather seats of privilege.
Last nights defeat is proof positive that the sham democracy we slave under can not adapt to the realities of our lives as citizens. It is a reminder that the only way to stick it to these pompous fuckwits is to take matters into our own hands by way of a binding referendum.
I want to target one particular scum bag, National Party wonderboy  – Chris Bishop. Listening to your bullshit excuse as to why you wouldn't vote because it didn't have 'enough regulation' was sophistry of the highest order.
Aren't you a former tobacco lobbyist you filthy clown? Didn't you peddle a product a thousand times more lethal than the one you just voted against?
Fuck you, you lying hypocritical maggot.
This is the National Party, the party of liberty and personal choice – what a load of corrupt sleaze bags with the ethics of vultures on meth.
Everywhere in the world where meaningful cannabis reform has occurred, it has done so because people put it to a referendum beyond the cowardice of politicians.
We will fight to get that referendum up in time for the 2020 election and on that day when we win, we will ram its results so far down the throat of these arseholes they gag themselves another set of lungs.
Respects to Chloe and the Greens for championing this and for running with it, their courage is to be saluted.
To the binding referendum Brothers & Sisters where these spineless politicians can't stop us!
Helen Kelly would be ashamed of the entire Parliament today.