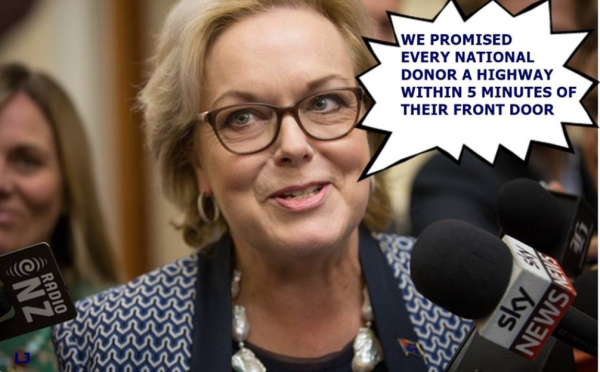 After promising infrastructure for Northland that they never bothered fulfilling while in power, National's recently released road lust petition campaign gives insight as to how they plan to attack the new Government in a couple of ways.
The first is that National will champion issues that have big financial backers. The Roading Industry is one of the most powerful lobby groups in NZ and over their 9 years of power, National effectively wrote policy for them and not for NZs wider interests, so National's campaigns will be aligned with corporate interests to ensure there is money to pay for the campaign.
The second thing we can see is National will attempt to pretend they aren't championing corporate interests by selling this as democratic participation. This will be an important feature of National in opposition, they intend to bog down any select committee process by driving up partisan public participation and then demanding all that partisan participation is heard. National will mask their filibustering of legislation as champions of the democratic process and will milk that for all its worth.
The third thing their road lust petition campaign shows us is that National will target the core values of the new Government as a weakness. Collins spends all her time announcing this petition plan by consistently driving home the attack talking point of roads not being built for wimpy public transport projects.
TDB Recommends NewzEngine.com
This final insight is the most important reminder of National's grand strategy behind their tactics, which is to sell all policy as a culture war. Public transport is left and progressive, National will target that and force it into a culture war setting so as to woo the disgruntled middle while ignoring the wider debate as to why we need public transport in the first place.
Vested commercial interests + pretence of democratic participation + culture war values = National in Opposition.