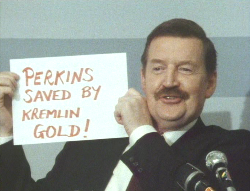 In the brilliant political thriller, 'A Very British Coup', a truly Left Wing Government has to confront the vested interests of the right wing and Deep State by cleverly out manoeuvring the economic and political sabotage waged against it.
As the corporate interests attempt to cut off funding for the Government, Perkins (the fictional Left wing Prime Minister) cuts a banking deal with the Russians and at a press conference writes for the rabid right wing tabloids tomorrow's headline 'Perkins saved by Kremlin Gold'.
That's how we should view Winston's sudden desire to reopen trade with Russia that has so many pundits scrambling to explain.
I've said it many times, this Government will be far more radical than the corporate mainstream media pundits are claiming. Having spoken to some of those who were part of the behind the scenes negotiations, I believe this Government is deadly serious about reforming and changing Capitalism in this country.
The impact of the report from the University of Canterbury that shows National are nothing more than a front for Chinese business interests weighed very heavily upon negotiators and Winston's desire to reduce China's political and economic influence over NZ was one of the reasons he went with Labour and the Greens.
Winston sees Chinese political and economic influence over NZ as an existential threat to our democracy, and one way to eliminate that influence is to find a completely different market for all the milk powder they are buying and can hold over us if we start having opinions on China's claim to owning large chunks of the Pacific.
Russia is a huge importer of dairy and by re-opening possible trade there, NZ suddenly reduces its dependence upon China for our economic well being.
Winston has been playing these chess games in his head for a very long time and he intends to win.