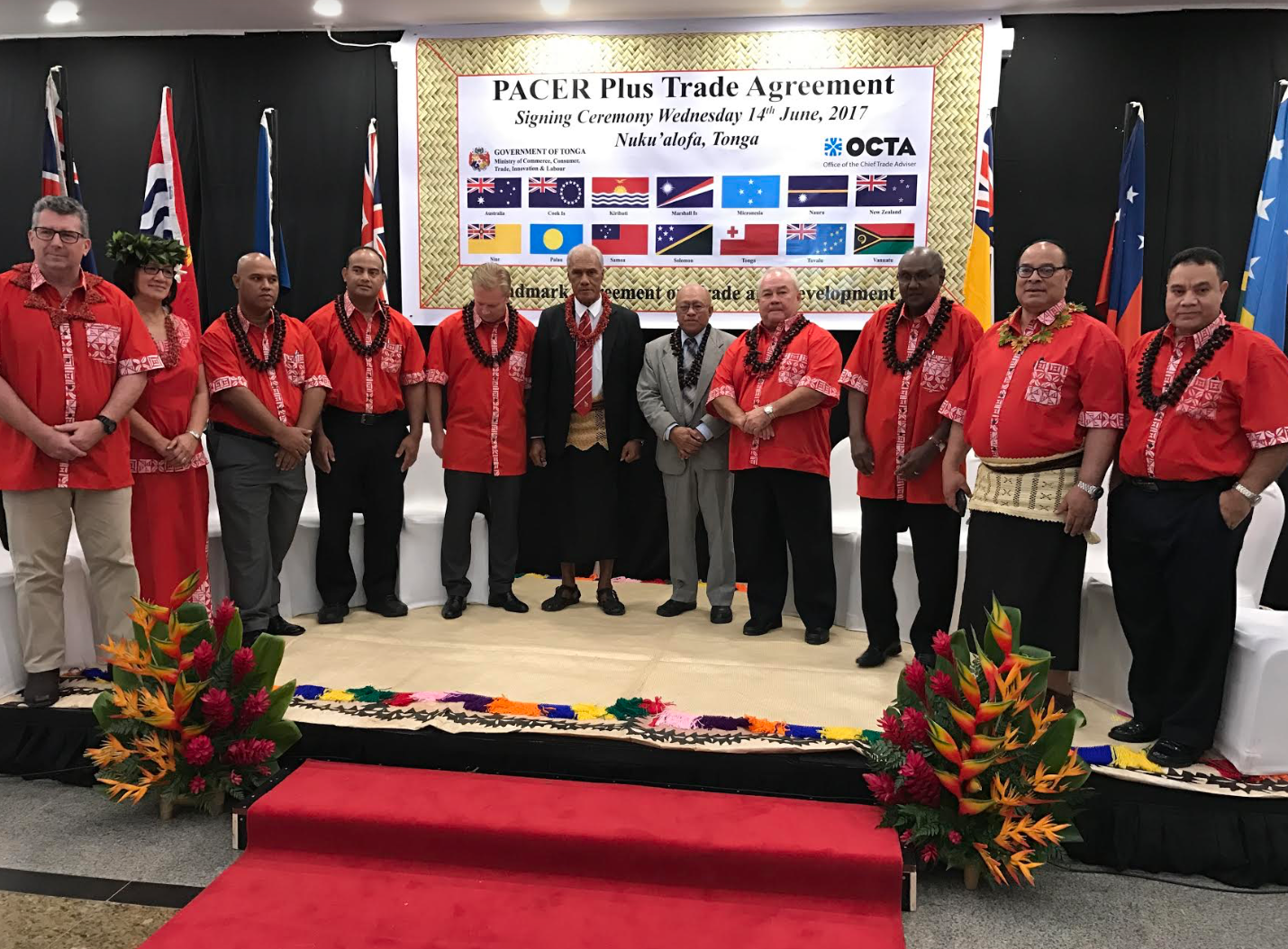 There was a pile of 5000 petitions to "Make Pacific Trade Fair in the Pacific" in front of former Tim Groser in 2011 at a public panel on trade. Groser responded by saying that the standard Free Trade Agreements were not suitable for the Pacific. He said they were designed for the emerging economies and OECD countries, and were not for the smaller and vulnerable countries of the Pacific. I was Executive Director of Oxfam in those days and Oxfam's paper PACER Plus and its Alternatives outlined what an agreement in the interests of the Pacific could look like.
Fast forward to last week in Tonga. New Zealand and Australia signed the PACER Plus agreement with 11 Pacific nations, after 16 years of negotiations. It is a standard Free Trade Agreement. It has failed to deliver on all the pro-Pacific rhetoric and the PR spin of government Ministers. The absence of three of the four largest Pacific nations (Papua New Guinea, Fiji and Vanuatu) at the signing spoke volumes about the unbalanced nature of the deal and the lack of benefits for the Pacific.
PACER Plus covers 11 Pacific island countries that account for only 14% of the Pacific island population. The insistence on a 'Most Favoured Nations' clause by Australia and New Zealand has driven a further wedge between the Polynesian nations who signed and most of the Melanesian nations who did not sign. PACER Plus will undermine investments over many decades in Pacific regionalism, as well as the Pacific's own trade agreement.
New Zealand and Australia are far larger than most Pacific nations and far richer. As 'Big Brothers' we should be aware of the potential to use aid and political influence to get our own way with Pacific island nations. We should act responsibly, rather than pushing our own interests. A viable and peaceful Pacific is in our interests as well as theirs, with benefits ranging from regional stability and policing of organised crime through to the unique contributions that the Pacific's people and its unique cultures add to our society.
TDB Recommends NewzEngine.com
We have not acted in the Pacific's interests in PACER Plus. We gain privileged access to Pacific markets, but they gain no new access to our markets. There are no obligations on Australia to stop their protectionist policies towards Pacific kava exports and other fruit and vegetables that are produced in Australia. New Zealand exporters will gain $20 million in reduced tariffs, but this is lost revenue for Pacific governments that are already struggling to provide basic health care and education to their people. For example, Tonga spends $270 per person annually on health care compared with New Zealand's spend of $4,016.
The Pacific wanted assurances that there would be continued opportunities for seasonal workers, but there are no future commitments. They wanted aid to help with building their economies, but all they have is a shuffling of the same amount of aid from one pocket to another – social priorities like health care, education and social needs will need to be cut to pay for the costs of implementing PACER Plus and providing technical assistance with trade (usually undertaken by foreign consultants). There are few benefits for the Pacific from PACER Plus.
Instead, the Pacific will bear restrictions and costs. For example, the rules in PACER Plus will limit the right of the Pacific to protect their people's health. In the past, Pacific countries have not been allowed to restrict imports of unhealthy food, such as fatty meat which is implicated in obesity and the highest rates of diabetes in the world. An analysis of the potential impacts on food, health and government policies has been undertaken by a network of Pacific civil society groups. Women are often further marginalised particular where they have insecure incomes in the informal and semi-subsistence economy.
The costs of administration and compliance with treaties like PACER Plus are high for small countries, some of them with 10,000 people or less. In addition, PACER Plus will limit what their governments can do in future to build viable economies. Pacific governments would not be able to favour local enterprises over foreign companies, and support local sectors for the future.
The Pacific's economies are small, dynamic and changing rapidly. They will need flexibility to regulate tourism, promote small business, support their rural and remote island communities, and respond to climate change and increasingly intense cyclones, sea level rise and extreme weather.
We have no idea what government policies will be needed by the Pacific in 10 or 20 years' time. Pacific nations face an uncertain and challenging future, at least partly because of the inaction by Australia and New Zealand on reducing climate emissions. They face questions about their survival as small island nations threatened by sea level rise. It is unfair to lock future Pacific governments into a restrictive free trade framework that denies them the option to respond to future challenges and to develop their own path.
This model of 'free market' development wasn't used by today's emerging and rich nations when they developed, but is still being promoted for poor and vulnerable countries in trade agreements. There is mounting evidence that these Free Trade Agreements lead to profits for foreign companies and wealth for local elites, but undermine local food producers and provide few, if any benefits for the people who work in the informal economy or live a semi-subsistence lifestyle. Even former cheerleaders for free trade now recognise that Free Trade Agreements have exacerbated inequalities and undermined rights for workers, indigenous peoples and the vulnerable.
Australia and New Zealand have been pushing for PACER Plus to be signed. The 11 Pacific governments that agreed to sign are democratic governments that have chosen to do so, but the complex 806 page PACER Plus agreement was published only two months ago, and there has not been time for detailed assessment and public debate of its impacts.  
The Pacific nations are already open to trade – they are some of the most trade-dependent countries in the world. They need to trade, but it should be on fair terms that respect their environment, their communities, their cultures and their democratic decision-making.
The Green Party is calling for fundamental changes in trade policy. Fair and sustainable trade would support development options for our Pacific neighbours. We would support small business and community-based enterprise to develop high value products and services, such as tourism, that build on the unique Pacific story. We would support local food production and help connect rural producers to markets. We would ensure that aid goes to the people who really need it, for investments like education and health care, rather than being diverted to benefit companies and consultants. We would tackle climate change which is the biggest threat to the Pacific's people, its environment and its survival. And we would support the Pacific's people in determining their own path for the future.
Barry Coates is a Green Party list MP, based in Auckland.