Lest we forget – this week is the 2 year anniversary of the end of Campbell Live for political reasons…
…as pundits and mainstream media pimps cry out about Labour dumping The Nation, we must never forget that TV3 is a biased mouthpiece for the National Party.
Finance Minister Steven Joyce once owned Mediaworks and National ensured a sweet heart finance deal to keep MediaWorks afloat while National Party stooge and John Key BFF, Mark Weldon did the knife work to destroy Campbell Live.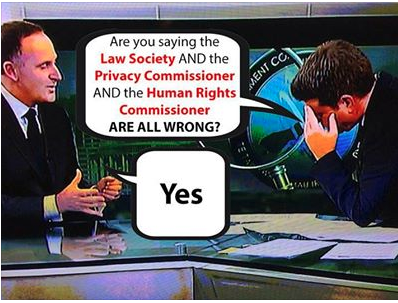 TDB Recommends NewzEngine.com
TV3 killed off Campbell Live because Campbell Live had embarrassed the National Party and what did TV3 replace Campbell Live with?
The abortion of Duncan Garner and whatsherface doing 'The Story' which rated so badly TV3 had to kill it off, and what did they replace The Story with? This fucking abomination…
…yes, that's a puppet on their new 7pm week night 'current affairs' show.
TV3, MediaWorks, Newshub – whatever they are calling themselves this week – are a sell out network who are so one-sided towards the National Party they may as well be renamed the North Korean Ministry of Truth.
Campbell Live shall grow not old, as we that are left grow old:
Age shall not weary Campbell Live, nor the years condemn.
At the going down of the ratings on the AM Show and The Project
We will remember Newshub are a mouthpiece for National.
We will remember.
Cue the Last Post for Journalism