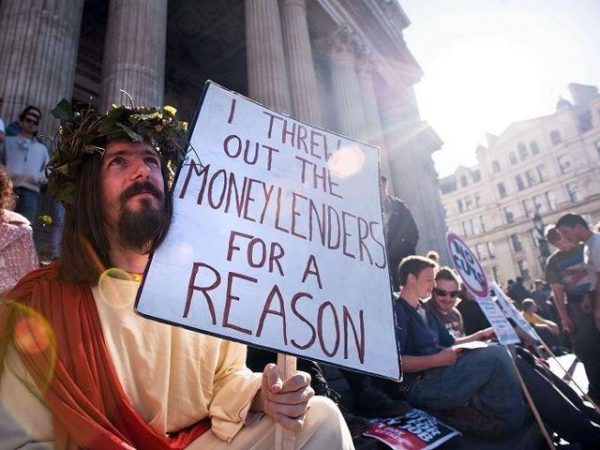 Ever been at the bank and they tried to upsize your loan or hassle you to bring your Kiwisaver to them? Ever been cold called to see if you want a credit card? Want life insurance with that??
If so, you have been on the receiving end of the insidious sales targets culture in the banking industry.
Before you start kicking into 'those greedy banksters trying to get big sales bonuses' rhetoric, let's look behind the scenes, to the daily life of Barbara, a banking consultant at your local multi-national bank branch.
"Every morning we have a sales huddle, you are asked by the manager how many products you are going to sell today. These products range from life insurance to home loans, many are what some call debt products."
TDB Recommends NewzEngine.com
These are sales targets.
"Throughout the day you are asked by the manager why you haven't sold x number of this or that product. You have to make the target."
But what if all morning Barbara has only seen an elderly couple, a family struggling on a benefit, and some students?
"It doesn't matter. You are still pushed for why you haven't sold products to those people."  
At the end of the day a 'debrief' meeting is held. Barbara and her colleagues are again asked why they only sold a certain number of products and what they will do differently the next day to improve. "The pressure is high – you feel humiliated – made to feel 'what is wrong with you? Can't you do your job?"
If things don't improve, the consultant is up for performance management and ultimately disciplinary action.
The targets are often the same regardless of location or demographics so Paraparaumu could have the same targets as Auckland CBD.   
"You feel so unethical. Sometimes you know these people can't afford to take on the debt and the product is not right for them but if you can't meet target your job is on the line."
Unfortunately, stories like Barbara's are commonplace in the banking industry.
The subject of sale targets and associated incentives/disincentives is under close scrutiny following the Wells Fargo scandal in the States. US Bank Wells Fargo CEO John Stumpf was forced to resign after it was exposed that thousands of Wells-Fargo employees had been creating false accounts. Why? The pressure to meet impossible sales targets was unbearable and staff felt it was the only option.
"At my branch it was the norm to disregard the customers' needs and only focus on the sales,' said former Wells Fargo worker Cassaundra Plummer. "My manager pushed me to only talk about the positives of products and to avoid discussing fees and the things that were negative. He would say things like "you don't have to tell them all of this, that's why we give them the paperwork." I would respond saying "but no one ever reads the paperwork," and he would say "exactly"."
After these practices were made public, Wells Fargo have removed sales targets entirely.
Closer to home, Stephen Sedgwick was commissioned to investigate sales culture in the Australian banks. The Sedgwick Report, which was released last week, is clear that there needs to be an overhaul of the sales targets culture and presented 21 recommendations for banks to move away from this culture and towards one of service first, not sales. The Australian banks committed to these recommendations.
However their New Zealand counterparts ANZ, Westpac, BNZ and ASB have been less equivocal of their commitment to change the sales culture, despite being part of the same companies. It is critical we use the opportunity of the Sedgwick report to push the banks here to remove sales targets, and with it the insidious culture that is currently pushing bank staff and their communities to the brink.
In Barbara's words: "I can't sleep, I am on anti-depressants and I'm taking my stress out on my family. This is not the job I signed up for. I want to give people good financial advice and assistance not force products on them they can't afford."