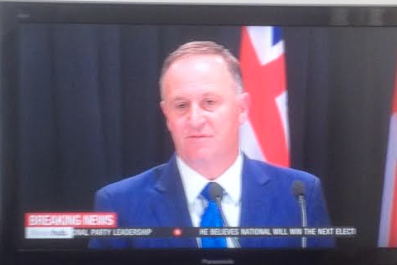 .
.
As with the death of Princess Diana; Trump winning the Presidency,  or (if you're old enough) the assassination of JFK, you will recall where you were when you heard this sudden, unexpected and gob-smacking  public announcement from John Key;
.
.
At 12.50pm, Radio NZ  interrupted it's international-segment – Worldwatch – to announce John Key's resignation and crossed live to his press conference.   Ironically, the Worldwatch segment featured an  interview about the  resignation of Italy's own Prime Minister, Matteo Renzi.
TDB Recommends NewzEngine.com
Like 4.4  million other New Zealanders, this blogger was taken by surprise. (At first, I thought Radio NZ was reporting on Bill English stepping down.)
There are two aspects to Key's resignation which have taken my attention.
Key's "Popularity"
Media personalities, pundits, and political opponants have all praised Key's popularity.
In the NZ Herald, Audrey Young gushed;
"He is still immensely popular after eight years.

[…]

They will abound because what Key has done defies political gravity."
Writing for Fairfax media, Tracy Watkins said;
"Nothing can be the same when a leader as popular, and as successful, as Key bows out."
John Campbell on Radio NZ's Checkpoint enthused;
"…And after eight years [Key] still sits at honeymoon levels of popularity in opinion polls."
To Key he remarked;
"Your popularity has defied the laws of gravity."
None of which is true.
The media and political pundits have been reading glowing "obituaries" for a man still  very much alive and drawing breath.
In fact, Key's popularity has been spiralling downward since a high of 55.8% in October  2009;
Oct/Nov 08: 36.4%
(Source)
Feb 2009: 52.1%
April 2009: 51.1%
Aug 2009: 51.6%
Oct 2009: 55.8%
Feb 2010: 49.4%
April 2010: 49.0%
June 2010: 49.6%
Jul/Aug 2010: 48.7%
Sept/Oct 2010: 50.6%
Nov/Dec 2010: 54.1%
Feb 2011: 49.1%
April 2011: 52.4%
May 2011: 48.2%
Jun/Jul 2011: 50.5%
Aug 2011: 53.3%
Sept 2011: 54.5%
Oct 2011: 52.7%
1-8 Nov 2011: 50.0%
9-16 Nov 2011: 49.4%
16-23 Nov 2011: 48.9%
Feb 2012: 45.8%
April 2012: 44.2%
May/Jun 2012: 40.5%
July: 43.2%
(Source)
Feb 2013: 41.0%
April 2013: 38.0%
May 2013: 41.0%
Jul 2013: 42.0%
Nov 2013: 40.9%
Jan 2014: 38.9%
Mar 2014: 42.6%
May 2014: 43.1%
Jun 2014: 46.7%
Jul 2014: 43.8%
5-3 Aug 2014: 44.1%
19-25 Aug 2014: 41.4%
26 Aug-1 Sept 2014: 45.1%
2-8 Sept 2014: 45.3%
9-15 Sept 2014: 44.1%
Jan 2015: 44.0%
May 2015: 39.4%
(Source)
15-22 July 2015: 38.3%
(Source)
8-16 Sept 2015: 39.5%
(Source)
22 Nov 2015: 38.3%
(source)
24 May 2016: 36.7%
(source)
Only four months ago, Key's Preferred Prime Minister rating had levelled;
8 Aug 2016: 36.7% (n/c)
(source)
By contrast, National's most recent  Party-poll ratings remained astronomically (and somewhat unfeasibly) high;
Roy Morgan: 49.5%
Colmar Brunton: 50%
Reid Research: 45.1%
As a party, National has been consistently out-polling it's own supposedly "popular" Prime Minister. If Key's personal polling had continued to drop further, it is conceivable that he would have become a Muldoonesque  liability instead of the gilt-edged asset he has been for the last three elections.
Which would go some way to explaining why Key's photo-ops with National Party candidate,  Parmjeet Parmar, during the Mt Roskill by-election seems to have had zero positive effect on her  election result;
.
.
When asked if he would attend Ms Parmar's by-election campaign party, Key replied;
"I don't go to any of the by-election ones. I haven't historically and I won't be going whether we win lose or draw."
To which Jenna Lynch, writing for TV3 News, pointed out;
"That's only partly true though – he didn't attend the party of Mark Osborne in Northland – he lost. He also didn't go to Melissa Lee's failed campaign for the Mt Albert by-election.

But he did attend parties where it seemed he thought his candidate had a chance."
"Reading the entrails", Key understood that his days of surging popularity were drawing to an end. The media and pundits were simply  slow to catch up with Key's own realisation of his inevitable fate.
.
Key's "blues"
In the same interview yesterday (5 December) on Checkpoint, John Campbell tried to pin down the reason(s) for Key's departure.  With his usual boyish charming honesty, John Campbell asked Key;
"You sound buggered…

[…]

… Are you exhausted?"
Key soundly rejected Campbell's suggestion that he was in any way "buggered" or "exhausted".
But in May 2012, Key was already showing signs of wearying from the demands of political life;
.
.
Watkins reported;
The frustration continued to show yesterday when Mr Key did a radio show and was asked about the $350 million SkyCity convention centre.

"I'm out there trying to promote a convention centre which we don't put any money in and all I get is grief. OK? That's what I get is grief," he complained.

"Sure I can sit around and do absolutely nothing for the next nine years and I might survive that long but it's not going to take New Zealand anywhere."
Four years ago, Key was already showing signs of becoming jaded.
More and more people were becoming disillusioned with his administration – a fact highlighed by his steady decline in the Preferred Prime Ministership polls (see above).
Whatever things Key may be, he is no fool and he was no doubt perceptive enough to recognise that his "chumminess" was no longer a facade he could use to mask growing social problems in New Zealand. Homelessness; child poverty; worsening home affordability; near-stagnant wages; declining environmental quality – coupled with constant scandals; ministerial cock-ups; and dubious dealings, were taking their toll.
Key was friendly with the corporate sector, but his administration showed unrelenting hostility to workers, unemployed and other other beneficiaries, and anyone else at the bottom of the economic heap. National's decision to increase benefits was announced in May 2015 – but not set to start until a year later. This was a clever ploy to paint National as "caring" for those on benefits, with two publicity-bites from the "media-cherry".
At the same time, beneficiaries were being forced of WINZ books; state housing was being sold off; and unemployment made to look "low" by  Statistics NZ's fudged figures [see: Lies, Damned lies and Statistical Lies – ** UPDATE **].
But there were social pressures building that National's "hands off" (or reluctant intervention) could not hide with "massaged", dubious statistics. Nowhere was this more apparent than in our current housing crisis, affecting both the poor (living in cars and garages) and the Middle Class (facing rising home unaffordability).
The crushing defeat of Key's vanity-project, the flag referendum which cost taxpayers $29 million at a time when early child education,  school operational funding, and many social services  were being frozen/cut, was perhaps confirmation that his "popularity" was no longer sufficient to govern.
Key's charming affability could no longer hide the real right-wing agenda being covertly implemented.
Key could see the writing on the wall.
It was time to go; the charade was over.
.
.
.
References
Radio NZ: PM to resign – 'It feels like the right time to go'
BBC: Matteo Renzi – Italy PM resigns after referendum defeat
NZ Herald: Audrey Young – John Key's resignation – the question everyone is asking is why?
Fairfax media: Tracy Watkins – Key's resignation changes election odds
Radio NZ: Checkpoint – "The timing feels right" – PM
Roy Morgan: National Party support up again in November
Colmar Brunton:  Poll 12-13, 21-23 November 2016
Reid Research: TV3 Poll Results
Radio NZ: Mt Roskill by-election nears
TV3 News: John Key expecting National candidate Parmjeet Parmar to lose Mt Roskill by-election
Fairfax media: John Key's midterm blues?
Radio NZ: Budget 2015 – Govt targets child poverty
Fairfax media: Unemployed losing the paper war in reapplying for the benefits, says Labour
Fairfax media: Government to sell 1000 – 2000 state houses – John Key
ABC News: New Zealanders label $23 million flag referendum a waste of money
NZEI: Cuts to early childhood education revealed in ministry figures
NZ Herald: 'Frozen' school funds heartbreaking
Previous related blogposts
The slow dismantling of a populist prime minister
The slow dismantling of a Prime Minister continues
The slow dismantling of a Prime Minister – downward slide continues
Special Education Funding – Robbing Peter, Paul, and Mary to pay Tom, Dick, and Harriet
.
.
.
.
.
= fs =