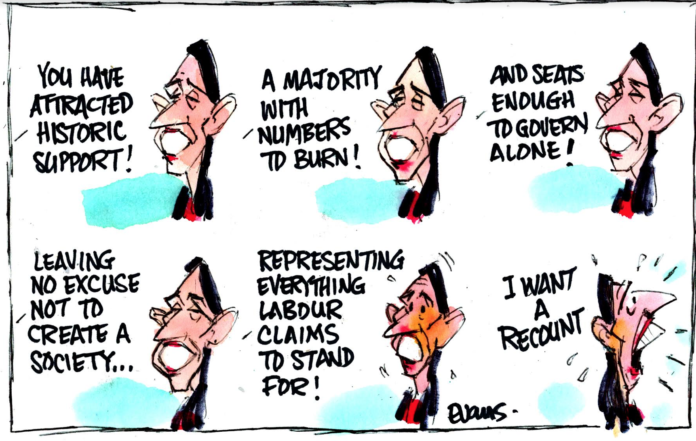 Jacinda Ardern in is her happy place. She is finishing the year riding high in the polls leading a majority Labour government – the first outright majority government since MMP was introduced in 1996. Meanwhile the National Party is in tatters with conservative voters liking the Act leader more than the National leader.
Labour's support is off the back of an overall excellent response to the threat of Covid 19 – and that is deeply appreciated by most.
Ardern has also got rid of those awkward ideas about transformation. For her they sounded so good on the campaign trail but proved so bothersome in government. Transformation requires assaults on neo-liberalism but that means a fight with business and farmers and Ardern won't go there. Instead we have tinkering policies which, for instance, bring our labour regulations closer to countries we like to compare ourselves with. 10 days sick leave for workers for example – something every self-respecting democracy has had for decades.
So transformation is out and "building consensus" is in. And with a consensus we all move at the pace of the slowest – in other words big business lobbies and farmers will set the pace for all major policy developments on topics such as taxation, housing, climate change and child poverty. Aside from the odd positive intervention of David Parker – the only Labour minister to show he is not captured by his officials – and the odd negative intervention from Stuart Nash, Damien O'Connor and Trevor Mallard – we can expect little else.
Ardern's happy place is "building consensus" via middle-class focus groups with the outcomes mediated by business and farmers.
TDB Recommends NewzEngine.com
So we have no capital gains tax, no wealth tax and no effective pressure on animal agriculture which is the blight of all life on the planet and the single greatest cause of climate change – by a country mile.
Ardern's happy place is one without vision, courage, guts, determination, direction or even aspiration. Her political life has never involved heavy policy lifting – that's for others while she trolls the Women's Weekly covers.
It's a return to the Clark era where Helen Clark was elected in 1999 with a five-point pledge card. Once she has implemented those modest changes she spent the next 8 ½ years managing the free market on behalf of the super-rich.
Ardern's happy place is a dead end where incrementalism and hopelessness rule. It's where the super-rich continue to run the show.