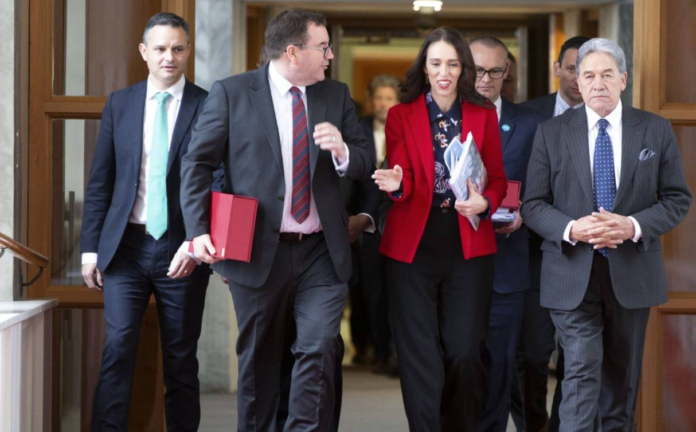 Dear Jacinda
We are the Migrant Workers of New Zealand. We are here on Work Visas and Students Visas. Many of us have partners here, and children.
As Covid19 sweeps the world we watch the news from our home countries with fear for the wellbeing of our families, but fear also for our own futures.
As we turn the corner though your leadership Prime Minister has been inspiring not only to all of us in New Zealand, but the world.
We thank you for your strength, your compassion and your determination to protect as all, regardless of our nationality, race or religion. Yes, Prime Minister, in this crisis, We Are One.
But Prime Minister, now we ask you to please, think of us.
Many of use are Essential Workers. While you have told the country to stay at home many of us have worked long and hard, placing ourselves and our families at risk from this deadly virus. We work in the supermarkets where kiwis continue to shop, we deliver the food to those stores, we grow and pick the food that kiwis eat while staying at home, we care for your at risk elderly in the retirement homes, we drive the trucks and the buses that have kept the country running.
We are essential, but we do the work because we love this country, and we love the people and we want to contribute to making this the best country on earth to live in.
TDB Recommends NewzEngine.com
But Prime Minister, before we were deemed "essential" to the country your government, and the previous government have been telling us something different. We were told that we were not skilled, we were toldthat we can't stay here because we don't get paid enough, we were told that after 3 years of doing the exact same essential work we were no longer needed, we were told that our children were not allowed to go toschool, that our partners couldn't be here with us.
Many of us came to New Zealand as international students. We chose New Zealand because the New Zealand schools hired education agents who told us that study here was a pathway to residency, Education New Zealand told us that study here was a pathway to residency and Immigration New Zealand told us that study here was a pathway to residency.
After coming here and paying our money to study, your government then told us that this was a lie, and in that there was no pathway to Residency and your Immigration Minister, like his predecessor, suggested that we were somehow the ones at fault for believing what we were told..
In our desperation we were forced to work in jobs that made us vulnerable to exploitation, but Prime Minister it is the immigration system which is broken.
Prime Minister, I think now you understand that we are essential to New Zealand. We will risk our lives for the country that we have fallen in love with. For the country where our children go to school. For the country where we have settled and placed our roots. We provide the essential work for this country not just in a crisis, but every single day that we go to work.
We do it because as Covid 19 has shown; we are all human beings, we live and work together, and we are all part of this community.
Prime Minister, please understand that we are scared.
We are scared that there are Ministers in your cabinet who hate us, that want us to leave, who call us names and try to incite hatred towards us. We are scared that having settled here with our families, some for more than a decade, that you will now throw us out when times get tough. We are scared that people will now
claim that we are stealing their jobs, despite us already doing these same jobs for so many years when nobody else wanted to do them.
Prime Minster, we are scared that after now showing you that we are essential to this country, when things improve, you will no longer tell us that We Are One.
Prime Minister, when you were elected you said that your government would show Compassion and Empathy. We now beg you to show compassion and empathy to the migrant workers on the front line, fighting and working to keep New Zealand united.
Please consider our proposal Prime Minister:
Give us a genuine pathway to residency. If we have been working, paying our taxes, and obeying the laws of the country allow us to stay permanently with our partners and children.
We are not asking you to allow new people to come to here because New Zealanders now need jobs, but those of us who are already working are needed as well to keep the businesses running. We have the experience, the skills and knowledge. Let us help rebuild the country and we can train the New Zealanders now looking for work.
Ease the burden on an overwhelmed and over worked Immigration Ministry. Allowing us to gain our residency by simply keeping our job, with a good employer will reduce massively the workloads that Immigration New Zealand have with Resident and Work Visa processing.
A system that allows migrant workers to obtain residency will fit in perfectly with the work that your government is doing around Employer Accreditation. We want to work with good employers, with good workplace practices. The new Accredited Employer policies will allow us to do that.
Much of the migrant worker exploitation exists because migrant workers will allow themselves to be exploited in desperation to attain the pathway to residency that many Education Agents sold to us as international students. Creating a genuine and simple pathway to residency for migrant workers will eliminate so much of the exploitation that your government has made a priority.
Reinvigorate the Export Education Industry. Identify the qualifications that we desperately need: health, technology, construction and trades. Create a transparent and simple pathway to residency for students who attain those qualifications and can then work on rebuilding New Zealand. The tertiary institutes will benefit, and the industries that need graduates will benefit. Many of us workers will be happy to invest money in education if you tell us what we need to study to obtain residency.
By providing a pathway to residency we can then bring money from our home countries, we can invest in New Zealand and transfer our assets here. Something we were unable to do before without the certainty of being able to stay here.
Finally, Prime Minister. Take a decisive stand against and make New Zealand's mark in the world. Show us that compassion and empathy is for all people regardless of race, religion or nationality.
Show the world not only how to defeat the Covid19 Virus, but to defeat the virus of racism and xenophobia. Show the world that We Are One.
The world is already watching us, now is the time to lead.
We have played our part; we have proven that We Are One. Now Prime Minister, we ask you to do the same.
Supported by:
Migrant Workers Association
Immigration Law Specialist – Alastair McClymont
Unite Union
One Union