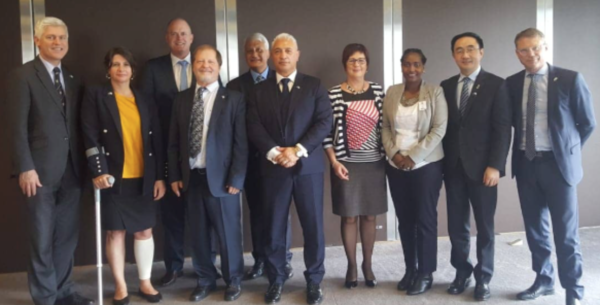 The National Party are currently flying a kite to see if the public would accept National MP Alfred Ngaro as leader of a conservative Christian party which could help National at the next election. The theory is that such a conservative Christian party could bring in 3 or 4 percent of the party vote. This on its own would not be enough to bring in any MPs but if National were to give Ngaro a free run in Botany, just as National gives David Seymour a free ride in Epsom, Ngaro could bring in 4 or 5 MPs to support a National government.
So what does Alfred Ngaro bring to politics?
Firstly Ngaro is a particularly nasty political operator. I saw him at a public meeting blame the Glen Innes community for the many social problems which have bedevilled all New Zealand's low-income communities and use that to justify National social cleansing the area for the rich.
Later he told me "state housing creates dependency" as his sound bite to justify driving low-income families from their state homes.
TDB Recommends NewzEngine.com
There must be another side to Ngaro but I've never seen a hint of it elsewhere.
Secondly Ngaro is a Christian Zionist who, like Israel Folau, believes the Old Testament is the literal word of God and a factual account of the history of the Jewish people as opposed to an "origin myth" which most human tribes from the beginning of time have developed to give their people a sense of pride, self-belief and unity in the face of adversity.
Recent archaeological research closes the lid on Christian Zionism's views. Back in 1999 Zeev Hertzog, Professor of Archaeology at Tel Aviv university, and later Director of its Institute of Archaeology from 2005 to 2010 wrote:
"This is what archaeologists have learned from their excavations in the Land of Israel: the Israelites were never in Egypt, did not wander in the desert, did not conquer the land in a military campaign and did not pass it on to the 12 tribes of Israel. Perhaps even harder to swallow is the fact that the united monarchy of David and Solomon, which is described by the Bible as a regional power, was at most a small tribal kingdom. And it will come as an unpleasant shock to many that the God of Israel, Jehovah, had a female consort and that the early Israelite religion adopted monotheism only in the waning period of the monarchy and not at Mount Sinai. Most of those who are engaged in scientific work in the interlocking spheres of the Bible, archaeology and the history of the Jewish people – and who once went into the field looking for proof to corroborate the Bible story – now agree that the historic events relating to the stages of the Jewish people's emergence are radically different from what that story tells."
All this will be water off a duck's back to Ngaro who, aside from being the National MP who has asked the most questions of the new government (14,000 which included 1000 in a single day) as a way to obstruct and frustrate the coalition, has spent his time on the back bench trying to establish a parliamentary Friends of Israel group.
The photo shows him in 2018 with the Israeli ambassador Dr Itzhak Gerberg and Deputy Chief of Mission Kasa Bainesay-Harbor and several other National MPs – Tim McIndoe, Todd Muller, Nuk Koraka, Jian Yang and Paul Goldsmith.
Whatever Ngaro may offer the country as a conservative Christian leader it won't be compassion, tolerance, justice or truth. Instead it will be a conservative straitjacket of bigotry, arrogance and injustice.