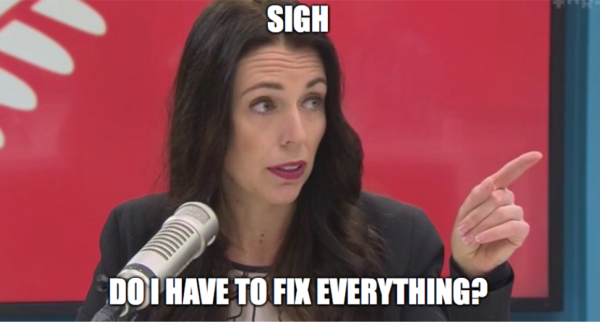 Because this current Government didn't expect to win, they didn't have a plan for reform, this has meant there was no plan on how to tackle the neoliberal public service. It's meant that for all the pleas for a politics of kindness, the neoliberal welfare state is programmed to be a stick to beat the vulnerable with not help beneficiaries.
18 months in and there is very little the new Government can hold up to suggest anything more than lip service to change policy.
Look at the reality.
The homeless are being turned away in Auckland…
TDB Recommends NewzEngine.com
Homeless told there's no emergency accommodation available

Work and Income staff are turning away homeless people in Auckland, telling them there is no emergency housing available, multiple sources say.
…Kiwibuild continues to be an ineffective right wing market solution to a problem caused by free market failure…
Half of all KiwiBuild homes already under construction before being brought into the programme

More than half of the KiwiBuild homes built since the flagship policy started were underway before they were brought into the programme.
…someone with the openly appalling opinions that Cr James Casson has regarding immigrants is allowed to work for Immigration NZ…
Cr James Casson's job with Immigration NZ untenable: Former minister

The councillor who referred to refugees as "scum" will offer an apology to the Muslim community as calls come for him to be sacked.

Former immigration minister Tuariki Delamere said Hamilton City Councillor James Casson's position with Immigration New Zealand (INZ) is untenable in the wake of his comments.

"If he's referred to refugees as scum, then he should be dismissed from Immigration New Zealand immediately," Delamere said.
…Child Poverty is up…
Number of children living in poor households jumps in 2018 year, latest figures show

The number of children living in poor households had been decreasing since 2015, but rose in the year to June 2018, latest figures from Statistics NZ show.

About 254,000 children were in low-income homes after housing costs were deducted, up 2.4 per cent from the previous year.

While fewer – 183,000 children – lived in low-income homes before housing costs were deducted, this was a 17.3 per cent jump on the previous year.

About 148,000 children were living in material hardship.
…220 children in state care were abused from a supposedly reformed agency who did everything to hide the level of abuse…
We finally know the true extent of abuse in state care. It is shocking

The figures released this month by Oranga Tamariki into the extent of child abuse in state care are shocking.

There's no way you can look at these statistics – 220 children physically, sexually, and emotionally abused and neglected in a mere six month time period – and not be appalled. 

These children are uplifted from their families, from their homes, to a place that's meant to be safer. In many cases, it is not. In some cases, it is worse. 

The fact it has taken so long for the state to finally come clean about how ill-treated some of our tamariki are – and in particular Māori, who are over-represented in both state care placement and abuse statistics – is shameful.
…and of course it's Māori who are being punished the most…
Oranga Tamariki 'smacks of racism' – Dame Tariana Turia

Dame Tariana Turia, the former Minister for Whānau Ora, strongly disagrees, saying "the number of children being abused in care doesn't warrant a seven" and rating them three out of 10.

She also criticised the organisation for advertising children on Trade Me, saying the practice – which has now been stopped – "smacks of racism".

Auckland University social work lecturer Dr Ian Hyslop agreed, saying "the abuse of children in care is unacceptable" and the overall the outcomes are "certainly racist".
…and tragically our suicide rate continues to climb…
New Zealand suicide rate highest since records began

The number of people who have taken their own lives in New Zealand is the highest since records began, with 668 dying by suicide in the past year.

It was the fourth year in a row that number has increased. It was also the highest number of suspected suicide deaths since the coroner's annual provisional suicide statistics were first recorded in 2007-08.
…the need for a wholesale rebuild of the values of the entire public service and welfare state can only occur if the experiences and genuine well being of those being treated by those agencies  are front and centre of the reforms.
The only way to force reform is shaming. The Government must look to the many, many NGOs and Community organisations that are forced to interact with the neoliberal welfare state and fund them to act as service support for beneficiaries and to produce public reports on counter productive policy.
By shaming Government Agencies into action and acting for beneficiaries, these NGOs and Community groups could hold the neoliberal welfare state to account.
The politics of kindness must have more intent behind it if it is to mean anything.