Yesterday the Fiji Times reported Prime Minister Voreqe (Frank) Bainimarama attended a memorial service at Qana in Southern Lebanon to remember the Fijian soldiers who died as part of United Nations peace keeping missions in Southern Lebanon.
Also remembered at the service were the 106 Labanese civilians who were massacred by the Israeli Defence Force in April 1996 at Qana. They were among 800 civilians who had taken refuge in a UN compound under the control of the Fijian soldiers.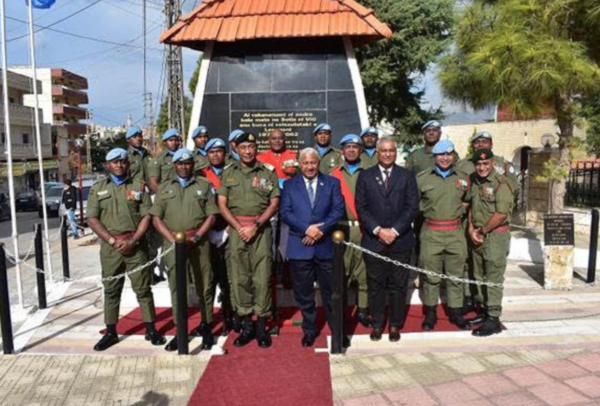 A moving tribute to the Fijian soldiers came from locals at the memorial service.
Presenting a wreath on behalf of the Mayor and the people of Qana was Mr Mohammed Jaffa, an official of Qana Municipality and former language assistant for Fiji BATT.

In his statement, he said Fijians opened their gates to welcome families trying to escape from death and seeking refuge and shelter.

Mr Jaffa said the residents would never forget how the Fijians received them with kindness, doing their best to cater for all of them. He expressed his deepest gratitude to the Government, the RFMF and the people of Fiji for the sacrifice made throughout the past years, adding that the people of Qana would always consider Fijians as brothers in their hearts and minds and regarded the fallen soldiers as martyrs.
What wasn't remembered was New Zealand government complicity in protecting the Israeli General who gave the orders leading to the massacre.
TDB Recommends NewzEngine.com
Moshe Ya'alon visited New Zealand in 2006 and a District Court judge issued an arrest warrant saying there were "good and sufficent reasons" for Ya'alon to be arrested for trial on war crimes charges related to the massacre at Qana.
However Deputy Prime Minister at the time, Micheal Cullen, quashed the arrest warrant and Ya'alon was allowed to fly out of this country unmolested.
Not to be outdone, National's Gerry Brownlee met and shook hands with Moshe Ya'alon in Israel in 2016.
It's no wonder so many countries criticise the use of the World Court to try war crimes committed by African despots but not the crimes by the likes of Tony Blair, George Bush or Moshe Ya'alon.
Let's remember these war criminals and the need to bring them to justice.