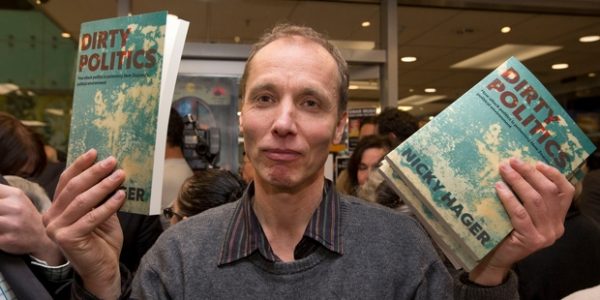 My case against the NZ Police for their breach of my privacy and breach of my civil rights is slowly continuing in the background.
The Police have responded to the Privacy Commissioner's report that they breached my civil rights and my privacy and the Human Rights Review Tribunal is very, very, very, very, very slowly moving forward.
To date the process seems aimed at giving all the benefit of the doubt to the Police.
I have had to send a letter into the Human Rights Review Tribunal which has been forwarded to the NZ Police. The HRRT have asked why they should hear this case sooner rather than later.
This is my response to the HRRT and the NZ Police.
I would urge that this case is heard as soon as possible as the Labour Party of NZ have now become the Government and it is my belief that the NZ Police investigation into this Dirty Politics hack also included high ranking members of the Labour Party.

Throughout this process the NZ Police have lied and attempted to hide the true extent of their investigation. They misled  the Nicky Hager team when they were forced to disclose information about the raid on him by omitting that they had also spied on me. 

If the scope of this failed and flawed investigation also included privacy breaches and BOR breaches against Labour Party officials then the incoming Labour Party Government must be made aware of this.   

The Privacy Commission found that the Police breached my privacy and the Privacy Commissioner himself intervened in my investigation to note that the information seized from my banks were a breach of my Civil Rights as they amounted to an unlawful search.

I would also point out that the NZ Police still have my banking information and it is available on their Intelligence Computer to a range of other security agencies. Allowing them to hold onto my information that they took illegally for one second longer is utterly unacceptable. 

Throughout this process to expose the NZ Police breach of my privacy and breach of my human rights the Banking Ombudsman and the Privacy Commissioner have been exemplary. I am waiting for the Human Rights Review Tribunal to show the same leadership.
It has become obvious to me from the outset that this entire process to hold the NZ Police to account for breaching my privacy and civil rights is made to be as difficult and impossible as possible so that people complaining give up rather than hold them to account. So let me make this clear – I'm not going anywhere until I get my pound of flesh out of the NZ Police and force them to destroy the information from all NZers they have illegally stolen through this loop hole.