Bill English won the second leaders debate.
Not because he debated better, not because he had better arguments and not because he was right.
He won because the entire debate was framed in a way that made it almost impossible for him to look anything other than the winner.
In these debates, there is allocated seating for each parties supporters plus undecided voters, that creates a fair representation for both leaders which matters when the audience is responding. This debate however was sold as 'the undecided voters' so the perception was of a room full of people undecided, when it looked far more like a Young Nat Christmas function.
This lack of balance created an antagonistic audience who were clearly not supporters of Labour. To describe that audience as 'undecided' would be like describing Patrick Gower as fair and balanced or Mike Hosking as nuanced or Duncan Garner as a 300 IQ point broadcasting genius .
This lack of quality control over who was allowed into the audience created an incredibly difficult bias against Jacinda because it was clear from the start the audience was hostile and obviously biased against Jacinda. That lack of audience quality control impacted every part of the debate.
The condescending sneers from the 'undecided' voters taunted and mocked Jacinda's talk of values like a bunch of drunk first year Business school undergrads barging into a womens studies lecture during orientation week.
Every woman in NZ knows the tone of that jeering laughter shown towards Jacinda, it's the snide privilege of the self-serving male who laughs at everything that doesn't immediately serve his interests.
Woman have heard that ridicule for centuries. Those women will stand in ballot booths in less than a month and show that tone the contempt it deserves.
Gower was just as bad as the incredibly biased audience.
While the homocidal chipmunk of NZ current affairs asked hard questions of both, look at his follow up questions and how he accepts Bill's answers but almost always rejected Jacinda's answers.
He had all the impartiality of an apartheid era university entrance exam.
Gower started by asking questions of Labour about National's fictitious $11b budget hole that doesn't actually exist. Why the fuck is Gower asking Labour that? It's National's fictitious lie, it's up to him as the Journalist to have investigated the claim and made a call as to whether it was a lie, and if it was a lie, to hound Bill until he apologised. Instead we get Gower shrugging his shoulders and referring to it as 'he said, she said' which legitimised the lie.
This…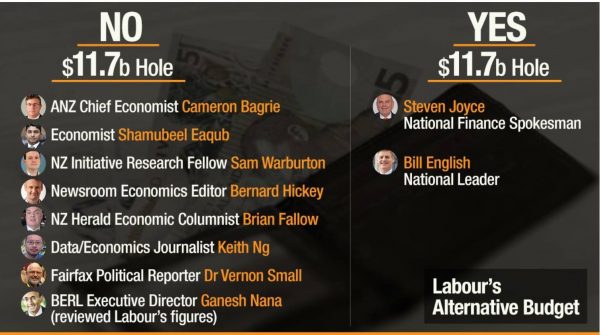 …manages to make the claim of an $11b hole in Labour's budget look like a creationist at an evolution conference arguing that climate change is a hoax conjured up by the devil.
Bill then manages to get away with this ludicrous claim that he's going to lift 100 000 kids out of poverty? Really? What the fuck has he been doing for the last 9 years then? The only way National can lift 100 000 kids out of poverty is by losing the election to Labour!
The panel was hosted by the dreadful Lisa Owen…
Another example of Lisa Owen patting herself on the back
… I want to see a version of Hell where Lisa Owen has to interview herself and try and get her answers out before talking over the top of her own questions. The Panel was the same bunch of talking heads that get shipped around every online media company's podcasts these days and is about as tedious as being stuck between Lizzie Marvelly and Toby Manhire bickering over who is most outraged by Gareth Morgan at a Ponsonby dinner party that gets gate crashed by a sober Matthew Hooton and hungry Ben Thomas.
The lives of real New Zealanders and the exploitation of the vulnerable were barely touched upon and at no point did anyone even mention climate change, you know, that great pressing issue of our age which could spell the end of our civilisation as we know it.
This debate was dangerous. A tilted bias on the playing field, a host who is pretending to be balanced but demands more from Jacinda than Bill and an audience whose draft of 'undecided voters' clearly looked like it was from the National Party youth wing membership list.
Bill won because he looked like he won on a playing field totally fixed in his favour.
Mediaworks sacked John Campbell for politically motivated reasons, Steven Joyce used to own the company and the National Government once gave Mediaworks a sweetheart finance deal on license fees they couldn't obtain from the open market.
All of that history helped Bill English win the second debate, it's up to the voters to decide if a foreign owned media company should be able to frame them up as easily as they framed Jacinda up.
Jacinda has done something that no other political leader has managed in just 4 weeks, she has taken Labour from 23% to 43%, the tone, delivery and bias so obviously evident in this debate disrespected that feat and was a disservice to public broadcasting.