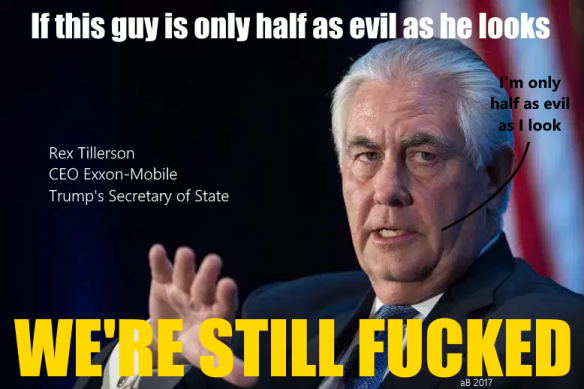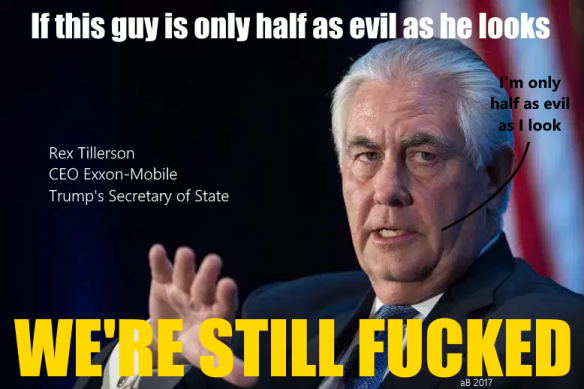 One of the most corrupt and damaging Politicians from America, Rex Tillerson is coming to New Zealand…
New York's attorney general accused U.S. Secretary of State Rex Tillerson of misleading investors on the costs of climate change while Tillerson served as CEO of Exxon Mobil.

The accusation, made in a court filing Friday in New York, reflects the latest development in an investigation of the energy giant's role in accounting for the potential costs of climate change.

Exxon documents turned over to New York investigators during the probe show the company used "secret, internal figures" that were lower than numbers publicly disclosed to investors from 2010 to 2014, New York Attorney General Eric Schneiderman's office said in the filing.

"Exxon's documents show that former chairman and CEO Rex Tillerson was specifically informed of, and approved of, this inconsistency," Schneiderman's office said in the document.
…other than violent protest to meet him, New Zealand should be very clear and open about two things.
The first is no to any troop increase in Afghanistan.
None!
At a time when we are under serious war crime questions for the death and wounding of 21 Afghan civilians, sending more forces when we still have no answers is no remedy to that.
When America is actively detonating the most powerful bombs under nuclear on Afghanistan, that's the time to walk away in disgust that we were dragged into this failed occupation in the first place.
The second issue we need to bring to Rex's arrival is to protest our anger at the way Trump's decision to pull out of the Paris Agreement will drown our Pacific Island whanau.
TDB Recommends NewzEngine.com
We will be living through the harshness of climate change first as our Pacific Island brothers and sisters are forced to flee their sinking islands.
In the same week as Antartica fast forwarded its meltdown, Trump pulling out of Paris can not be met with shrugs and polite disagreements.
Will these messages get through and will they be spelled out? Of course they won't.
Our new Foreign Affairs Minister Gerry Brownlee went out and bloody well supported Israel against our own Nation's stance against Israel's brutal occupation. Brownlee is a National Party bigot and like all National Party Bigots, he will roll over for America.
It will left up to the people to voice our contempt and disgust.
You can do that in Wellington this Tuesday.