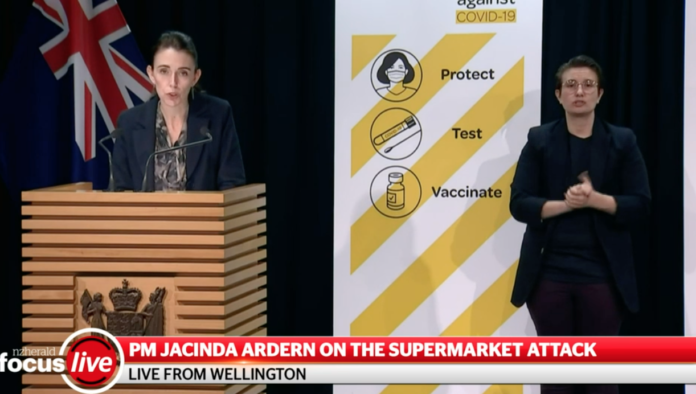 I know, I know, I know!
Even I felt like clutching my pearls writing 'ISIS Terror attack political winners & losers' as if a terrorism event can be defined into two simplistic evaluations, but this is The Daily Blog, home of the NZ dirtbag Left,  and everyone is an adult so consider this your trigger warning and let's angrily evaluate the political ramifications of this insane situation whereby a known violent militant was able to conduct an act of religious political violence while the entire political establishment sat on their hands.
WINNERS:
SIS & STG – After much criticism for their total inability to detect Tarrant before Christchurch, the SIS & STG regain their mana for their covert surveillance of this ISIS knife fetishist and their incredible response time saved lives and further serious harm. They have operated over and above expectation and must be congratulated for their professionalism and skills at keeping the NZ public safe. They deserve our gratitude.
LOSERS:
ENTIRE POLITICAL ESTABLISHMENT- From the Prime Minister to Judith Collins, the judiciary, the Parliament & Corrections, everyone knew this ratbag was a nutter who was going to harm people yet no one managed to come up with a solution other than watching him every step of the journey up until hurting people. I appreciate his refugee status complicated things but that just means they needed to try harder! FFS, breaching Hager's civil rights and Maori activists civil rights or environmentalists civil rights were all done without hesitation but an actual threat who might maim and kill we simply gave up on attempting to stop him? This has been a clusterfuck of buercratic incompetence and the entire establishment owes the nation an apology. I'm not holding anyone person responsible, this is a systemic problem not able to respond quick enough to a threat.
CORRECTIONS – The incoming briefing papers from Corrections to Minister Kelvin Davis in 2020 specifically warned of violent extremist radicalization occurring inside NZ prisons yet their seems to be no de-radicalization programs operating to counter this. Our prison system is breeding violent extremist radicalization, why the fuck are we creating terrorists inside our prison system?
GREENS, WOKE & QANON LUNATICS – In the name of the non-binary mother, non-binary daughter and the monthly ghost, the holy trinity of woke identity politics dogma are: All white people are irredeemable racists, all men are rapists and anyone defending free speech is a uniform wearing Nazi.
When the Australian white supremacy terrorist committed his atrocity in Christchurch, the Woke & Greens pounced. This wasn't as Jacinda had argued a crime perpetrated against NZ because we were the opposite of what the terrorist wanted, oh no, this happened because white cis male heteronormative toxic masculinity combined with evil white culture nurtured this atrocity.
That's why so many in Auckland walked out of the memorial  because the Woke and the Greens used the massacre as an opportunity to peddle their critical race theory and blame all White people for the actions of one extremist.
TDB Recommends NewzEngine.com
They have gone on to push for Hate Speech powers that criminalise the misuse of pronouns and impose a blasphemy law to tick their identity politic boxes using Christchurch as their justification.
So what now when an ISIS extremist has committed a terror attack in West Auckland? Are the Woke claiming this extremist is a representation of all Muslims?
Like fuck they are.
It is so important that in the wake of this shock of an ISIS terror attack on NZ soil that we do not do what the Greens & Woke did in the wake of the White supremacist attack in Christchurch and blame all white people – this extremist DOES NOT represent Islam
This despicable ISIS terrorist represents all Islam the way Brenton Tarrant represents all Christians – we must not allow the petty tyrants of our nature blame our Muslim brothers & sisters for the actions of a deplorable individual.
ISIS is to Islam what the KKK are to Christianity – judging all by one leads to cruelty.
The joyless puritanical Woke are pushing their own agendas for cultural power, their interests in laws and values that protect us all are as vacant as the alt right Qanon lunatics who last week were claiming Jacinda was a totalitarian socialist using Covid to bring about a Police state while this week attacking her for not being enough of a Police State by not arresting the ISIS terrorist.
The extremists on both sides are killing us, we need a radical centre!
Thank fuck the Hate speech laws protected us from another terror attack eh! Oh wait….
DUE PROCESS – The original Terrorism Act was knee jerked through by a terrified Government post 9/11 and was found to be unworkable during the Urewera terrorism fiasco and all the illegal spying was retrospectively forgiven by Key. That we are now going to rush through legislation after being freaked out again is a dire similarity. Allowing the State to arrest you for thought crimes is never going to be abused by the state ever.
REFUGEES –You can see the backlash against refugees building already on social media and that's incredibly unfair. The vast vast vast vast majority of refugees are good and decent people fleeing horror – we need to help them with counselling services and wrap around support to ensure their wounds are healed – that's part of the obligation in taking refugees.
CONCLUSION:
Look, the inability to arrest someone for plotting a terror attack wouldn't have mattered in this case as the terrorist was convicted of a weapons charge which carries a longer sentence, it was his refugee status that was preventing deportation.
Rather than a purge on refugees and some Orwellian thought crime law, we instead invest in the social services that help them integrate and feel connected to their new host society rather than turn on it.
This was a radicalized loner, he doesn't represent the wider Muslim or Refugee community and we should accept his presence here was driven by bureaucracy snookering our actions rather than the need for a vast new terror power.
In the shadow of the 20th anniversary of 9/11 please tell me we aren't so fucking stupid to fall for the same old fears that generate the same State overreach into our collective civil liberties.
Please tell me we are better than that now?
Please!
Increasingly having independent opinion in a mainstream media environment which mostly echo one another has become more important than ever, so if you value having an independent voice – please donate here.
If you can't contribute but want to help, please always feel free to share our blogs on social media