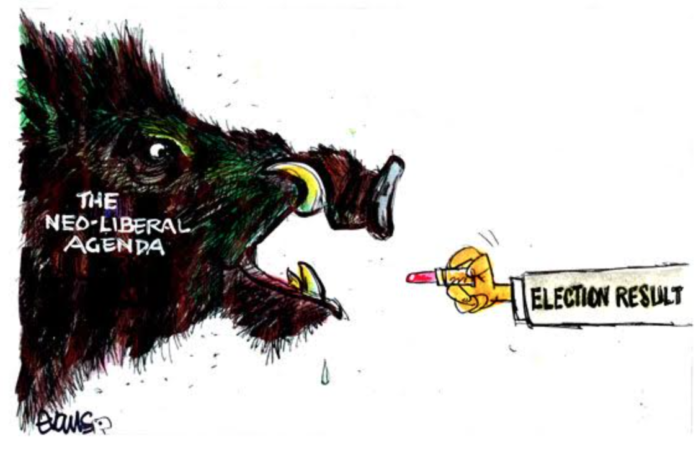 With Jacinda Ardern, we have reached peak Mother of Dragons with the mildest dragons ever.
She has won the mandate of an epoch with the most timid nothing policies in the world.
10 days sick leave? Who at the CTU mixed the weakest nothings on earth with hollow wishes, divided it, watered it down and then came up with 10 sick days as a response to the pandemic?
I mean, duh, yes 10 sick days, but that should have been the starting point, not the end.
The Green Party result doesn't show support for the Greens, it shows Labour voters appalled at how timid Labour policy was.
TDB Recommends NewzEngine.com
Last term Jacinda defined 'transformative' as whatever Winston allowed her to do, this term let's see how Jacinda defines 'mandate.
Most academic research into psychology tells us that human beings, in moments of crisis, regardless of being right or left, become immediately altruistic.
It's like a switch goes on in our brains, a reset, where we reach out and help one another.
The reason no one in NZ punditry appreciated the power of this solidarity from the universal unique event of the lockdown is because the 35 year neoliberal experiment in individual uber allas culture (fractured a billion more times by identity politics and the grim wheel of intersectionist grief) made us forget what solidarity actually felt like.
The self sacrifice many felt by the lockdown played out differently. For the vulnerable, it was the first time the State had reached out to actually help them and for the middle classes they felt that vulnerability for the first time ever.
The vulnerable welcomed the housing, the wage subsidy and public kindness while the middle classes marvelled at their own courage as akin to storming the beaches of Gallipoli.
This solidarity has forged a loyalty with Jacinda that has reset the psychology of the electorate in a tectonic fashion.
If you ask the average Kiwi who is voting Labour this year to name just one Labour Party policy, I would put money down on the vast majority of them answering with, 'Jacinda saved NZ?'
When your policy platform is seen by the vast majority of people as 'saving our lives', you have built an emotional 20 lane multi level motorway suspension bridge towards a mandate that demands use.
The structural reforms that need to be embarked upon within the neoliberal State will face immediate and toxic resistance, the next Government must over run that resistance by dramatically expanding the size of the State and drowning out toxic public service workers with a huge influx of a new culture.
Much of the neoliberal free market hegemonic structure is a threat to us now, not just a false promise. This first wave of pandemic is a startling insight to the climate crisis future of instability we face, Labour are about to be rewarded with a mandate that they have no choice but to build from.
The Greens and Labour need to have a summit after the election with the Māori Party and thrash out a 100 day plan that will see a raft of reforms and upgrades that are passed immediately to begin building that new future.
This is a once in a generation event, we must have a once in a  generation response.
Anything less is a vile betrayal of that political loyalty.
The huge win is a fundamental shift in the psychology of the NZ electorate – Labour won back all the female vote they lost to Key for 9 years and the younger demographic dynamics have ended Boomer control of NZ elections.
Jacinda and Grant are cautious politicians whose achievements have been woeful. We can't replace neoliberalism with neokindness!
Increasingly having independent opinion in a mainstream media environment which mostly echo one another has become more important than ever, so if you value having an independent voice going into this pandemic and 2020 election – please donate here.
If you can't contribute but want to help, please always feel free to share our blogs on social media.