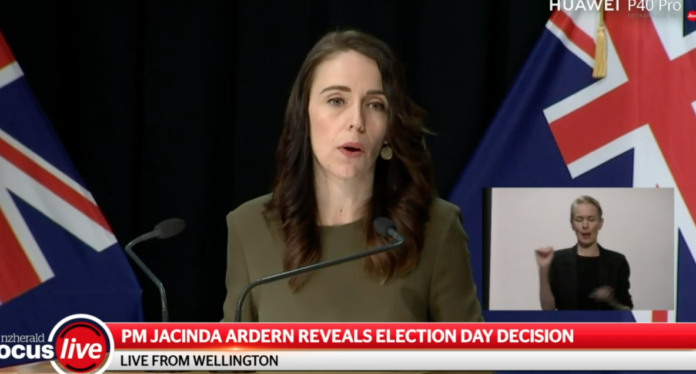 Why has the Prime Minister stuck to her policy of elimination of the virus over the unrelenting pressure from media and business to forgo the policy of elimination for the policy of containment and suppression, Suppression being the favoured policy of Australian Prime Minister, Scott Morrison, (and in fact by most other Western leaders.)
How has Jacinda Ardern managed to stay committed to eliminating the virus, and withstand the overwhelming pressure, even from within her own cabinet, to go for suppression instead?
Maybe she is informed by History?
How NZ took influenza to Samoa, killing a fifth of its population
7 November 2018
RNZ Pacific Journalist Jamie Tahana
@JamieTahanajamie.tahana@rnz.co.nz
TDB Recommends NewzEngine.com
"There is a sickness on this boat," a passenger cried from the deck of the SS Talune as it steamed into Apia on 7 November, 1918.
The sickness was the Spanish flu, and as the Talune made its way along the Pacific from Auckland, the virus had raged through the decks. By the time it entered Apia, several passengers had come down with it.
Despite many other Pacific ports having already imposed quarantine, the New Zealand administrators in Apia waved the steamboat in…..
……Within days, people were dying. Within weeks, entire villages had died. Within two months, about 8,500 people were dead – a fifth of Samoa's entire population.
"If you imagine the New Zealand experience, when you combine the people who died in the First World War and the influenza epidemic, probably 3 or 4 percent of the New Zealand population died, and that was horrific," said Dr Salesa.
"Between 22 and 25 [percent] of Samoa's population died in just a matter of weeks."
…..Where Europeans settled in the Pacific, epidemics often followed soon after. Throughout the 19th century, the Pacific had endured outbreaks of measles, mumps, influenza and a host of other diseases imported from the other side of the world to which they had no immunity. But the influenza epidemic of 1918 stands as one of the worst outbreaks ever recorded anywhere in the world.
……Of the thousands of casualties, many were elders and chiefs, or matai, who held much of the knowledge and oral history that informed Fa'a Samoa.
….100 years on, Samoans have not forgotten how New Zealand responded.
https://www.rnz.co.nz/international/pacific-news/375404/how-nz-took-influenza-to-samoa-killing-a-fifth-of-its-population
Samoa measles epidemic: Immunologist furious at New Zealand
Jenny Meyer of RNZ13:54, Nov 01 2019
An immunologist and vaccine specialist at Auckland University is furious New Zealand has "exported" measles to Samoa.
Corin Dann: "An immunisation expert is terrified the three measles related deaths in Samoa signal the inevitable beginning of an epidemic in the Pacific Island nation. There are now 314 suspected cases in Samoa where three people including two babies are thought to have died from the disease…immunology and vaccine specialist at the University of Auckland, Dr Helen Petousis-Harris says New Zealand should have done more to protect Samoa from the outbreak. She joins us now. Morena."
Dr Petousis-Harris: "Good morning."
Corin Dann: "What should New Zealand have done?"
Dr Petousis-Harris: "Well New Zealand needs to look after its own issues. I think to avoid spreading, you know. To avoid the disease in our own country in the first place. And of course that means that we don't spread it to others. We haven't done so well in our own back yard…."
https://www.stuff.co.nz/national/health/117079712/samoa-measles-epidemic-immunologist-furious-at-new-zealand
Family Ties
The Prime Minister's father, Ross Ardern, has had a long association with the Pacific Island nations and would not have been unaware of this terrible history.
Maybe his views have shaped his daughter's.
From Wikipedia;
[Ross] Ardern was appointed Commissioner of Police for the Pacific island of Niue in 2005 for a two-year term, which was extended to four years.[1][5]During this time he was chair of the Pacific Islands Chiefs of Police for one year.[2]He also served as Niue's director of prisons and director of immigration.[6]
Ardern served as New Zealand Police liaison officer for the South Pacific, based in Samoa, from 2009 to 2013.[1][2]
In October 2013, Ardern was named by Minister of Foreign Affairs Murray McCully as the next High Commissioner of New Zealand to Niue.[7]He took up the post in February 2014.[1]
On 15 December 2017, the Minister of Foreign Affairs,Winston Peters, announced that Ardern would be the next Administrator of Tokelau, from early 2018.[8]
https://en.wikipedia.org/wiki/Ross_Ardern
If New Zealand doesn't eliminate the corona virus in this country it is inevitable that we will spread it to the presently covid free Pacific Island countries, with the same terrible outcomes as in the past.
Maybe this is what informs the Prime Minister's determination not to settle for suppression but to continue with her campaign to eliminate the virus, despite all the economic arguments and political pressure on her not to.
Pat is an activist, Unionist and writer.