I've been to a lot of these Labour election launches now.
A lot of false starts in terms of Leaders. A lot of polite clapping. A lot of, 'his heart is in the right place'.
In short, lots of false hope over the last 9 years.
Today was fucking something else.
TDB Recommends NewzEngine.com
The Town Hall was packed out, the concert chamber was packed out, even Q theatre was packed out and there were still hundreds who couldn't get in.
Inside the Town Hall before the place filled, mainstream media pundits who were writing Labour off looked nervous…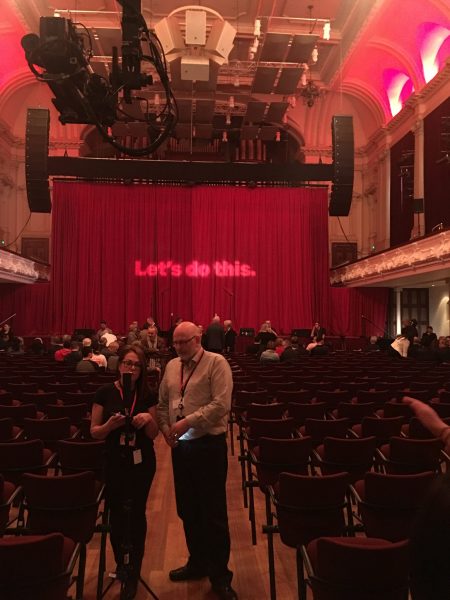 …and when Helen Clark entered the room before the public came into the town Hall, the massed MPs exploded into spontaneous applause…
…once the Hall filled and they realised Helen was sitting in the front row, they exploded into even more spontaneous applause, chants and cheering. From the very start it was magical. A Maori woman gave a full throated cry to the opening of the launch which left the spine tingling.
Michelle A'Court was sharp and witty, Hollie Smith soulful, Don McGlashan was thoughtful and insightful and then boom, Jacinda was there…
She presented a vision for NZs future by going back to Labour's greats. Kirk, Savage, Fraser, Lange and Clark. She showed she understood the values of the Party she now leads and she added her own aim to that arc of history by stating she wanted to build a country where every child grows up free from poverty, and is filled with hope and opportunity.
She then announced that she would change the Public Finances Act so that every budget had to announce not only the surpluses and deficits, but how many NZ children had been lifted out of debt.
Fuck me!
Somewhere Matthew Hooton, David Farrar and Jordan Williams all spontaneously burst into tears.
That's a symbol you can't ignore.
The most important insight from her speech? Talking about growing up in her rural childhood watching the pain and economic dislocation of the 1980s and how she was influenced by compassion for those the system failed well before she was ever politicised.
Treasury will have their hands full trying to reign her in.
She spoke with passion on suicide, on poverty, on housing, on opportunity, on infrastructure, on health, education and climate change with an emotional depth and meaningfulness that was far ranging, intelligent and utterly compelling.
I've never seen a politician talk with such authenticity on the issues that really speak to our human condition.
If she brings this to the debates against Bill English, we will have a new Prime Minister in September.
From 23% to just 3 points shy of National, Jacinda Ardern is on the verge of pulling off one of the greatest come backs for a Political Party in NZ political history.
Spare a thought for David Farrar, Ben Thomas and Matthew Hooton who will only have jobs at Radio NZ and the Spinoff after Labour win.