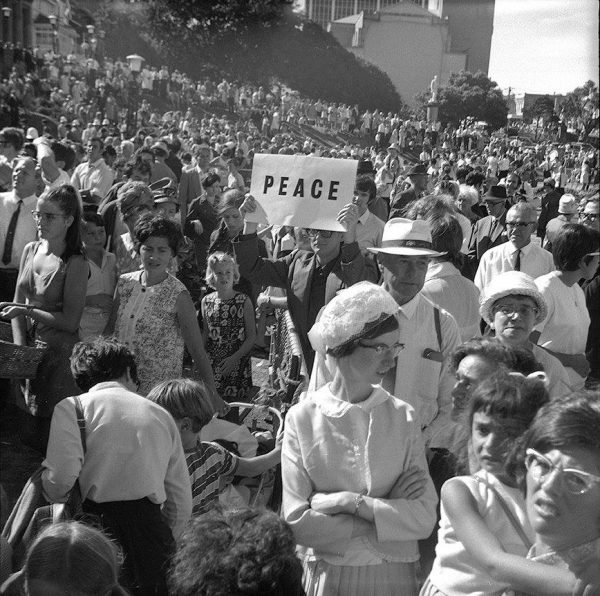 Marking the 50th Year anniversary of capturing protest in New Zealand, John Miller's photographic archive shows over half a decade of protest and the wide range of people involved from all walks of New Zealand society, who were and are united by their passion for protesting for what they believe in.
Pierre Peeters gAllery and John Miller wish to invite all people interested in this era to visit the exhibition, next Saturday afternoon 2pm and evening 6.30pm (18th), for talks on the works.
John hopes that this might also be an opportunity to hear other people's memories of this protest era and to discuss such topics as the importance and significance of the anti-War movement at the time: how important is it to preserve memories and records of it; what lessons do those times have for us now, in respect to the present US and international responses to the controversial actions of the newly installed Trump presidency?
The prominent American anti-War activist Tom Hayden (one of the "Chicago Seven") recently posed some of these questions, in his recent, posthumously published book, "Hell No: The Forgotten Power of the Vietnam Peace Movement".
"…his book could not be more timely. Millions are taking to cities, airports and town halls across the US and around the world, protesting against the Trump administration and its policies…" The Guardian.
WHEN: Saturday 18th at 2 PM – 11 PM
WHERE: Pierre Peeters gallery, 251 Parnell Road