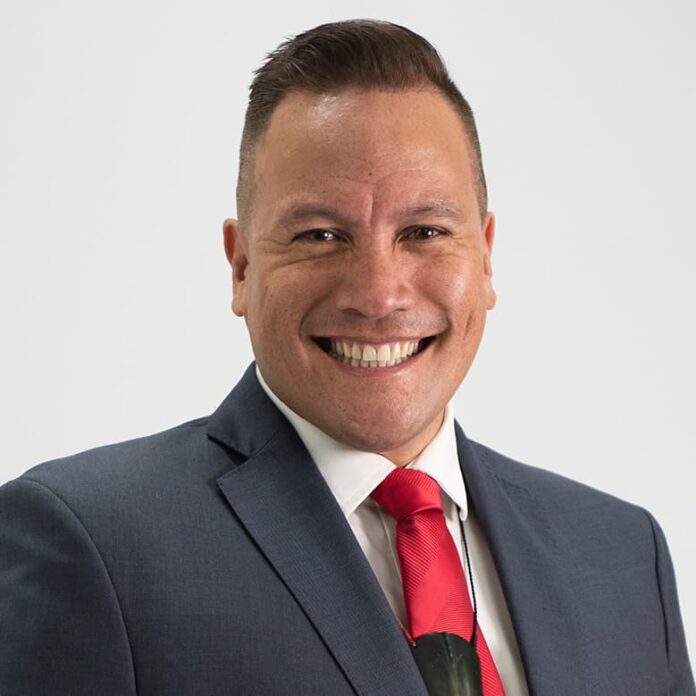 Right at a time when the Government are trying to stop the Right from race baiting that Māori are gaining special rights in Labour's attempt to actually fulfil the promise of the Treaty without breaching Westminster democratic values…
Indigenous peoples rights declaration moves to next stage
Māori Development Minister Willie Jackson is urging like-minded New Zealanders to embrace – and not let scaremongering political rhetoric get in the way of – adopting the United Nations Declaration on the Rights of Indigenous Peoples blueprint.
Jackson said this was a special moment in our nationhood. The declaration adopted by John Key's government in 2010 but implemented only now by Labour sets out a broad range of rights and freedoms, including improving Māori outcomes.
The draft plan moved a step closer this week after completing consultation with Māori.
…Tāmati Coffey is pulling this kind of stunt?
Rotorua council representation bill 'cannot be justified' – Attorney-General
A controversial bill that would increase Māori voting rights in Rotorua's local elections cannot be justified and discriminates against general roll voters, the Attorney-General has found.
TDB Recommends NewzEngine.com
The Rotorua District Council Representation Arrangements Bill aims to change the law to allow the council to have equal Māori ward and general ward seats, with three each. The other four council seats and the mayor would be elected at-large, plus two community boards.
The local bill has passed its first reading and been referred to the Māori Affairs Committee, which began hearing verbal submissions today.
In his Bill of Rights analysis presented today to the House of Representatives, Attorney-General David Parker concluded the bill appeared to limit the act's right to be free from discrimination, and cannot be justified.
His analysis was based only on the text of the bill and publicly available information released by the council and the Local Government Commission.
"The conclusion I have reached, that the bill cannot be justified … is largely due to the absence of information and analysis available to provide justification for the limit on the right to freedom from discrimination."
Parker said in a representative democracy, it was important to maintain much the same level of representation for everyone.
"The bill creates a disparity in the number of people represented by each ward council member.
"[It] would make the number of council members for the Māori ward disproportionately higher than the number of council members for the general ward in comparison to their respective populations."
This meant those on the general, non-Māori roll were disadvantaged and discriminated against, as they could not change their roll.
The bill's sponsor and Māori Affairs Committee chairman Tāmati Coffey said it was a local bill, so the changes were being requested by the council and not the Government.
"As such the Rotorua District Council will need to consider the implications of the Bill of Rights analysis, alongside the Select Committee."
…legal eagle Graeme Edgeler, he who is always right, is scathing…
The local bill to remove equal suffrage
The bill is aimed not at ensuring that there are three councillors elected from a Māori ward, but is aimed at ensurery that the general ward elects no more than three councillors, despite representing over 2.5 times as many people.
The Council seems to have asked for some haste with its bill, and only two weeks were allowed for written submissions (including Easter). Abolishing equal suffrage – even just at local council level – should not be something that is this rushed. This is especially so when, because the bill is a local bill, the Attorney-General's report on the bill isn't available at introduction, and the entire time for consideration of the bill has passed without it being made available.
I anticipate the bill will fail the Bill of Rights assessment process, not least because the Council's rationale for the bill (.pdf) is non-sensical. The Bill also goes far further than is necessary to achieve any justifiable aim of advancing representation. In short, the bill is bad, and should not pass.
…this is a clusterfuck of political mismanagement.
To be pulling this type of stunt that genuinely plays into the very fears of critics of co-governance is just jaw dropping in its incompetence.
Look, I believe co-governance is a strength, not a weakness!
In my entire 48 years of life, I as a Pakeha male have never once been penalised in any way shape or form by any measure to help Maori!
I don't see co-governance as the apartheid some see it as.
Calling He Puapua 'a secret agenda' is disingenuous to the words 'agenda', 'secret' and 'a'.
The idea that a barely read wish list of indigenous hopes and aspirations that could live up to the promise of the Treaty would ever get fully implemented is Trump like in its delusion of imaginary white fears.
For a majority MMP Government that can barely build houses to suddenly transform into a super hero for Indigenous rights who manages to overnight re-write the entire constitutional framework of NZ by stealth is so farcical in its possible threat delivery that  you may as well imagine a child with a water pistol up against a laser guided Jet fighter.
He Puapua is a wish list of hopes and aspirations, it is not a secret blueprint for the takeover of a country by radical Māori, to attempt to frame it as such is bordering on QAnon conspiracy fantasy.
Likewise with 3 Waters and the claim it's Māori stealing the water.
We wouldn't be having discussion over who owns the water of John Key hadn't sold our hydro assets!
Māori are a brake pedal on neoliberalism and their views can ensure privatisation and foreign ownership stops!
The Treaty of Waitangi, and a Māori worldview are taking a greater role in shaping how we interact with the world
For decades, the Treaty of Waitangi has formed a part of New Zealand's approach to trade. Foreign Minister Nanaia Mahuta is kicking it up a notch. National Correspondent Lucy Craymer explains.
When the epochal Uruguay Round of global trade talks was happening almost four decades ago, New Zealand's chief negotiator had a premonition.
Tim Groser reckoned the global trade arrangements being formed might – in ways he could not anticipate – come into conflict with the Treaty of Waitangi. In 1986, with a Labour Government led by David Lange in office, and vast economic and social reforms sweeping change across the nation at a breakneck speed, the modern significance of Te Tiriti was only starting to come into view.
"We could see a potential political problem arising whereby people would want to do things that we couldn't quite foresee, in respect to the treaty," Groser says. "We needed to avoid trade agreements getting in the way of that."
The negotiation brought about the biggest reform to global trade ever and led to the creation of the World Trade Organisation. A clause was included allowing New Zealand to meet its treaty obligations, even if this meant breaching the global agreement.
Groser says it went through with no controversy and little publicity, even in New Zealand.
"I don't think a single country raised a question let alone an objection. It's not surprising. Why would they? Countries have bigger fish to fry," he says.
A version of this clause, which allows the government to deliver on Te Tiriti ahead of its free trade obligations, has been included in every agreement since.
Most Pakeha don't know that the Treaty is our out clause in free trade deals.
We can side track the exploitation by global corporations using the Treaty!
For me, I love the Treaty because of the relationship of responsibility it immediately sets up between the Crown and its people. I believe the Treaty needs to be expanded to all NZers and not just Maori because it sets out the obligations of the Crown to protect the rights of its people. We deserve as a nation to entrench the Treaty as the basis of our constitution so we can force Governments to protect our rights rather than strip us of them.
Pakeha want to gloss over the theft and confiscation of indigenous lands because it's a shameful denial of the promise of a Treaty between two peoples and when you consider the paltry compensation that has been paid back to Maori via the Waitangi Tribunal, it's a mere $1.4 Billion.
$1.4 Billion for confiscating the majority of NZ???
What is most egregious is that some Pakeha have the audacity to claim that pathetic reparation is a 'gravy train'.
That's why this co-governance progress matters, but it can't be done by stupid tactics like giving one group more voting power than others. That's not co-governance, it's an art installation called 'Why National won'.
Increasingly having independent opinion in a mainstream media environment which mostly echo one another has become more important than ever, so if you value having an independent voice – please donate here.
If you can't contribute but want to help, please always feel free to share our blogs on social media