What is worse than race baiting over gang affiliated groups getting money for meth rehab?
Doing it yourself!
Previous National Government gave $30,000 to Mongrel Mob member Harry Tam's Hard 2 Reach
Newshub can reveal the previous National Government gave tens of thousands of dollars to Mongrel Mob member Harry Tam's Hard 2 Reach programme.
The political hypocrisy here is disgusting. National attack gang affiliated meth rehab when they themselves have done it.
Th only difference between the $2.7million Labour gave and the $30000 National gave is Labour's money came from the gangs themselves via the proceeds of crimes fund where as National's money came directly from taxpayers.
TDB Recommends NewzEngine.com
The Right went into a feeding frenzy over a video showing Harry Tam speaking some political truth to other Mongrel Mob chieftains while using the charming 'Sieg Heil' Nazi war chant as a rallying call to arms for his timeshare investment presentation on political representation.
This debate manages to encapsulate the age of dumb outrage we have sunk to.
Hands up who believes that Harry Tam is an undercover Nazi and that the Mongrel Mob of NZ secretly yearn for a 1000 year Aryan race white supremacist Fascist State that operates racist death camp extermination?
No one?
Right.
That's because Harry Tam and the Mongrel Mob ARENT FUCKING NAZIS!
The gangs took on Nazi language and symbols as a ceremonial way of rejecting and offending society!
The early gang member philosophy was that they had been abused and rejected by society so they would reject and abuse society right on back.
They adopted Nazi iconography and gestures because they offended people NOT because they actually supported a 1000 year white supremacist reich!
That Tam uses the ceremonial language of the Mob in a private meeting where he is rallying the troops is not the moment of seditious Nazi worship the Right are trying to manufacture in order to damage Labour over their meth rehabilitation program.
Would it be different if it were the KKK, white suprematists or Nazis using this language?
OF COURSE IT WOULD!
Mongrel Mob members use it to offend a society they believe have rejected them, the KKK, white supremacists and Nazis use it because they believe in a mass murder fascist state!
The former are offensive, the later are dangerously murderous sociopaths.
See the difference?
It's not just the Right who should be embarrassed here, it's been funny watching woke Twitter twist itself in knots defending Mongrel Mob using 'seig heil' because they were the same ones screaming for John Tamihere's lynching when he said it!
Wokeness has all the moral clarity of cliques at a posh middle class school.
Look, everyone needs to grow up and appreciate the nuance of these issues above the toxic sandpit of social media.
This is former National Party leader Robert Muldoon…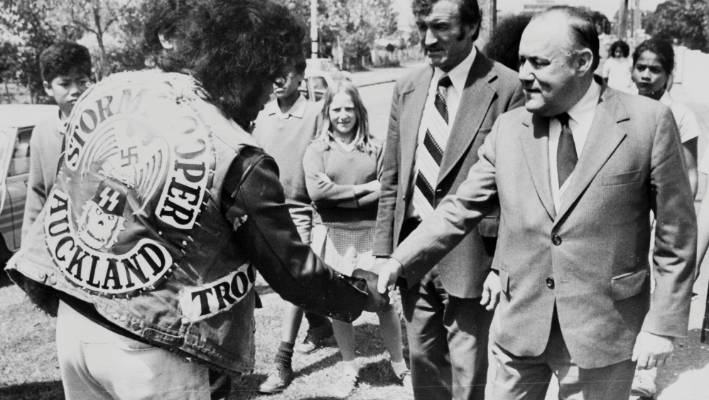 …Robert Muldoon fought in World War 2 against actual Nazis and Fascists.
Here he is shaking hands with a Gang member wearing all the ceremonial Nazi regalia on his patch.
If Robert Muldoon can reach across to Gang members wearing the Nazi symbols he personally fought against, where do all you whiney fucking right wing snowflakes get off virtue signaling all your moral outrage?
Muldoon puts the current National to shame. Reflect upon that.
Increasingly having independent opinion in a mainstream media environment which mostly echo one another has become more important than ever, so if you value having an independent voice – please donate here.
If you can't contribute but want to help, please always feel free to share our blogs on social media