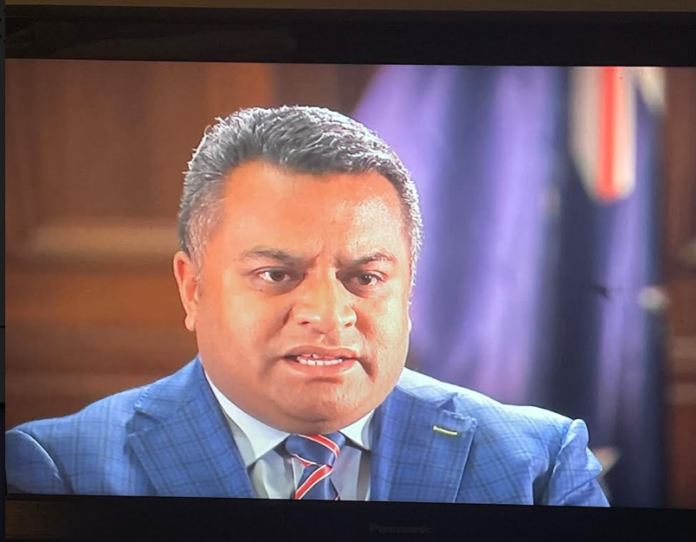 ACT's David Seymour slams 'out of his depth' Kris Faafoi on hate speech proposals
ACT leader David Seymour says Justice Minister Kris Faafoi's responses to questions about proposed new hate speech laws show he's "out of his depth".
Faafoi was grilled on the new proposals on Newshub Nation on Saturday, host Tova O'Brien throwing a range of scenarios at him – such as whether Millennials could be prosecuted for hating Boomers over house prices, or saying gay people are going to hell.
Faafoi said he was "not going to nickel and dime every case", and it would be up to police whether to prosecute – the bar being whether the speech was inciting hatred towards a particular group. 
"I'm the Minister of Justice, I don't get to decide that," he said.
Seymour, who has campaigned against "cancel culture" and deplatforming controversial speakers like Don Brash, said Faafoi "shrugged his shoulders" at the tough questioning.
"When interpreting the law, courts often look to speeches from the minister responsible to see what Parliament really intended a law to mean," he said after Newshub Nation aired.
"They won't get any help from Kris Faafoi, who couldn't answer what speech was likely to face prosecution… That's because he can't say. 
TDB Recommends NewzEngine.com
"Hate speech is subjective and politicised. Faafoi knows Police will end up facing pressure to prosecute people with unpopular views. "When they face that pressure, the first thing they'll think is 'well, even the guy behind this law didn't know."
Jesus wept, there is a train crash and then there is Kris Faafoi. Tova ripped him to pieces on Newshub today, he couldn't explain how something as subjective as 'hate' would be judged other than tell us the Police will decide.
How terrifying.
The Police are to judge what is hateful and prosecute based on that?
The current line is incitement to violence, that is very clear, but a subjective hate test based on brittle feelings is a recipe for disaster.
Every time Kris Faafoi opens his mouth to justify strangling off free speech, a Fairy dies and ACT gains 2 more votes!
Labour's hate speech test is whatever an emotional micro aggression policing mummy blogger on The Spin-off would feel aggrieved by!
The debate must be about anti-harassment protections, not an erosion of free speech, the Left should be the champions of free speech, not the stranglers of it!
How the fuck will you police political opinion for Christ's sake?
This looming hate speech debate is supposedly a response to the white supremacist terror attack in Christchurch, but the solutions of criminalising hate speech are all identity politic based intersectionist roulette virtue signals that will obscenely use the terror attack to justify gagging speech that the woke can't tolerate while not protecting us from another white supremacist terror attack!
How does a blasphemy law & criminalizing the misuse of pronouns protect us from another white supremacy terrorism act? The Christchurch atrocity happened because of a complete failure of the NZ intelligence apparatus- banning speech lets their failure off the hook!
Because we live in a liberal progressive democracy I DO TOLERATE RELIGION! I tolerate Scientology, I tolerate people who believe in a magical flying invisible wizard for their morality & I tolerate churches not paying tax – I won't however tolerate them criminalising my criticism!
Who will misuse the new hate speech blasphemy laws first?
Scientologists?
Glorivale Brethren?
Bishop Brian Tamaki?
Under these new proposed hate speech laws, Life of Brian would have been banned!
For those pretending that the looming hate speech laws won't unleash a tsunami of police complaints and give-a-little funded private prosecutions, look at the needlessness of the SUFW case and shudder.
This government needs to spend far more time on housing, child poverty, education, welfare, infrastructure, climate change and inequality and far, far, far less time on social engineering vanity projects to criminalise you for word crimes!
If Government wants to make NZ more 'socially cohesive' they should build more houses, use a wider range of taxes against corporations and fully fund mental health, education and public health – they shouldn't implement blasphemy laws and criminalising misuse of pronouns!
Mark my words comrades, I told you muppets that deplatforming those two crypto fascists in Auckland would only wake the dormant electoral fault line of ACT and it did! The more the woke attempt to cancel free speech, the more the right win! The Left should be championing free speech, not trying to kill it off!
Increasingly having independent opinion in a mainstream media environment which mostly echo one another has become more important than ever, so if you value having an independent voice – please donate here.
If you can't contribute but want to help, please always feel free to share our blogs on social media