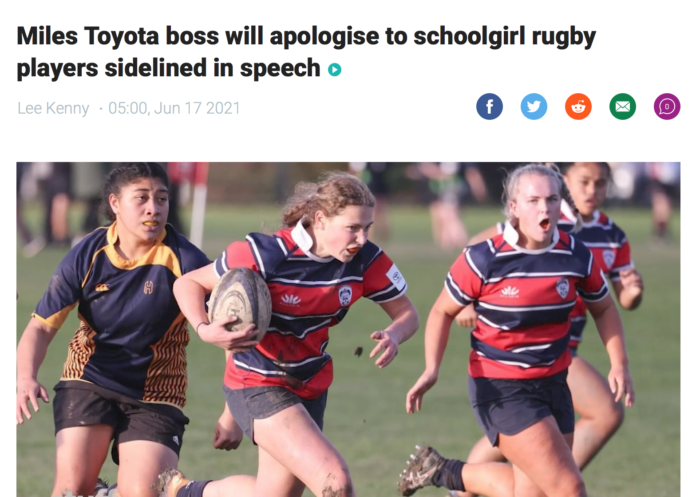 So you get your secondary school rugby teams together for a meet-and-greet with your major sponsor. And the new boss (just down from Tauranga, where they don't have girls) gives a speech rattling on about the boys' rugby games he has been to, talked about the boys' competition and wished the boys luck. He "accidentally omitted" any mention of the nine girls' teams that his company also sponsored. They were not even an afterthought.
They were standing right in front of him but were invisible.
In the ensuing uproar, Mr Tauranga said "my bad" and apologised. He was very, very, very sorry. He tried to talk to the Girls' High principal, but she was very, very, very angry.
In damage control, the head of the Canterbury Rugby Union said that there was no malicious intent in the omission. Everybody knows how important girls' rugby is. It is really important. Honestly.
Imagine if it had been the other way around, and Mr Tauranga had talked about the amazing success of the girls' teams (they do much better than the boys in national competitions), that he had been to a few girls' games and he wished the girls luck this season. There would have been calls for his head, or at least for another sponsor to be found.
As it is, his faux pas simply confirmed the natural order of things. Boys are top, girls bottom. Rugby is a man's game, and women are an afterthought at best.
And, in the wider theme of gender politics, everybody knows, don't they, that this is a bloke's society. Women are undervalued, underpaid and often ignored. If we are lucky, they are an afterthought. And a large number of young women, who are excellent players of their game, were inducted into this depressing, demeaning social reality.
Dear Miles Toyota, thank you so much for sponsoring schoolboy (oops and girl) rugby, but actions speak louder than words, and I won't be buying your Toyotas any time soon.
TDB Recommends NewzEngine.com
Dr Liz Gordon is a researcher and a barrister, with interests in destroying neo-liberalism in all its forms and moving towards a socially just society. She usually blogs on justice, social welfare and education topics.