Alt Right Nazis and white supremacy incels to the right of me.
Woke Identity Politics micro aggression policing cancellation squads to the Left of me.
Here I am stuck in the Class Left with you.
Black Lives Mattered.
Trump's grotesque attempt to steal the election mattered.
TDB Recommends NewzEngine.com
Covid 19 mattered.
Covid 81.9million infected.
Covid 1.7million dead.
Covid $28 Trillion in costs to the global economy.
Unprecedented.
Zoom.
Working from home.
Lockdown.
Fake news.
Disinformation.
QAnon conspiracy theories.
Ellen cancelled.
The climate crisis broke record after record.
Billionaires made billions more while the poor, millennials, gig economy, the homeless, working class and beneficiaries got fucked.
White men of mediocrity like Trump, Boris Johnson and Bolsonaro managed to obscenely fuel the pandemic through their incompetence.
Democracy was wounded and found broken.
People ran to the State and demanded the State protect them while the Right wing tried to convince everyone we didn't need the State to protect them.
The Right were punished politically.
The sense of solidarity and sacrifice this unique universal experience created has rebuilt a public mandate for collectivism.
It will be sorely tested in 2021.
At the beginning of the year the woke screamed anyone criticising China was xenophobic…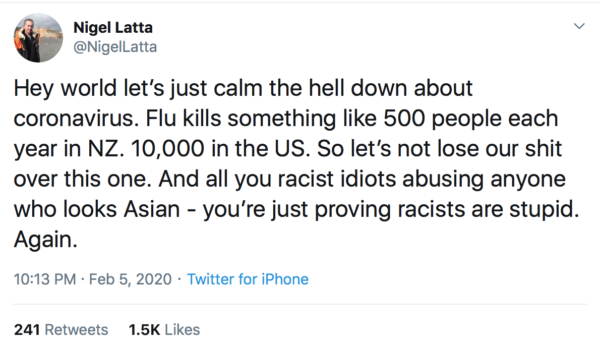 …TDB however argued from the very beginnings of the outbreak that this wasn't a fucking identity politics issue, but had all the ingredients of a global pandemic.
TDB 1 – Woke 0.
When history looks back on 2020, New Zealand can hold its head up.
We were challenged, and our collective will combined to act in the common good. We didn't need authoritarian measures, we simply explained the science and our well educated populace acquiesced.
But this pandemic was just the first climate crisis wave unleashed by overpopulation, 24/7 global supply chains and habitat destruction.
After every major pandemic, there is social unrest…
"So when our Sickness, and our Poverty Had greater wants than we could well supply; Strict Orders did but more enrage our grief, And hinder in accomplishing relief."
That's how the British poet George Wither explained a spreading rebellion against social-distancing rules. Seeing quarantines and lockdowns as unfair and tyrannical punishments, people were taking to the streets. The year was 1625, the place was London, the disease was plague.
…The peasant revolt in the 1300s, the civil unrest in the 1600s and the civil disobedience in the 1900s. The strict measures required to snuff out pandemics always makes the lives of the poorest unliveable, we haven't seen the economic whiplash of Covid yet, especially amongst small business owners and those who were already vulnerable.
The desperate and newly desperate will swell globally and cause enormous cultural tensions.
These waves of social disruption will reverberate around a rapidly warming planet.
Trump & Georgia – All eyes will still be on Trump during January as the final days in the Bunker start to play out for him. Is Trump a craven coward who is pulling one last scam to shake down his followers for hundreds of millions or is he really a full blown sociopath who will launch a military strike against China or Iran? If the Dems can win Georgia they finally take control of the Senate and they will have actual power, the Corporations will not like that. Expect one of Biden's first challenges to be a wave of climate refugees crossing the Southern Border.
China – Their Wolf Diplomacy to whip up nationalistic fervour is masking a fear of internal revolt. Expect China to violently take Hong Kong, sabre rattle over Taiwan and threaten anyone in the West who says otherwise to send a domestic and international message of brutal strength.
Covid – It will continue to disrupt enormously. The issues of rolling out this vaccine to everyone will be a huge challenge that will need to become an annual ritual requiring 75% to gain herd immunity. The logistics of that are huge and we will be lucky to reach 75% globally by the end of 2022, so the economic damage won't really start healing for another 2 years.
Climate Crisis & Social Unrest – The economic stresses of Covid alongside more climate extremes will see a wave of famines in 2021.
There will be pressures caused by mass migration into Western countries who will already be grappling with intense social economic frictions.
The venal excesses of Wall Street Billionaires and their never ending wealth gains will cause enormous social distortions and lead to economic radicalisation.
Social Media disinformation will continue to polarise debate and create alternate realities.
Late stage Capitalism never looked so ripe for collapse.
Increasingly having independent opinion in a mainstream media environment which mostly echo one another has become more important than ever, so if you value having an independent voice – please donate here.
If you can't contribute but want to help, please always feel free to share our blogs on social media.