The Spinoff and The Standard are very cross with the Steinlarger TV advert because white people are made to look like the heroes and grrrrrrrr identity, diversity etc etc etc.
Ummmmmmm.
Neato.
Great points.
Very on trend virtue signals there Comrades, and yes, white people, bad, grrr, fuck cracker!
TDB Recommends NewzEngine.com
B-U-T
If we are finished with the identity politics remix isn't there a far more serious problem with this Steinlager TV advert romanticising the nuclear free protests?
L-I-K-E
…the fact that Steinlager is owned by Lion, Lion owned by Kirin, Kirin is owned by Mitsubishi and Mitsubishi owns Uranium mines all around the planet?
Steinlager is doing nuclear free protest TV adverts all the while their Corporate master owns some of the largest Uranium Mines on earth!
Isn't that a tad more hypocritical and far more damning than the identity politics lens that the Woke are locked into?
When Covid came out of China at the beginning of the year the woke be screaming criticism of China was Xenophobic…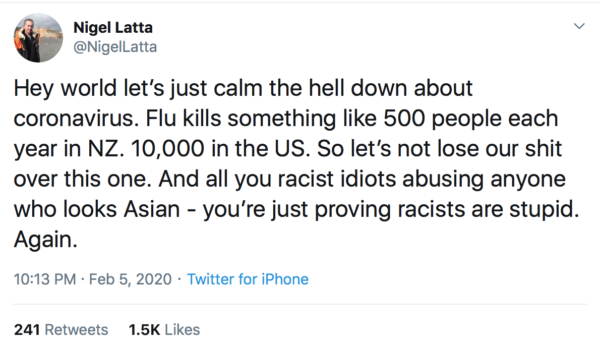 …as the global death rate crosses over 1.6million, that tweet didn't age well. When you lock yourself into an identity perspective on everything, you lose the bigger picture.
We should be scathing of Steinlarger, not just because they've focused on white people in their Nuclear Free advert, but because they are run by a corporation that owns some of the largest uranium mines on earth!!!
It's hypocrisy of the highest kind, but we lose that perspective because the woke be screaming about identity representation in a fucking TV advert!
Increasingly having independent opinion in a mainstream media environment which mostly echo one another has become more important than ever, so if you value having an independent voice – please donate here.
If you can't contribute but want to help, please always feel free to share our blogs on social media.